Chim Chimney Bakery coming to Middlebury
MIDDLEBURY — Chelsea Griggs and one of her daughters were enjoying a smoothie at downtown Middlebury's Juice Amour one day last year when they noticed a for sale/for lease sign in the window of the (now-former) Main Street Stationery storefront at 40 Main St.
It seemed like an invitation for a career change.
"Wouldn't it be nice if we worked in downtown Middlebury?" thought Griggs, then a business manager in Ferrisburgh, while her fiancé, Travis Armistice, was operating a market in Enosburg.
The couple realized that buying a building and embracing a new vocation seemed like a pipe dream at the time. The fantasy became moot a short time later when Griggs and Armistice learned the property was under contract.
But the dream came back into focus last December when the prospective buyer of 40 Main St. withdrew. The sellers, Greg and Barbara Tomb, knew of Griggs's and Armistice's prior interest, and told them the property was again available.
"We weren't sure what we really wanted to do with the space, so we asked for a little time to think about it," Griggs said.
And it wasn't long before the couple had a sweet epiphany: They'd buy and renovate 40 Main St. and turn it into a chimney cakes hub.
Chelsea explained that she first discovered chimney cakes through a Pinterest ad. Native to Hungary, where they're known as Kürtőskalács, chimney cakes are made with sweet, yeast dough. The manufacturing process involves wrapping a strip of the dough around a truncated, cone-shaped baking spit. The cooking process — which calls for periodic basting with melted butter — yields a golden-brown, cone-like receptacle with a crisp exterior and soft interior — a texture and taste similar to that of a cronut. The cone can be rolled in sugar and cinnamon — or a variety of other sweet or savory coatings — and then stuffed with fillings that are limited only by the imagination.
"It looked like a doughnut filled with creemee," Griggs said of her visual introduction to the product. "They were beautiful. Everyone was Instagramming them."
Griggs and Armistice decided to get a taste for themselves at the nearest (to Vermont) chimney cakes bakery — in Toronto — while attending a concert in that Canadian city late last year.
"We wanted to see if they tasted as good as they looked," she said.
They did.
"We loved them," Griggs recalled, "and we ended up doing more research on them."
They were surprised to learn that chimney cakes were still scarce in North America, with most of the manufacturers based in California, Texas and Florida.
Popularity, scarcity and deliciousness prompted the couple to make the leap to chimney cake entrepreneurs — and do it under the name of "Chim Chimney Bakery" at 40 Main St.
They recently attended the Kurtos Academy Slovenia, where they learned how to make Kürtőskalács. They've invested in chimney cake baking equipment, which includes a rotisserie grill in which the round dough-wrapped cylinders slowly spin to cook evenly.
"It's quite a process," Armistice said. "It's not like you just throw something in the oven and it pops out. There's a lot of stages to it. There's definitely a right way and a wrong way to do it."
While chimney cakes have European origins, Griggs and Armistice promised to give them a Vermont flair. They said they'll use local vendors, whenever possible, to source dairy, maple syrup, cheese and other ingredients.
Chimney cakes will clearly be the centerpiece of the business, but the menu will also include espresso drinks — which complement the cakes — and eventually, milkshakes and specialty ice cream cakes, according to the duo.
They stressed their products will be more than a sweet treat. Chim Chimney, they hope, can become a solid meal destination because of the versatility of the cakes. They serve as both dessert and main course, including as a tasty bed for a sandwich, with pulled pork and chicken & waffles poised to be menu fixtures. "Chim dogs" will take hot dogs to the next level, the couple said.
"We found that people in the community wanted another option where they could have lunch," Armistice said.
OPENING DELAYED
The couple had hoped to be settled and cranking out chimney cakes at a renovated 40 Main St. before the end of this year. But they found local contractors booked well into next spring, according to Griggs, who ultimately located a Chittenden County company to begin work this December.
"Our goal for this space is to restore it to its original interior," Griggs said.
That, in part, will involve removing the interior, superficial construction that's covering up the original tin ceiling and brick walls.
Plans call for installing a kitchen that'll be in plain view of customers, who — through a glass partition — will get to see the chimney cakes rise, brown, and get rolled and stuffed with the ingredients of their choice. 
"It's really beautiful to see them rising and cooking," Griggs said. "They'll see us rolling the dough, kneading it, putting it on the spits. The smell that comes from them while they're cooking is really something."
Assuming permitting and construction goes smoothly, Chim Chimney will open next April.
But you won't have to wait until then to get a chimney cake. Griggs and Armistice have purchased a 20-foot-by-8-foot food trailer, equipped with chimney cake equipment, ingredients and a generator. It'll allow the couple to introduce Chim Chimney's offerings to folks at fairs, farmers markets, catering gigs and other special events. The Chim Chimney trailer will be a fixture at upcoming Midd Summer Markets in downtown Middlebury on Thursdays, beginning July 6 through October.
"We'll get people familiar with who we are," said Armistice, who added the trailer will become a permanent part of the business plan.
The food trailer menu will feature four sweet and four savory chimney cake varieties. Among them:
• "The Mocha Chimney." The chimney cake coated with a vanilla glaze, lined with a homemade chocolate fudge, filled with coffee creemee, topped with chocolate-covered espresso beans and an espresso shooter.
• "The Apple Pie." Chimney cake lined with caramel sauce, stuffed with homemade apple pie filling, topped with a brown sugar crumble and vanilla creemee.
• "Chim-eroni." An urban cheese cone filled with homemade mac & cheese, capped with a sriracha drizzle.
If Chim Chimney proves to be a hit, the duo will consider opening a second location within five years. They like the fact that their product is unique.
"We're not in competition with anyone else," Armistice said.
"We didn't want to open something that was going to affect other local businesses," Griggs added. 
Reporter John Flowers is at [email protected].
More News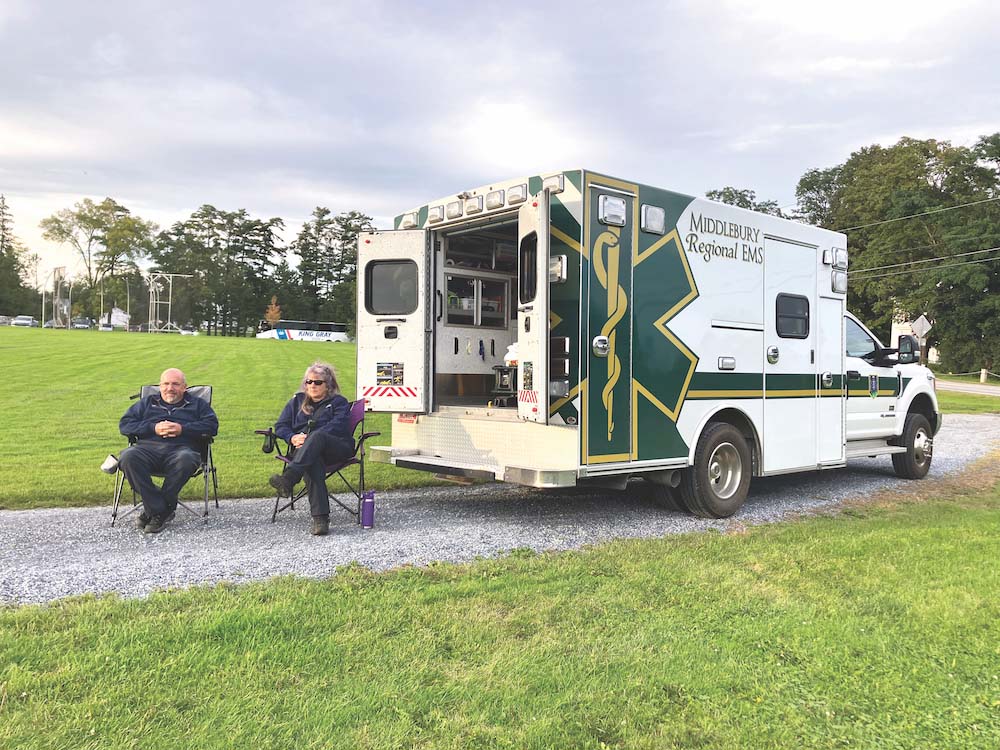 Middlebury Regional Emergency Medical Services wants to eliminate its annual Town Meeting … (read more)
Middlebury police are investigating the death of a Middlebury College junior and say the p … (read more)
In the course of her almost 101 years on Earth, Vergennes resident Margaret Clifford, bett … (read more)