Commodore soccer teams reach semis; Eagle football ousted; runners compete at state meet
ADDISON COUNTY — The Vergennes Union High School boys' and girls' soccer teams both won quarterfinals in the Division III playoffs this weekend, but the Mount Abraham-VUHS cooperative 7-v-7 touch football team bowed out of the Burlington Region postseason.
Cross country teams from county schools ran in the state meet on Saturday.
If the Commodore soccer teams win their semifinals they will play in finals on Saturday at Hartford, with game times to be announced.
COMMODORE BOYS
On Friday the VUHS boys, the top seed in D-III, dismissed No. 4 Mill River, 5-1. The 7-5 Minutemen briefly tied the score on a penalty kick in the 30th minute, but VUHS (8-1-1) took the lead before halftime and scored three unanswered after the break.
Jonah Mahé, from Avery Husk, opened the scoring for VUHS, and Adam Sausville, set up by Jonathan Willis, gave the Commodores the lead. In the second half Willis, Jacob Kadric and Abram Francis scored, with assists from Husk, Shamus Rooney and Elijah Duprey. Tyler Corey converted the PK for MRU.
Gabe Kadric made three saves for VUHS, and MRU goalie Ty Dickerson stopped seven shots.
The Commodores will host No. 4 Peoples (7-3) at 2 p.m. on Tuesday, with the winner moving to a final on Saturday. 
Peoples, a 5-0 winner over No. 5 Leland & Gray on Friday, will probably pose a challenge: The 7-3 Wolves' losses have all come by one goal to top-six D-II teams. VUHS and Peoples have not met this fall.
COMMODORE GIRLS
On Saturday the No. 4 seed Commodores defeated visiting No. 5 Green Mountain Union, 2-1, in overtime.  
Felicia Poirier's goal in the third minute of overtime sent the Commodores into the semifinal round. It came from a scramble following a corner kick. An Allie Croke shot was saved, but Poirier pounced on the rebound.
Hannah Kelly scored for VUHS in the 28th minute, on a touch pass from Croke, and Kim Cummings scored for Green Mountain on one of only two shots the VUHS defense allowed on goalie Kate Gosliga. "We played a nice game today, our back line was very solid," said VUHS Co-coach Peter Maneen.
Goalie Alex Hutchins stopped five shots for Green Mountain (8-5).
The Commodores improved to 6-2-3 and will visit No. 1 Enosburg (9-0) on Wednesday at 2 p.m. with a berth in Saturday's final on the line. It would be their third straight trip to a D-III final if they prevail.
The teams have one common foe this season. Both played Missisquoi at home: Enosburg won, 3-2, and VUHS won, 3-0.
EAGLE FOOTBALL
On Friday host Essex ended what was an encouraging fall for the Eagle football program with a 55-20 victory. Hornet quarterback Sam Bowen sparked his team with five touchdown passes, and Essex took control in the second quarter after the Eagles played them tough early.
For the Eagles, Caleb Russell completed 15 of 26 passes for 249 yards and two TDs, while Adam Mansfield completed 13 of 33 for 126 yards and one score.
On the receiving end, contributing were Noah Gargano (six catches for 74 yards), Mansfield (five catches for 135 yards), Beau Carpenter (three catches for 40 yards) and Joey Hemingway (four catches for 40 yards). Collin Dupoise and Jameson Couture caught touchdown passes.
Mount Abe compiled a 4-4 regular season against a Burlington Region schedule heavy with D-I teams. Offensive coordinator Joe Russell, who oversaw the team for the past couple weeks while Coach Jeff Stein had to tend to an out-of-state matter, called the season "one to remember."
"(It was) not the traditional football that we're all used to, but nonetheless the players were competitive week in and week out," Russell said.
Russell noted both Mansfield and Caleb Russell threw for more than 1,000 yards this season, while multiple players exceeded 500 yards receiving.
He added key players will graduate, but five players return on each side of the ball. 
"We look to reload and continue our path in the upward direction," Russell said. 
STATE CROSS COUNTRY MEET
In cold but clear conditions in Thetford on Saturday the Middlebury Union High School cross-country teams each finished fourth in Division II, while Vergennes senior Gabe Praamsma edged Tiger senior Jack Christner and his Commodore classmate Ben Huston for the best individual local finish at the state meet.
Praamsma took ninth in the boys' D-II race in 17:52.9 over 5,000 meters, with Christner on his heels in 11th in 17:54 and Huston right behind in 12th in 17:58.9.
Junior Noah Engvall led the 11th-place Eagle boys by taking 27th in 19:44.3.
In the girls' D-II race Tiger senior Ella Landis finished 15th in 22:14.2, with sophomore Seina Dowgiewicz just behind in 18th in 22:17.2. Junior Abigail Johnson paced a non-scoring Eagle contingent by taking 32nd in 24:46.8.
In D-III senior Parker Todd led the fifth-place Otter Valley boys' team by taking 11th in 19:31. Sophomore Kelsey Adams paced the sixth-place OV girls by taking 32nd in 26:15.5.
U-32 prevailed in both the boys' and girls' races in D-II, sweeping the top five spots in the boys' race and placing five runners in the top 10 in the girls' race to edge Harwood.
U-32's Jacob Miller-Arsenault won the boys' race in 17:18, and Harwood's Ava Thurston cruised in the girls' race in 19:40.1.
The Bellows Falls girls and Craftsbury boys won in D-III. Abby Broadley of BF (19:43.9) and Cormac Leahy of Craftsbury (17:16.5) took the titles.
Look for full results for local teams and individuals and photos in Thursday's newspaper.
 
More News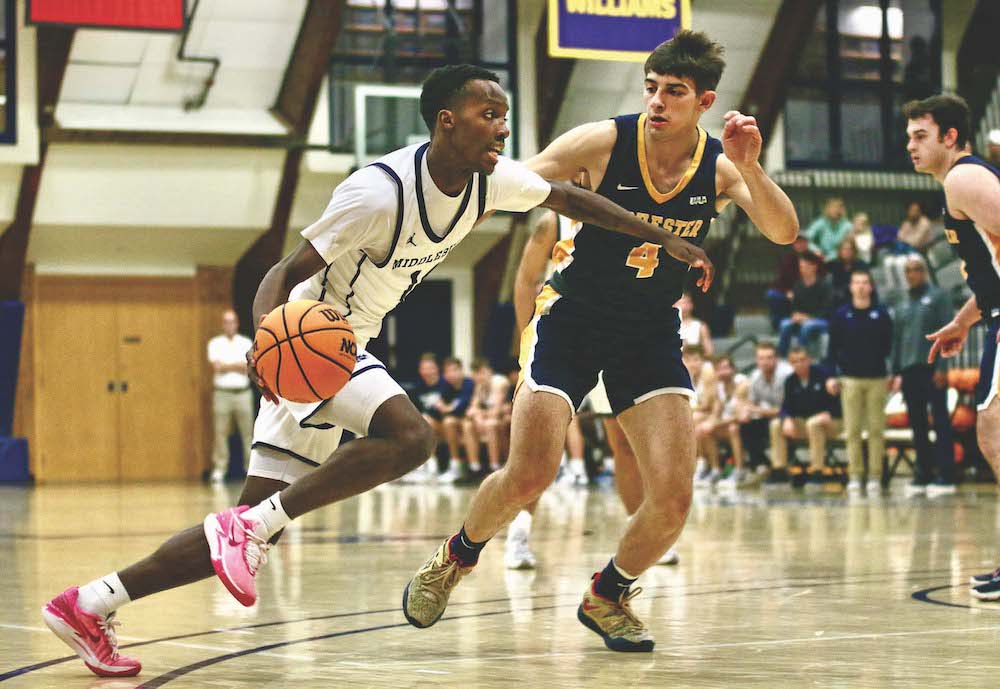 The Middlebury College men's basketball team dropped a pair of home games to teams in the … (read more)
The Middlebury College women's basketball team split a pair of games this past weekend at … (read more)
The Middlebury College women's hockey team lost one game and settled for a tie in another … (read more)