Boys' soccer: MUHS, VUHS post wins
ADDISON COUNTY — In recent boys' soccer action — mostly late last week, as Wednesday games were played after deadline — Middlebury and Vergennes earned wins, Otter Valley split two games, and Mount Abraham came up short.
Teams are in their final week of play, and the Vermont Principals' Association will announce playoff pairings on Monday morning.
TIGERS
On Friday the 11th the Tigers blanked visiting Spaulding, 5-0, as Owen Palcsik scored twice and Eben Jackson and David Peters each set up two goals. Oliver Poduschnick, Andy Giorgio and Frank Wolff also found the net for MUHS, and Middlebury goalie Logan Pierson-Flagg stopped three shots. Spaulding keeper Levi Hilton-VanOsdall made eight saves.
The Tigers improved to 10-2 and were in second-place in Division II heading into a tough Wednesday game at Milton (9-2-1). They close at Mount Abe on Saturday at 10 a.m. It appears a win in either game could clinch the No. 2 seed, and wins in both might move the Tigers to No. 1 if Stowe (10-0-1) slips up.
COMMODORES
On Friday host VUHS coasted past visiting Green Mountain Valley, 4-0, Jonathan Willis scored a pair of goals, both assisted by Josias Salomao. Jacob Kadric, from Willis, and Alisdair Chauvin added goals for the Commodores, and goalie Jeffrey Stearns made eight saves. Ryan Turnbull  made 10 saves for the Gumbies.
At 4-7-1 the Commodores already are in the No. 6 slot in Division III, and could move up higher with wins at home on Wednesday vs. Fair Haven and on Saturday vs. Spaulding.
OTTERS
On Friday the Otters rallied for a win over visiting Bellows Falls. OV Coach Dick Williams said his team dominated the first half, but still trailed after 40 minutes, 1-0, after a defensive miscue on one of the Terriers' rare forays forward.
Early in the second half Evan Thomas equalized for OV by converting a feed from the end line from Kieran Williams, who made a strong run down the right side. Later in the half Luca Cifone took a pass from Thomas just outside the BF 18 and hit what Coach Williams described as a "blistering shot" into the back of the net for the game-winner.
On Tuesday visiting Woodstock (9-3-2) blanked OV, 3-0. The 2-11 Otters conclude by visiting Hartford on Thursday. The No. 14 seed in D-III looks probable.
EAGLES
On Friday host Milton dealt the Eagles a 3-1 setback. Eric McKean, from Silas Burgess, tied the game in the 14th minute, but Yellowjacket Nick Desouza scored twice in the first half to create the final margin. Eagle goalie Ethan DeWitt made 10 saves, including a second-half penalty kick, while Milton keeper Sam Dooley stopped one shot.
The Eagles dropped to 7-3-2 heading into a Wednesday home game vs. GMVS, with MUHS on tap Saturday. They are battling with several other teams for the Nos. 6 through 10 seeds in D-II.
More News
Tiger boys' cross-country team held off runners from Burr & Burton, VUHS and Mount Abe in … (read more)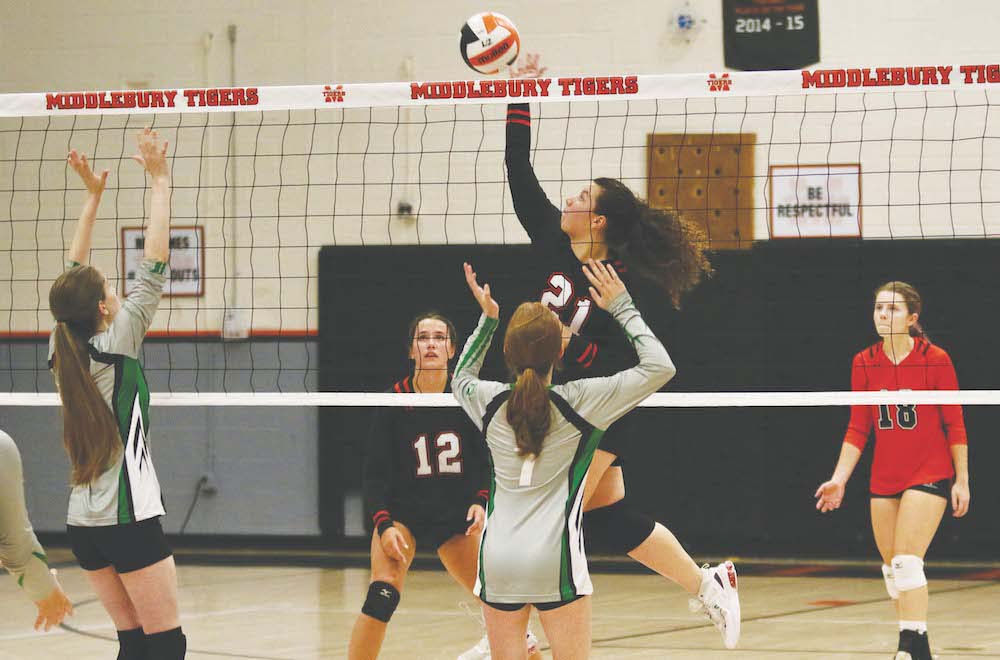 The first-year Middlebury Union High School girls' varsity volleyball team continued its r … (read more)
I gave Bill Lee a call last week, hoping he was at his home in Craftsbury and we might arr … (read more)