Karl Lindholm: The third front of baseball's integration: Trois Rivières, 1946
Road trip!
Road trip to Trois Rivières, Quebec, for a ballgame. At least that was the plan.
It's pretty far, Trois Rivières, over four hours from Middlebury. I traveled there with Ric Cengeri, from Burlington, a friend and former colleague of my daughter Jane's at VPR, an omni-fan of sports in Vermont, the U.S. and globally, a natural regaler of tales, sometimes called "the Mayor," the very definition of a good companion for a long drive. 
I have wanted to go to a game in Trois Rivières for a long time because of its place in the history of baseball's integration. 
In 1946, baseball's integration had three fronts. Jackie Robinson had signed with the Dodgers in November 1945 and prepared for his breakthrough season in the Majors the next year by playing for the Dodgers top farm team in in Montreal, the Royals. He played brilliantly, leading the International League in batting (.349), runs scored (113) and stolen bases (40).  
The Dodgers signed other Black players from the Negro Leagues in 1946. Future MLB stars Roy Campanella (Baltimore Elite Giants) and Don Newcombe (Newark Eagles) were assigned by the Dodgers to their B level (AA today) minor league team in Nashua, N.H. They likewise performed brilliantly under their youthful manager Walter Alston, who went on to a Hall of Fame career as the Dodgers' manager for 23 years.
Trois Rivières, the Dodgers Class C farm team, was also an interracial team with pitchers John Wright and Roy Partlow of the Negro Leagues on their roster that season. 
In January of 1946, Wright became the second Black player signed by the Dodgers. At 27, he was a legitimate prospect, having pitched for the powerhouse Homestead Grays. He was 26-4 in 1943 and played in the 1943 East-West All Star Game in Chicago before 51,000 fans. At 5'11", 172 pounds, he was described by one sportswriter as a "stringbean fireballer with great control and wicked curve."
Wright served two years in the Navy 1944-45, and came to the attention of Dodger scouts while playing for the all-Black Great Lakes Blue Jackets (along with fellow Navy man Larry Doby). He  was Jackie Robinson's roommate at the Dodgers spring training camp in Daytona Beach, staying in private homes. 
Johnny Wright did not pitch well (or often) in Daytona Beach or Montreal and was dispatched to Trois Rivières of the Can-Am (Canadian-American) League on May 14. Don Newcombe observed "he worked hard and tried, but he was tense."
Dodger President Branch Rickey felt that Robinson needed a Black teammate, so Wright was replaced on the Montreal roster by Roy Partlow, who was purchased from the Negro League Philadelphia Stars for $1,000. Though a fine pitcher, Partlow was hardly a prospect: reported to be 30 years old, the Dodgers knew he was actually in his mid-30s. He had played on the dynastic Homestead Grays teams in the late '30s and early '40s, and had pitched in East-West All-Star Games and Negro League World Series.
For Montreal, Partlow pitched brilliantly at times, and disastrously at other times. Halfway through the '46 season, with his ERA at 5.59 (and Robinson proving he was fine on his own), he joined Wright 70 miles northeast of Montreal in Trois Rivières. 
In his first two months with the team, Johnny Wright had pitched with middling success, winning six games and losing seven. With Partlow's arrival, he was revived, won five games in a row, and finished the season 12-8. 
Partlow was unhittable. He won nine straight starts, finishing the season 10-1. He was also a terrific batter, pinch-hitting and playing the outfield on days he didn't pitch. He batted .404 in his two months with Trois Rivières.
Behind Wright and Partlow, Trois Rivières overtook the Pittsfield (Mass.) Electrics to win the regular season pennant — then they were stalwart in the playoffs leading the Royals, first over the Rome (N.Y.) Colonels and then Pittsfield for the Can-Am Championship. 
The Montreal Royals were managed by Mississippian Clay Hopper, who was slow to accept the idea of integration. By contrast, Wright's and Partlow's manager for the Trois Rivières Royals was Californian Frenchy Bordagaray, who had no problem playing with or managing Black players.
Frenchy could also play baseball. He played 12 years in the Majors for five teams and compiled a .283 lifetime batting average. As player-manager of Trois Rivières, he led the Can-Am League in batting (.375) and won the league's Most Valuable Player Award.
There were three interracial teams in organized baseball in 1946, the year before Jackie Robinson stepped on the field for the Brooklyn Dodgers on April 15, 1947, and made history as the first Black player in the Majors in the 20th century.
All three of those Dodger teams, with Black players leading the way, won their league championships. 
* * * * * *
So, how about the game between Trois Rivières Aigles and the Empire Greys the Sunday before last, that occasioned the road trip. What happened? Who won? 
Well, we got to the ballpark just before game time. Built in 1938, the stadium was "Stade Municipal" when Wright and Partlow played there, then was Stade Fernand-Bedard after a beloved local baseball figure, and is now Stade Quillorama, after a local bowling alley. 
There were almost no cars in the parking lot. A group of young men were lounging on the curb outside the entrance to the park. "What's up"? we inquired of them.
"No game. Canceled." They shrugged. "Air quality." The sky was indeed a gray haze, but we had not taken note of it.
The young men were members of the Greys, the visiting team, there on a three-game trip to play the Trois Rivieres Aigles. We chatted them up and learned that teams in the independent Frontier League play 96 games — and the Greys, out of New York, have no home field, and play all of their games on the road. That's why they're the Greys: they never get to wear home whites. 
The park was open, so we took a look at the interior (capacity 4,500) and then spent an enjoyable half hour or so in the small museum, just inside the stadium entrance, the Musée du Baseball Fernand Bedard. It celebrates 85 years of baseball on that site, with artifacts, uniforms, well-displayed and large panels with images and prose in French and English. 
Quite a history: from 1971 to '77, the Trois Rivieres Aigles was the affiliate of the Cincinnati Reds in the Eastern League. Ken Griffey (the elder) was on that team. Yvette, a high school student, was our gracious host and guide. 
Then we hit downtown Trois Rivieres, a city of about 140,000, and had a pleasant lunch at an outdoor café on the pedestrian mall in the center of town, the top of which is not a church as in Burlington, but the broad expanse of the St. Lawrence River. The air quality seemed fine to us. 
No ball game, but a day well spent nonetheless. 
—————
Karl Lindholm Ph.D. is the Emeritus Dean of Advising at Middlebury College. This fall he will teach a course called "Segregation in America: Baseball and Race" at Middlebury. He can be contacted at [email protected].
More News
Tiger boys' cross-country team held off runners from Burr & Burton, VUHS and Mount Abe in … (read more)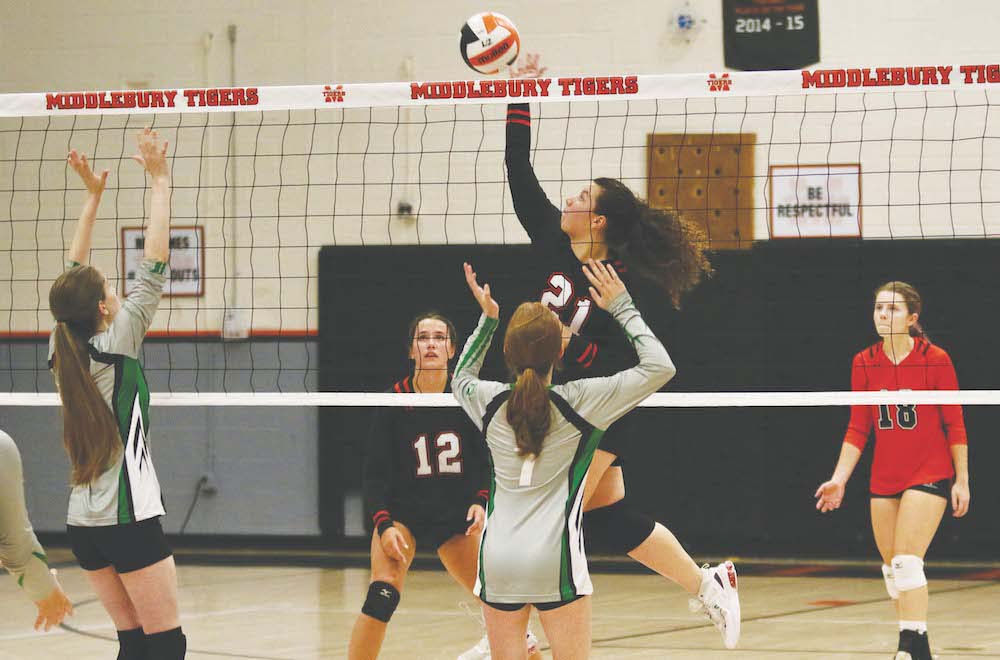 The first-year Middlebury Union High School girls' varsity volleyball team continued its r … (read more)
I gave Bill Lee a call last week, hoping he was at his home in Craftsbury and we might arr … (read more)