Group hosts anti-trans talk at VUHS
VERGENNES — More than five dozen people gathered inside the Vergennes Union High School auditorium on Tuesday to hear Walt Heyer, an advocate against gender-affirming healthcare for youth. The 82-year-old spoke about his experience with gender-affirming healthcare — he transitioned and then detransitioned in the '80s and '90s — and his stance that gender-affirming healthcare is harmful.
Against the backdrop of a larger, joyous Pride celebration counter-event that bordered on a party, a smaller group of individuals accumulated outside the entrance to the auditorium, patiently waiting to enter upon the strict entry time of 6:15 p.m.
Sandy Yandow leaned against the school's outer wall watching the vivacious counter-event unfold on the lawn in front of the school. A Pride-supporter, Yandow decided to listen to Heyer's talk out of "curiosity," despite disagreeing with his views. 
She did not see the relationship between the content of the talk and concerns about school curriculum that she says initiated the invitation for Heyer to speak. 
"This started about curriculum. So, why didn't they focus on curriculum," she said. 
Yandow wondered why some people concerned about what is taught in school focus instead on gender identity.
"You know, families do want to know what's in curriculum," she said. "So if we were talking about that, about curriculum, that would be, you know, a whole different issue." 
Another talk attendee, Mark, who wished not to share his last name, shared Yandow's curiosity:
"I'm here to be educated. I hear mostly one side. So I want to hear the other side." 
He says he mostly hears what he called "the trans side." 
"That's what's in the media. It's what's in the newspapers. It's what schools talk about. And so I'm here to hear the other perspective."
Mark said he was "not at all" concerned that the event would hurt people.
"I don't think how free speech and people giving their opinions can hurt anybody," he said.
The auditorium, filled nowhere near capacity, felt like being transported back to the days of the COVID-19 pandemic. Heyer, who some believed would give his talk in person, was instead projected via Zoom on a screen above the auditorium stage. 
Tara Ferf Jentink, event organizer and leader of the Vermont affiliate of Parents Rights in Education, also addressed the audience via the Zoom. According to one of her friends who attended to help set up, Jentink, a Ferrisburgh resident, is currently in Oregon, her home state and the state where Parents Rights in Education was founded, and is preparing to move to the Netherlands.
Jentink's friend was unwilling to comment further. She confirmed that others who set up on Jentink's behalf would also be unwilling to comment.
Jentink responded to an interview request with a written statement. She wrote, "I am unaware of whether anyone from Outright Vermont attended, but if they had, they would have learned that Walt shared facts out of care and concern for youth. It was not a hate rally. No one is saying children and teens suffering from gender dysphoria don't belong." 
Outright Vermont is a Burlington LGBTQIA+ advocacy group. 
Jentink continued, "The issue should not be focused on the venue, but the content of Walt's presentation. People deserve to have access to both sides of this very real debate."
HEYER'S TALK
Heyer charmed the audience with his passionate tone and a seemingly data-driven argument. He named anecdotes, facts, figures and studies including those on the mental health of individuals after they transition. 
He recounted the story of a 19-year-old-boy named Nathaniel who regretted transitioning, and Heyer shared comments of two transgender doctors specializing in transgender health care, and presented European policies he said restrained the ability of providers to administer gender-affirming care to youth. 
Throughout the talk, Heyer referred to "our children." He made a point to criticize President Joe Biden for using the same phrase, saying, "They want your kids. You know, the president of the United States says they're our kids.
"And we know that's not true. They're God's kids."
This comment produced the most raucous show of support from the audience all evening. 
By the end of the talk, Heyer had effectively stirred the small audience. A few of the most enthusiastic individuals who attended the event engaged with Heyer directly during a Q&A portion. One attendee asked, "Why aren't the policymakers looking at the decisions being made in five nations, the UK, Sweden, Finland, France and Norway, instead of putting flags up in front of our White House." 
Mark commented, "I question the motivation of some doctors that continue to do this. And along with that, did you feel that there are ulterior motivations? Or, for example, pharmaceutical companies when someone transitions, we pretty much have a customer for life, do you feel that's at the heart of this?" 
Another asked, "Is anybody talking about class action lawsuits?"
All of the post-talk comments and questions focused on what they perceived as problems with gender-affirming health care and alleged indoctrination of students. 
At the conclusion of the talk, attendee Tom Kelly said, "It's reinforcing a lot that I kind of knew."
When asked how he believes children are being indoctrinated, he said, "I think the transgender ideology is being promoted in our media, and by certain political figures."
Kelly says he defines the ideology as "simply put, that a man or a woman can be redefined by what's going on between one's ears." 
"That's just not possible," he says. 
On the event's promotional flyer, Heyer was promoted as an "international speaker with a compelling life story relevant to adults and children today — particularly for those who identify as transgender or those who seek to lovingly support them." 
Suzanne Richman, mother of an adult transgender woman, sat in for only part of the event. She was asked what she thought about the attitudes expressed towards parents who choose to be supportive of their transgender children.
"I think our children are born into this world to make the world a better place than the one that we grew up in," Richman said. "And I understand from my own experiences in all kinds of communities, that when children are given enough freedom to choose their own path, and to bring their gifts into the world, they do make the world and their own lives and their relationships … more beautiful. " 
And she wondered aloud about parents who believe that they need to control their children's mindset:
"I think those parents are missing an opportunity to see what new things can bloom from the next generation."   
More News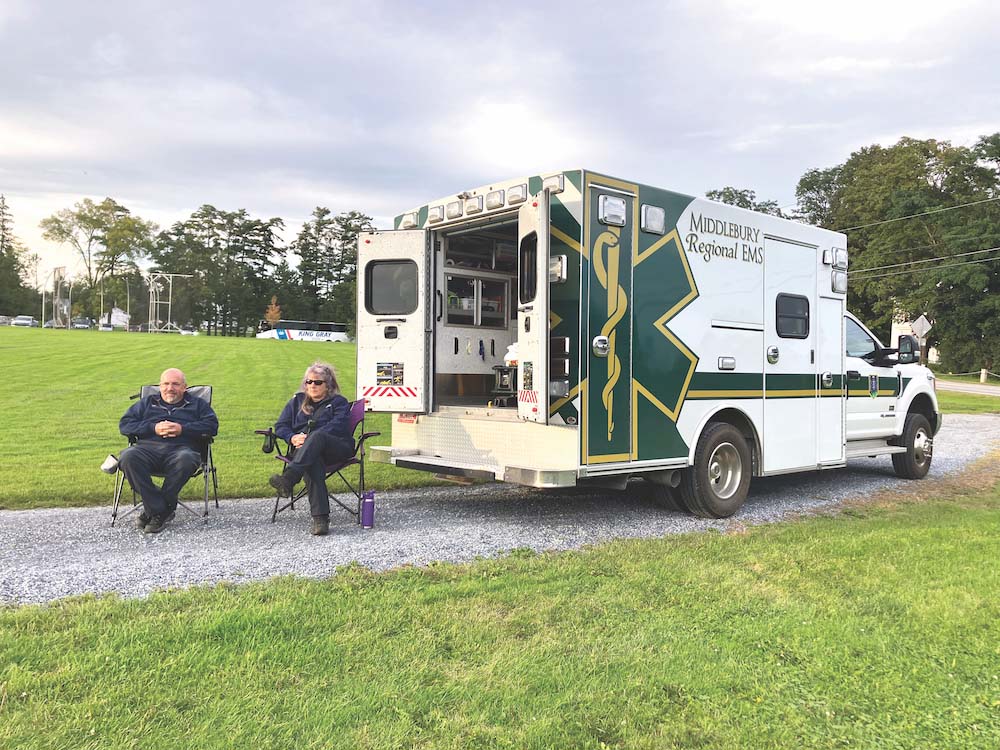 Middlebury Regional Emergency Medical Services wants to eliminate its annual Town Meeting … (read more)
Middlebury police are investigating the death of a Middlebury College junior and say the p … (read more)
In the course of her almost 101 years on Earth, Vergennes resident Margaret Clifford, bett … (read more)