Big, joyous Pride rally held outside anti-trans talk at VUHS
VERGENNES — Pride as a movement to support people regardless of their sexual orientation and gender identity started as a riot at New York City's Stonewall Inn in 1969. It was a symbol of resistance against hate. 
On Tuesday, June 20, students at Vergennes Union High School along with a big swath of the broader community echoed this spirit of resistance in hosting Vergennes's first ever Pride Parade and celebration as a direct response to a talk by an anti-trans activist at VUHS. 
Dwarfing the number of people who came to the talk, more than 400 people showed up outside VUHS to make signs and then parade to the City Green for a Pride event that celebrated queer and trans joy and love. 
A student named Megan summarized the sentiments of the evening pretty well in a speech on the green:
"We are here and we are queer and we do not have to fear them."
The talk was hosted by the Vermont chapter of a group known as Parents Rights in Education, led by parents Tara Ferf Jentink and Tonya Meacham. They rented the auditorium in the school after the school year ended. They tabbed activist Walt Heyer to give a talk, via a closed circuit video link, titled "Transgender Care: Helpful or Harmful?" It was meant to be an event denouncing what Heyer would call "transgenderism." 
Many people in Vergennes and the larger Vermont community did not take kindly to what they considered to be a provocative event. When word spread about the talk late last week, students, community members and activist groups quickly came together to organize a counter-event to take place at the same time as the talk. In just a few days, what was meant to be a small counter protest turned into Vergennes' first Pride event, which organizers dubbed "Big Pride in the Little City." It brought more than 400 Vermonters together to support queer and trans youth in their communities. 
Sydney Ansley, a Ferrisburgh mom, created the Facebook invite for Tuesday's counter-event. 
"I was just really disappointed and angry," she said. "The fact that it's here at all is problematic. And the fact that the school district can't do anything about it.
"My initial reaction was to create a Facebook event, just to get people there to protest," she added. 
It wasn't long before others began to get involved in efforts to oppose the talk. It became a collaborative effort between student organizers, activists in and around Vergennes, and groups like Outright Vermont, an LGBTQ+ advocacy group based in Burlington.
The Pride event started at 5 p.m. outside of VUHS, with sign and poster-making for all attendees. At 6 p.m., the speeches began. VUHS student organizer Claire Clark introduced this portion of the program, followed by activist Elio Farley, a Middlebury College student who works at the Addison Central Teens center. Together they laid out "the norms" for the event. 
"We are at VUHS and we are intentionally in view of the hate event," Farley said. 
"We keep ourselves safe," he continued. "We are not engaging with haters at their grounds, at the time and place of their choice … We will not be violent with our children present. Trans joy is the protest."
Youth organizers said they didn't want to spend their energy directly engaging with or antagonizing those attending Heyer's talk. As Farley put it, "The golden rule is, ignore the haters … Once they're inside they're out of our minds. We don't want to be there when they come out."
Some students at the event said they felt let down by the school, they felt the responses that Addison Northwest School District administrators gave to acts of anti-trans hate like this talk were not just. 
Superintendent Sheila Soule, who attended the community Pride events on Tuesday, said she thought it was a celebratory experience and students felt supported. 
She explained the school district couldn't deny the Parents' Rights group access to the school when it sought to rent the space.
"If it's open to the public we can't discriminate against its use," she said. "Either the building is open to the public, or it's not."
Soule wants to use this episode as an opportunity for learning, though likely not until school is back in session this fall. 
"We plan on having dialogue with students about this, to make sure students feel safe in school, she said."
As for the rest of the event, the mic was open for members of the community to speak to the crowd. Community members of all ages and identities, from elementary school-age non-binary children to older transgender adults who transitioned decades ago, addressed the crowd. 
From the portion of the evening spent in front of VUHS to the parade that began at 7 p.m. to the festivities at the city green that went until 9 p.m., the entire evening was one of joy and hope for the community. One of the speakers, a trans person who transitioned 40 years ago said, "I want you to walk away from here with a sense of hope. Because you are most surely going to win."
Throughout the evening there was food and music. By the time the parade arrived at the green the community was in celebration mode. Blowing bubbles, waving flags and signs with words and phrases like "resist" and "trans youth matters." 
At around 8 p.m., Christine Hallquist, a trans woman who won the 2018 Democratic nomination for Vermont governor, and Michael Pieciak, the first openly gay state treasurer, each gave speeches. Both expressed their awe at the enormity of this student-led event.  
"I couldn't be who I was when I was growing up," Hallquist told the Independent after her speech. "But then, seeing all these kids brought me right back to my high school. It's so moving, I'm so happy with the students and what they've done in response to the haters." 
More News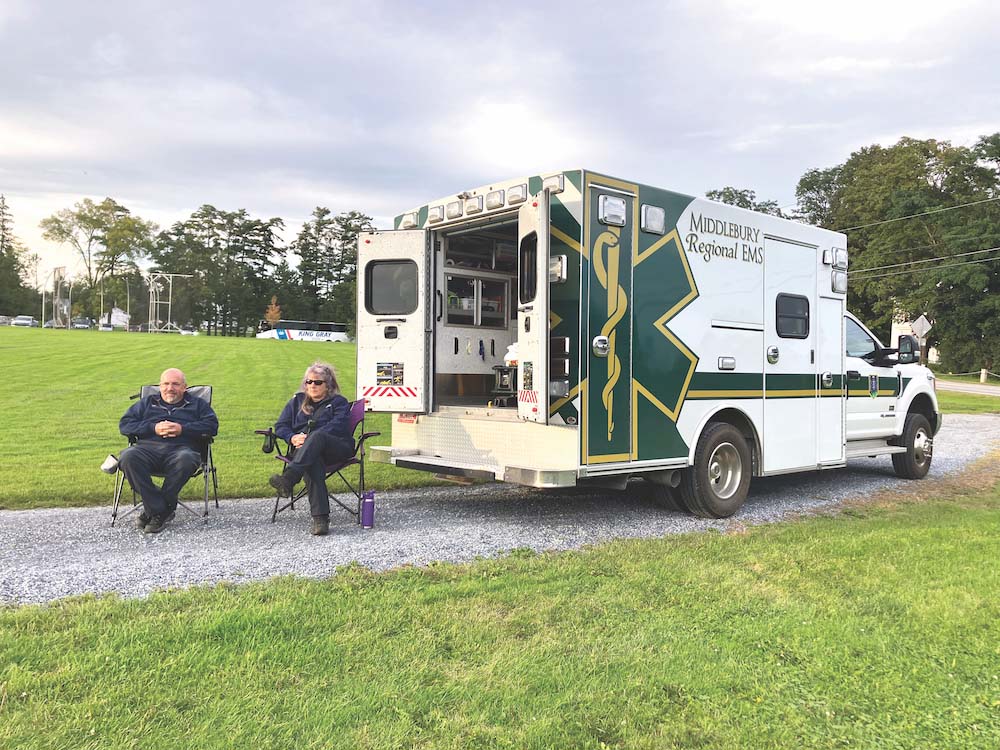 Middlebury Regional Emergency Medical Services wants to eliminate its annual Town Meeting … (read more)
Middlebury police are investigating the death of a Middlebury College junior and say the p … (read more)
In the course of her almost 101 years on Earth, Vergennes resident Margaret Clifford, bett … (read more)