UPDATED: Tiger boys' lax falls in Division I final
This story was updated on Monday, June 12.
BURLINGTON — The huge strides that the Middlebury boys' lacrosse team made this season fell just short of the ultimate goal. 
The Tigers fell to top-seed South Burlington, 14-6, in the Division I state championship game at the University of Vermont's Virtue Field on Friday night. 
"We have built this program in the five years that I've been here and we've been exponentially better every year," said Middlebury coach Matt Rizzo. "We didn't finish how we wanted it to, but we're happy that we got to where we are. And I'm super proud of the way we played the game. 
"We played hard and they fought as hard as they could today."
The game started slowly for both teams as they worked to find their offensive rhythm, trading goals for a 2-2 tie as the first quarter neared the end. 
It was the Wolves who found their goal scoring touch first. Will Hershberg scored with 2:14 to go and kicked off an 8-0 run for South Burlington that extended well into the second quarter. 
"They are better athletes and they went on those runs in transition," Rizzo said. "Those are big momentum swings. When you can't stop the transition, bad things happen to you usually. They should get all the credit. They were better today and they beat this."
At the end of the run, Middlebury trailed 10-2 and the first half was nearly over. Captain Fynn Whitlock worked to get the Tigers back on the scoreboard with a great individual effort, scooping up the ball of a Tigers faceoff win and rushing it all the way to goal for a 10-3 score.
Jackson Gillett then netted his second of the game with around one minute remaining to close the score to 10-4 heading into halftime. 
"We knew that they play a high pressure defense," Rizzo said. "We knew coming in, in order for us to win, we'd have to handle that pressure. We didn't really handle it to well. They force you to make early decisions and we didn't make great decisions."
South Burlington put the game out of the way in the third quarter, outscoring Middlebury 4-0 and opening up a 14-4 lead. Middlebury's Logan McNulty and Toby Draper added goals in the fourth frame but it was too little, too late for the team's title hopes.
"We got a ton of support and we're proud of where the program is but we expect to be here every year," Rizzo said. "So we'll see you in 364 days."
Owen Lawton added a goal and two assists for the Tigers, while goaltender Kegan Brown made 11 saves. 
It was Middlebury boys' lax's first appearance in the Division I title game since 2005 and the highest seed (No. 3) they have earned for the postseason since 2015. 
MUHS finishes the season with a 14-5 record.
More News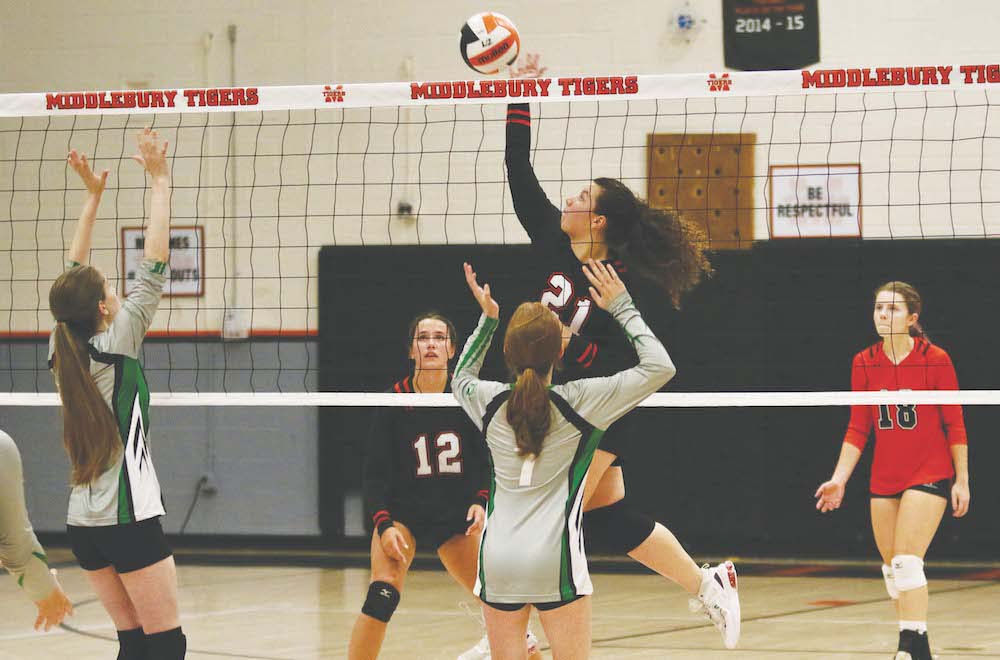 The first-year Middlebury Union High School girls' varsity volleyball team continued its r … (read more)
Soggy conditions didn't slow down Middlebury runners noticeably at a cross-country meet ho … (read more)
I gave Bill Lee a call last week, hoping he was at his home in Craftsbury and we might arr … (read more)