Three local wrestlers win state titles (UPDATED)
This article was first published on Feb. 28.
HINESBURG — Mount Abraham junior Devan Hemingway, Vergennes senior Taylor Stearns and Middlebury freshman Avery Carl won titles on Sunday at the Vermont State Championship Wrestling Meet, hosted by Champlain Valley Union High School.
The coaches chose Carl, seeded second at 132 pounds, as the meet's Outstanding Wrestler after he rallied from a 3-0 deficit to pin top-seeded Anthony Matas of Essex in the final. Matas had twice defeated Carl this season, according to the Tiger coaching staff.
Hemingway at 120 and Stearns at 152 were the top seeds at their weight classes and wrestled to their abilities.
Carl's win, along with five other top-six finishes by Tiger wrestlers — notably a second-place performance by freshman Alex Sperry at 113 — helped the Tigers claim fourth place with 97 points.
That total was one point ahead of a strong effort by the OV team (fifth place), which also placed a half-dozen wrestlers on the podium with top-six efforts, and six points ahead of VUHS (sixth place), which placed five wrestlers on the podium. Mount Abe was 13th out of 22 teams with 50 points.
Perennial power Mount Anthony kept its decades-long winning streak alive, but just barely. The Patriots edged Spaulding for the crown, 217.5-212, a margin less than the points awarded for winning a single match.
The Tiger coaches were thrilled with their team's effort.
"While Carl's performance was the biggest highlight, there were many," said Assistant Coach Jon Ashley in an email.
Ashley also described Carl's winning tactics, which paid off about a minute into the second period after Matas took a 3-0 lead: "Carl set up and threw Matas to his back on the edge of the mat with a lateral drop and then finished with a pin."
In taking second at 113, Sperry earned two pins before falling by decision to Spaulding's Caleb Hunington in the final. The Tigers' next best result came from Nick Sheldrick, third at 285.
For Mount Abe at 120 Hemingway won by a second-period pin in his first-round match, earned a 7-2 decision in his semifinal, and then pinned Colchester's Noah Quigley in the final's third period. Senior Matt Conant's fifth-place finish at 138 proved to be the next best effort for the small Eagle squad.
For VUHS, Stearns dominated at 152, winning all three of his matches with first-period pins, including over Colchester's Jordan Lavoie in his final. Commodores Caden Howell, third at 182, and Eli Brace, fourth at 126, also excelled.
No Otters won their weight classes. Sam Martin placed second at 220, losing to Mount Anthony's Hayden Gaudette by a third-period pin. That result clinched the title for the Patriots.
Caleb Whitney's third-place effort at 138 was the next best individual effort for OV, and Simon Martin took fourth at 195.
All the top three finishers in each weight class qualified to compete this weekend at the New England meet in Providence, R.I.
By weight class, the results for local wrestlers were:
106 Jackson Marks of OV finished fifth despite compiling an 0-2 mark.
113 Sperry went 2-1 in finishing second, and Eagle Logan Pierro (0-2) was sixth.
120 Hemingway went 3-0 in finishing first, and Tiger Keagan Stone (1-2) was sixth.
126 Brace of VUHS went 2-2 in finishing fourth after losing a 4-3 decision in the semifinal round.
132 Carl went 3-0 in taking first place.
138 OV's Caleb Whitney (4-1) was third, Eagle Matt Conant (3-2) was fifth, and Tiger Layne Chant went 0-2.
145 OV's Chase Cram (3-2) was fifth.
152 while Stearns was dominating, Mount Abe's Lucas Graham and OV's Malachai Sheldrick each went 1-2.
160 OV's Tucker Babcock (4-2) defeated Tiger Tucker Kennett for fifth place, 6-0. Kennett finished with a 2-2 record. Eagle Lucas Philips went 0-2.
170 Tiger Calvin Kennett (3-1) defeated Commodore Isaac Preston, 7-2, for third place. Preston compiled a 4-2 record in taking fourth. OV's Isaac Whitney went 2-2.
182 Commodore Howell went 4-1 in finishing third, while OV's Dom Davis went 0-2.
195 OV's Simon Martin (3-2) was fourth, Eagle Wyatt Allenson (2-2) was sixth, and Tiger Liam Wagner went 0-2.
220 OV's Sam Martin pinned two opponents before losing in the final. Commodore Jamison Couture (2-2) took fifth.
285 Tiger Nick Sheldrick lost his first match, but bounced back with three straight pins to finish third. OV's Derek Li went 0-2.
The team scores were: 1. Mount Anthony, 217.5; 2. Spaulding, 212; 3. Essex, 193.5; 4. MUHS, 97; 5. OV, 96; 6. VUHS, 90; 7. Mount Mansfield, 74.5; 8. St. J, 66; 9. Springfield, 56.5; 10. Burr and Burton, 54; 11. Randolph, 52; 12. Colchester, 51; 13. Mount Abe, 50; 14. Fair Haven, 37; 15. CVU, 32; 16. Mill River, 20; 17 Harwood, 17; 18. Winooski, 14; 19. Rutland, 12; 20. Bellows Falls, 10; 21. Mount St. Joseph, 1; 22. Milton 0.
More News
The Middlebury College football team scored first the outlasted visiting Bowdoin on Saturd … (read more)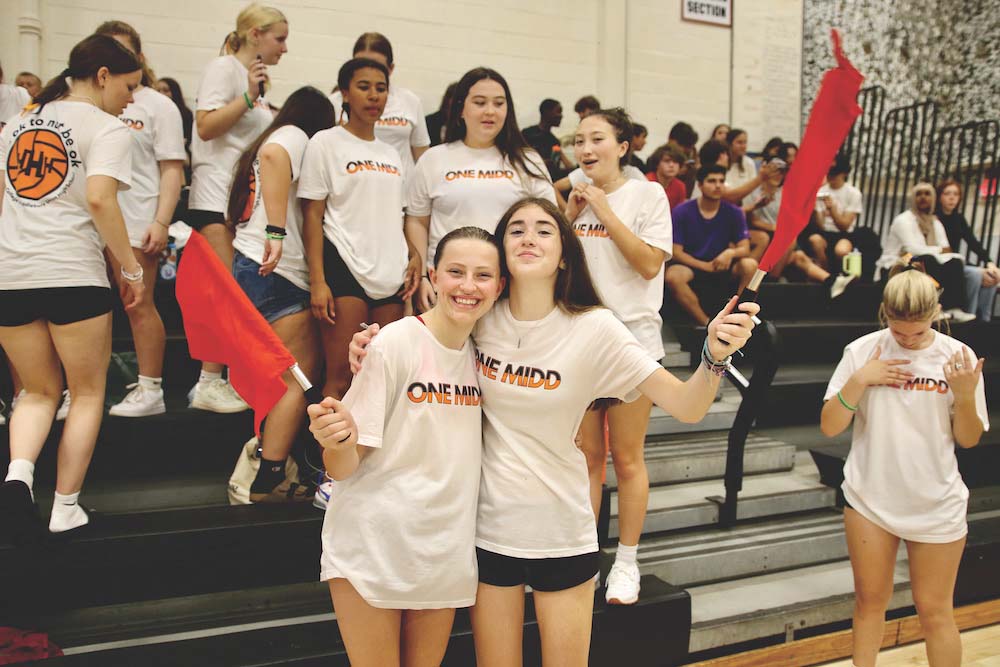 Considering the Middlebury Union High School volleyball team's decidedly successful record … (read more)
In a hard-fought girls' soccer match on this past Saturday, Middlebury outlasted Vergennes … (read more)