T-Birds edge gritty Commodore girls' basketball
"The main thing is they're still fighting. We haven't won a game in a month. And these kids are still fighting. I'm proud of them."
— Commodore Coach Billy Waller
VERGENNES — How does a team handle adversity? Do the athletes go through the motions if losses pile up? Or do they pull together and keep competing?
Based on Saturday's game against visiting Missisquoi Valley and other recent close results, the Vergennes Union High School girls' basketball team appears to be on the latter path.
Yes, the Division III Commodores lost to the T-Birds, 56-53. It was their ninth straight setback, dropping them to 4-10. Eight of those 10 losses have come to teams with winning records. The exception is D-I Colchester, 7-8 as of Saturday.
A couple setbacks were one-sided, but recently the Commodores have been back on course: Two competitive games with 11-4 North Country preceded Saturday's battle.
And on Saturday they repeatedly fought back against the T-Birds. They never led from 3:20 of the first quarter until 3:20 of the fourth, and lost on tie-breaking free throws in the final seconds.
Coach Billy Waller had hoped the Commodores would break through for a win, but he was not disappointed at what he saw.
"The main thing is they're still fighting," Waller said. "We haven't won a game in a month. And these kids are still fighting. I'm proud of them."
The only two games in which Waller said the Commodores were not competitive came vs. rivals Mount Abraham on Jan. 22 and Middlebury on Jan. 29.
Waller said the response of the Commodore team that returned only three players from the squad that reached the D-III final a year ago to those losses was critical.
"When Mount Abe and Middlebury took it to us in back-to-back games, I felt like the girls could have went one of two ways," Waller said. "And they dug in and they've been playing better."
Missisquoi, which improved to 8-4 and starts three seniors and two juniors, posed matchup problems for the smaller, less experienced Commodores. VUHS had no answer in the first half for six-foot center McKenzie Vincent.
Vincent poured in 16 of her 19 points in the first half and keyed the T-Birds on the boards, where MVU owned a 19-10 first-half advantage.
The Commodores hung close for the first quarter as sophomore guard Kaelin Sullivan attacked the basket and scored five, and senior forward Felicia Poirier added four as T-Bird led, 16-12.
VUHS went cold in the second quarter, and Vincent tossing in six points as the T-Birds pulled ahead by 28-17 with 1:45 to go.
Poirier then sank a three from the left flank at the one-minute mark, and 30 seconds later stole the ball and went in for a layup to make it 28-22 at the break. She would finish with 27 points after scoring nine in the first half.
Just as critically as Poirier's second-half points was that VUHS attacked the boards with a vengeance after the break and outrebounded the T-Birds, 26-19, preventing second-chance points and picking up a half-dozen of their own.
Waller also put the 5'-11" Poirier on Vincent, who started passing out of the post or missing shots. "Twenty-three (Vincent) was a handful," Waller said. "I tried four different girls on her before I settled on Felicia."
The Commodores cut the lead to 40-37 after three periods, with six points from Poirier, four from senior forward Ryley Dubois, three from junior point guard Kyra Bradford (she had eight in all), and two more from Sullivan. With 2:50 to go T-Bird Abigail Paquette hit a three to make it 38-31, but the Commodores closed the period with a 6-2 run.
In the fourth period, a drive from VUHS sophomore Ava Almeida and free throws after offensive rebounds from Almeida, Bradford and Poirier tied the game at 43-43 at 5:23. Danielle Totten put the T-Birds back on top, but a Poirier jumper and following steal conversion gave VUHS the lead, 47-45, at 3:45.
MSU's Paquette responded with a three 10 seconds later, but Poirier scored in transition to make it 49-48, VUHS at 3:20. Two Paquette free throws at 2:56 put Missisquoi back on top, and at 2:00 Vincent hit in the post: 52-49, T-Birds.
Poirier sank a shot in the lane to make it 52-51, and a Paquette (10 points) free throw made it 53-51 at 1:00. The Commodores turned the ball over, but Almeida stole the ball back, and Poirier nailed a jumper to make it 53-53 at 0:25.
But the Commodores fouled Totten, and she hit two free throws with 11.6 seconds to go. Vincent blocked a VUHS shot at the other end, and Totten added a clinching free throw with a second left.
The Commodores will not enter the D-III postseason with a high seed this year, but Waller believes efforts like Saturday's and the level of competition they have played shows they are capable of doing damage.
"I feel like with the schedule we've played we're as prepared as we could be," Waller said. "We couldn't do anything more to prepare ourselves than what we're doing right now."
More News
The Middlebury College football team scored first the outlasted visiting Bowdoin on Saturd … (read more)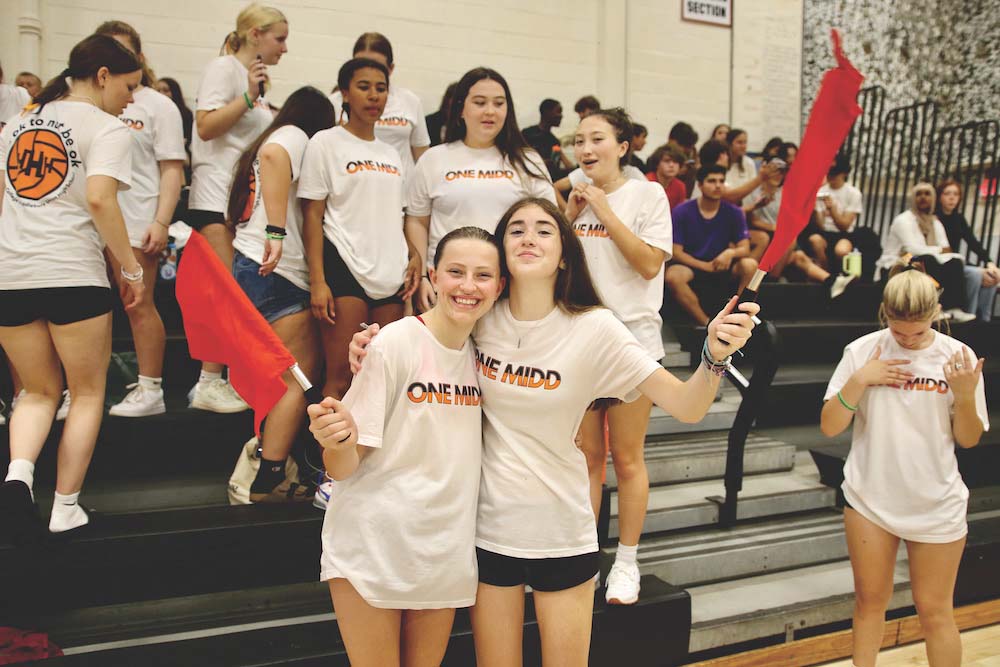 Considering the Middlebury Union High School volleyball team's decidedly successful record … (read more)
In a hard-fought girls' soccer match on this past Saturday, Middlebury outlasted Vergennes … (read more)