Monday Sports Wrap: Big wins for Eagle field hockey, football, Commodore girls
ADDISON COUNTY — Highlights in high school sports action late last week include the top-seeded Mount Abraham field hockey team advancing in the Division II playoffs and key wins for the Vergennes girls' soccer and cooperative Eagle-Commodore football teams. 
Sport by sport, here's what happened:
FIELD HOCKEY
On Friday in the D-II field hockey playoffs No. 1 Mount Abe survived a challenge from No. 8 Hartford to win 2-1. The Hurricanes took the lead two minutes in on an Alice Piper goal. Maddie Gile equalized for the Eagles as they gradually asserted themselves, and Molly Laurent's unassisted goal 2:20 into the fourth quarter was the game-winner.
Maddie Donaldson made three saves for Mount Abe (5-1), which will host No. 4 Woodstock (5-2-1) on Tuesday at 3:30 p.m.
On Thursday No. 7 host OV needing two overtimes to oust No. 10 Middlebury, 1-0. OV's Ryleigh LaPorte hit a ball out of mid-air that deflected past Tiger goalie Cassie Bettis midway through the second OT for the game-winner.
The Tigers had earned three first-period saves and put two of their four shots on OV goalie Lily Morgan in that quarter. They also earned four corners in the third period, but the OV defense stopped them.
Shots overall were few until overtime, when the Otters forced Bettis to make seven of her 11 saves in the first extra session.
The Otters advanced to meet No. 2 in a semifinal that was postponed from Saturday to Monday at 3 p.m.
The Tigers finished 0-8, and the game marked the final MUHS field hockey game for seniors Lois Alberts, Lydia Deppman, Bridget Graham, Kaitlyn McNamara, Sarah Nicolai and Clara Wolff.
FOOTBALL
On Wednesday in 7v7 football, host Rutland (5-3) edged the Tigers, 23-20, in overtime, avenging a last-second three-point loss to MUHS in Middlebury on Oct. 9. Nikolai Luksch's 30-yard field goal gave the Tigers a 20-17 lead in OT this past Wednesday, but the Raiders won on their turn on an Evan Pockette scoring toss to Steve Postemski.
MUHS took a first-quarter lead on a Luksch field goal after a long pass from Ryan Thomas-Danyow to Cooper Laroche.
Rutland led entering the fourth quarter, but the Tigers tied the game on two Zach Bean TD passes, one to Mason Kaufmann and one to Gabe Dunn. A Penn Riley interception set up one of those TDs.
In Brandon on Wednesday Fair Haven topped OV, 35-19. For the 5-2 Slaters, Evan Reed tossed three touchdown passes and Sawyer Ramey went three for two.
OV's Alex Polli threw a pair of TDs to Brady Diaz, and Luca Polli found Derek Raymond in the end zone for the Otters.
On Friday visiting Hartford became the first team to score more than three touchdowns this fall vs. MUHS in a 42-14 runaway. The Tigers will enter Tuesday's playoff game at Rutland with a 5-3 mark.  
On Saturday the 4-4 Eagles wrapped up their .500 season with a 49-16 victory over visiting Milton. Caleb Russell threw for 240 yards and four touchdowns, while Adam Mansfield threw for 129 yards and three scores, kicked a 47-yard field goal, caught three passes and scored once.
Also contributing were Noah Gargano, five catches for 171 yards and two scores; Nate Lavoie, three catches for 40 yards and two scores; Tristan Parker, three catches for 29 yards and a score; Ian Funke, two catches for 21 yards and a TD; and Colby Pierro, one catch.
The Mount Abe defense picked off six passes; making interceptions were Collin Dupoise, Gargano, Lucas Allen, Ryan Stoddard, Jameson Couture and Russell.
Also on Saturday the Otters cruised past visiting Mill River, 41-20, to finish the regular season 3-6. Alex and Luca Polli each threw for three touchdowns.
Diaz caught two TD passes, and Dylan Gaboriault, Casey McMullen, Aidan Blier and Luciano Falco each added one TD reception.
GIRLS' SOCCER
Wednesday saw local girls' soccer teams play four games. MUHS tied visiting Spaulding 2-2. Hannah Turner, from Zoe Noble, and Elisabeth Crawford, assisted by Sophie Larocque, scored for MUHS, and goalie Audrey Schnoor stopped nine shots. Goalie Kate McKelvey made six saves for the Tide.
Otter Valley (4-4) edged visiting Mount St. Joseph, 4-3, as Mia Politano scored three times and set up sister Elena Politano's strike.  
The Commodores earned a 1-1 home tie with defending D-II champion Rice. Kaelin Sullivan netted the VUHS goal, from Hannah Kelly, and goalie Kate Gosliga made four saves. Sunshine Clark blocked three shots for Rice.
Finally, host Milton topped Mount Abe, 3-0. Eagle goalie Joanna Toy stopped seven shots.
On Friday the visiting Commodores defeated Mount Abe, 1-0, as Sydney Weber's first-half strike held up. Gosliga stopped six shots as the Commodores apparently nailed down a top-four seed in D-III with a 4-2-3 mark. Toy made seven saves as the Eagles dropped to 1-7. 
Also on Friday Fair Haven powered to a 6-2 win over OV. Emma Briggs scored three times, and sister three goals Lily Briggs added a goal and two assists to spark the Slater attack. Elena Politano scored twice for OV (4-5) with assists from Mia Politano and Brielle Mackie.
On Saturday the 1-5-2 Tigers lost at Milton, 4-3, despite their season-high offensive output. Milton led at the half, 2-0, and held on despite two second-half goals from Turner and one from Ivy Doran. Lia Robinson and Larocque picked up assists, and both Schnoor and Milton's Sara Ambrose made eight saves.
BOYS' SOCCER
On Friday the OV boys snapped a four-game skid with an 8-2 victory at Springfield. Nick Parker led OV with three goals, Kieran Williams scored twice, and Hayden Bernhardt, Evan Thomas and Lane Eddy added one each.
Also on Friday undefeated host Milton overran the Tigers, 5-0. Yellowjacket goalie Braeden Caragher made seven saves, while goalies Owen Lawton (nine) and Elliot Schneider (three) combined for a dozen stops for the 5-2-1 Tigers.
On Saturday visiting D-I Mount Anthony defeated OV, 4-1. Eddy scored for OV, which will enter the postseason at 3-5.
The Vergennes boys visited Mount Abe on Saturday; see story here.
More News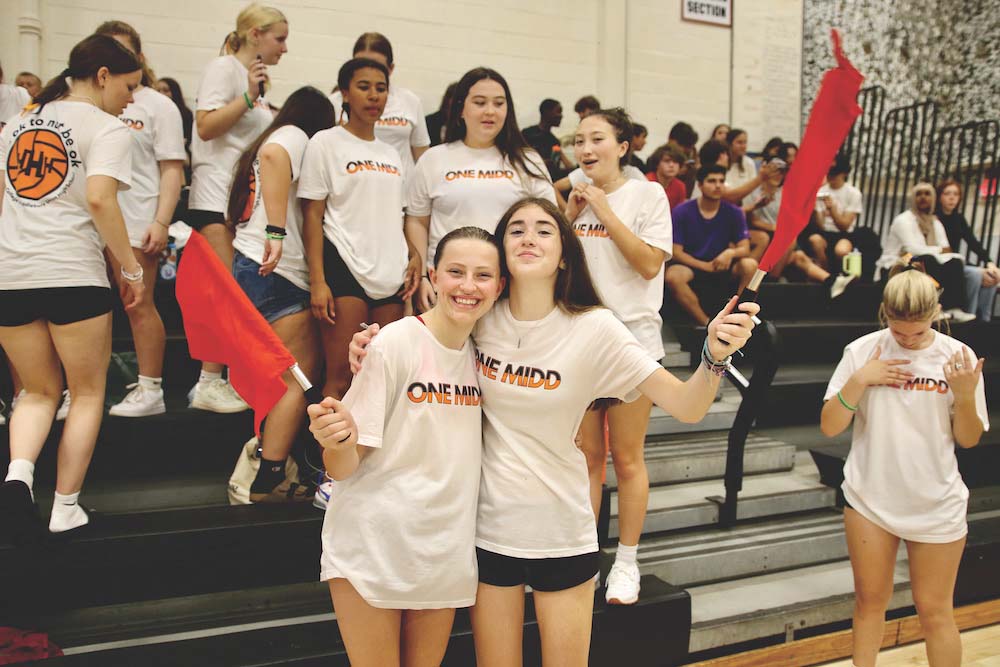 Considering the Middlebury Union High School volleyball team's decidedly successful record … (read more)
In a hard-fought girls' soccer match on this past Saturday, Middlebury outlasted Vergennes … (read more)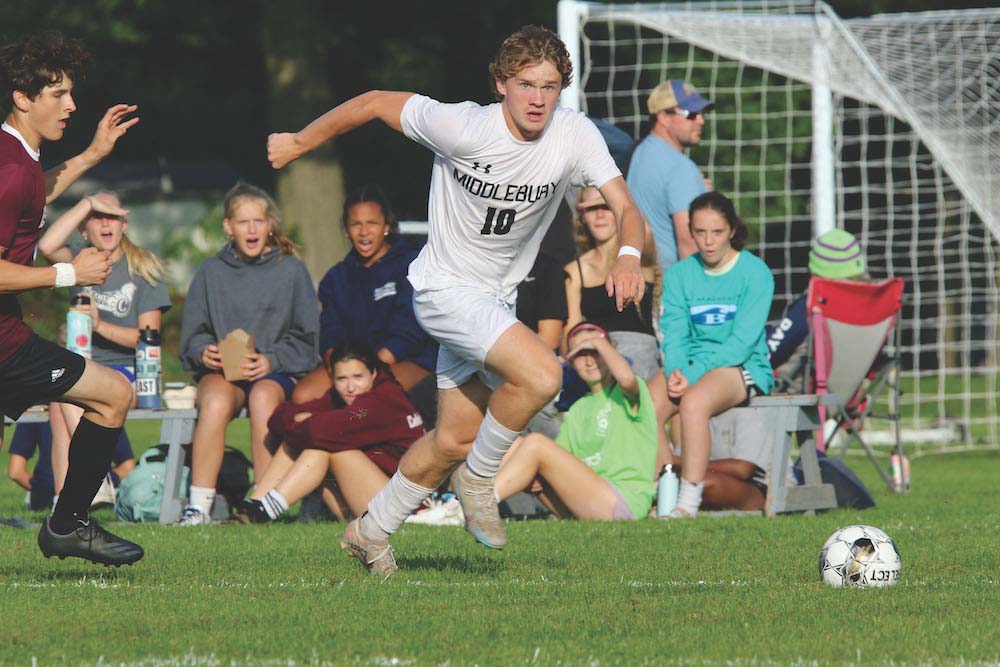 The Middlebury Union High School boys' soccer team survived a scoreless first half in whic … (read more)