Tiger, Commodore girls' soccer battle to a tie
MIDDLEBURY — Friday's high school girls' soccer game between host Middlebury Union and Vergennes had almost everything except a winner — the Tigers and Commodores dueled to a 2-2 tie.
Booming goals? Check. Late comeback? Of course. Momentum swings? Sure. Game-saving saves late in overtime? Why not? Rain and a lightning delay? Welcome to the 802.
Even after all that drama, what MUHS Coach Wendy Leeds most wanted to reflect on was something assistant coach Katlyn Mastrantone said following the final horn.
After months of COVID-induced inaction and anxiety, Leeds said it just felt like a good, competitive game.
"She said it's really amazing that in times like this these kids can come out and play with just as much competitive fire and just as much heart and leave those worries behind," Leeds said. "It was really great to see."
Coaches saw the deadlock as just.
"It was pretty evenly played," said Leeds, whose team is 0-1-1 heading into a Wednesday game at Rice.
VUHS Co-Coach Dwight Irish agreed.
"Holy cow, everybody coming up big, both teams. They dodged some bullets. We dodged a couple," said Irish, whose team stood at 1-0-2 after a home win and two road ties. "It's a fair result. It's well-deserved on their end as well. They battled. They had us, not on the ropes, but they were outplaying us for a bit."
The Tigers did earn an edge at midfield, especially in taking a 1-0 first half lead. Juniors Ivy Doran and Hannah Turner in the middle and sophomores Lia Robinson and Cady Pitner on the flanks all did good work.
The Commodores were probably more dangerous in the attack, particularly senior Sydney Weber and juniors Allie Croke and Felicia Poirier.
But the Tiger defense, notably senior sweeper Rhys Pitner, senior flank back Mardi Horne and junior stopper Zoe Noble, mostly kept the dangerous Commodores in check.
"I'm happy to see us marking defensively better," Leeds said. "I thought we were stronger in the midfield." 
MUHS took the lead in the seventh minute, when Noble stepped into the attack and picked up a loose ball almost 30 yards out.
Noble took one touch to line up a right-footed shot, and then unleashed a thunderbolt into the upper right corner. VUHS senior goalie Kate Gosliga (seven saves) had no chance, and it was 1-0 just before the lengthy lightning delay.
The tide turned early in the second half, as Weber and Croke began to penetrate the Tiger back line. The Commodores, led by senior Hannah Kelly, also began to disrupt the Tigers more often at midfield.
In the third minute Tiger junior goalie Julia Bartlett, who played most of the second half, denied a Croke blast from the 18. In the seventh minute she came out to near the penalty stripe to stop a Weber breakaway set up by Croke. Tiger junior back Genevieve Dora broke up a strong Weber run just afterward.
Three minutes later VUHS goalie Gosliga dove to deflect a Doran blast, and a Robinson bid from the left on the rebound hit the side netting.
VUHS equalized with 19 minutes to go. Croke drew a foul just outside the Tiger box, and Weber drilled the direct kick just under the crossbar on the right side. Bartlett (two saves) had no chance.
With six minutes to go the Commodores took the lead. Senior central defender Lauren Curtis won the ball at midfield and sent Poirier down the left side into the box. Poirier found the far side past senior goalie Audrey Schnoor, back in the game.
The Tigers responded a minute later. Robinson, on the right side, fed Doran at the top of the box, and she broke in alone on Gosliga.
Gosliga dove to deny Doran's hard shot from near the penalty stripe, but the rebound bounced to her left — right in front of the charging Cady Pitner. Pitner one-timed the loose ball home, and it was on to OT.
"Credit to Middlebury. I thought that was a nice goal. We were playing well," Irish said. "And they came back and tied it up. Crazy stuff."
In OT, Schnoor made two of her three saves in the final minute. Gosliga unleashed a huge punt that landed well past midfield and allowed VUHS freshman Kaelin Sullivan to break in alone on Schnoor.
Schnoor came out to the 18 to deny Sullivan's first shot, but the ball bounced loose. Both raced after the ball, and Schnoor dove again to smother Sullivan's second bid.
"Audrey, holy cow, that was amazing, those big saves at the end there," Leeds said.
Overall, Leeds said she is happy about the team's ball movement, offensive energy and defensive poise.
"I'm psyched about the next few weeks," she said.
Irish said he is pleased with a rebuilt VUHS defense that includes junior Ella Hameline and senior Ema Gernander as well as Curtis, the offense, and he also liked Friday's better second half.
"We're definitely happy to be where we're at," he said.
More News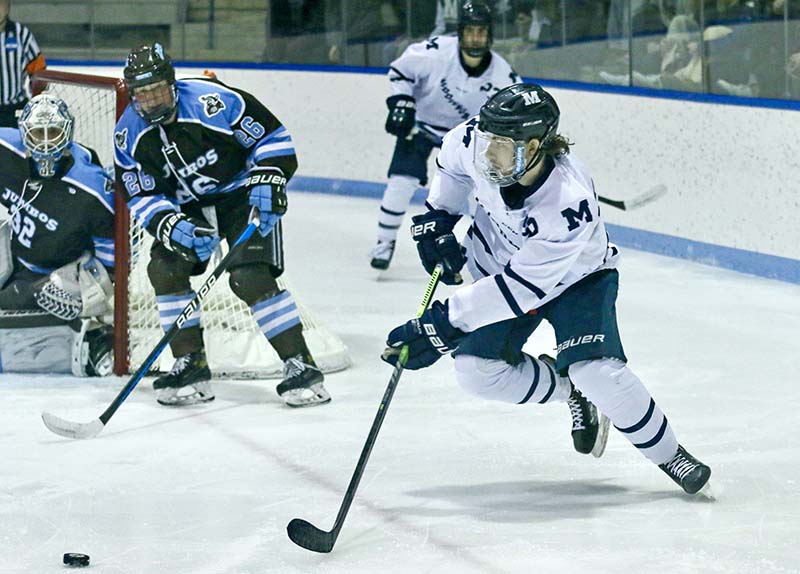 Middlebury College men's hockey surged passed Conn College before falling to Tufts this pa … (read more)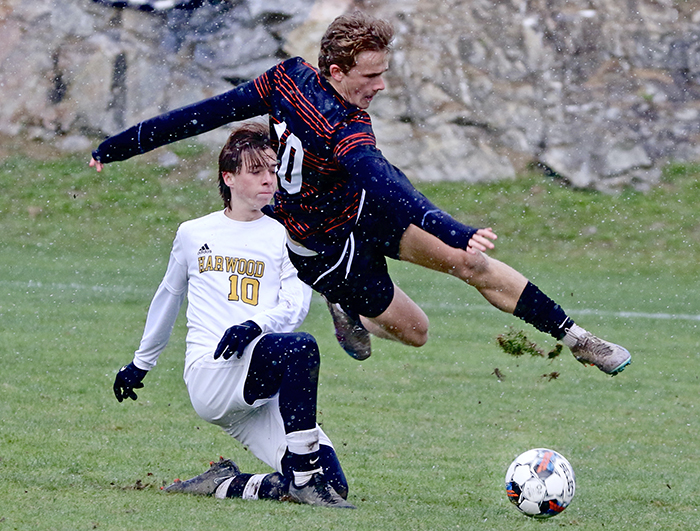 Seven local high school boys' soccer players were named to the Division II or III All-Stat … (read more)
Five area high school girls' soccer players were named either Division I or D-II All-State … (read more)