Zuckerman, Gray, Scott carry county
ADDISON COUNTY — Addison County voters during Tuesday's primary elections followed statewide trends in picking Democrat Dave Zuckerman and Republican Phil Scott as their nominees for governor, and Democrat Molly Gray and Republican Scott Milne as the finalists for the post of lieutenant governor.
In the Democrat primary for lieutenant governor, political newcomer and assistant Vermont Attorney General Molly Gray won a surprising victory over Senate President Pro Tempore Tim Ashe by winning over 90 percent of the state's towns and doing well in Chittenden County, where Ashe has been a state senator for more than a decade.
Gray captured 43.77% of the statewide vote, or 47,481 votes, compared to Ashe's 33.06%, or 35,864 votes. Brenda Siegel tallied 9,921 votes (9.15%), while Debbie Ingram got 9,434, or 8.7%.
Gray was the top finisher in all 23 Addison County communities. She finished with 3,396 local votes, well ahead of the second-place finisher, Sen. Ashe of Burlington, who notched a total of 2,212 tallies in Addison County. Debbie Ingram (710) and Brenda Siegal (506) were far back in county voting for lieutenant governor.
On the Republican side, Scott Milne similarly finished on top in almost every Addison County municipality, though he and Meg Hansen of Manchester — his closest competitor — tied 12 to 12 in Goshen. Milne finished with 1,747 votes, compared to 970 for Hansen in Addison County.
Statewide, Milne won Vermont with 46.25% of the vote compared to runner-up Hansen's 29.10%. 
Hansen, 35, of Manchester and a newcomer to politics, did surprisingly well for her first political race and with very little name recognition when starting the race. Milne has run statewide races twice before — once for governor against Gov. Peter Shumlin and once for U.S. Senate — losing both times.
LT. GOV'S RACE
Gray and Milne will square off in the upcoming General Election.
"I entered this race because now is the time for the next generation of Vermont leaders to step forward, and to ensure that rural communities have a strong voice in Montpelier," Gray said Tuesday night after the vote tallies assured her of her upset win. "What I have heard from Vermonters every day on the campaign trail is that in order to bring a generation here and keep a generation home, we must commit to addressing the … challenges and opportunities that will make Vermont a more equitable, inclusive and sustainable place to live."
On the campaign trail, Gray has touted the state's demographic crisis and has focused on the need to keep a younger generation of Vermonters here and to encourage a younger generation to move here.
"Together, we can fulfill the promise of Vermont for the next generation. We can keep a generation here, draw a generation home, and welcome a new generation to Vermont," she said, adding "as a first-time candidate, I am beyond humbled by the support for our campaign. Together we built a campaign that brought new voices into politics and that worked to unite our state around a bold vision for a brighter future."
One of the takeaways learned while on the campaign trail over the past few months, she said, was that people want to put "people before politics… and to focus on the issues." The issues that kept resonating in towns across the state, she said, were the need to find solutions for childcare that was too expensive, family leave, a viable minimum wage, access to high speed internet, relief from "stifling student loan debt," affordable housing and a work environment that set the foundation for a thriving economy.
"I believe that together we can build a future where our rural communities thrive and our economy is restored, where our families are supported and healthy, and where our land and environment are protected for future generations," she said. 
Milne put his focus on his experience running the family business, Milne Travel, and on partnering with Gov. Scott to work hand-in-hand with him to help the business community recover from the stresses of the pandemic.
"What the election is about, as is the primary I believe, is who the most qualified candidate to be a trusted partner for Gov. Scott," Milne told VTDigger.org. "I'm going to just keep with our message of I look forward to putting three decades of experience owning a small business and being relatively successful with it."
GOVERNOR'S RACE
Hinesburg Democrat (and current Lt. Gov.) Dave Zuckerman was also a runaway victor in the Democratic primary to see who will go on to face incumbent Gov. Phil Scott. Zuckerman garnered 48,016 votes, or 44.3%, to former Secretary of Education Rebecca Holcombe's 37,462 at 34.7%. In Addison County, Zuckerman earned 3,431 votes compared to Holcombe's 2,513 votes. Zuckerman won every county town except Weybridge, which endorsed Holcombe, 155-116.
Bennington attorney Pat Winburn received 382 votes in Addison County, or 8.3% of the votes, slightly more than the 7.1% he earned statewide.
Zuckerman will now go on to face Scott, who topped the GOP field decisively with 2,676 votes in Addison County. Statewide, Scott garnered 42,147 votes or 72% compared to runner-up John Klar, who earned 12,757 votes or 21.8% of the vote.
"As we look toward emerging from this crisis (COVID-19) we must lead in a new way," Zuckerman said in a speech in Hinesburg Tuesday evening. "We must lead in a creative way, we must lead in an inclusive and innovative way. Because if we only focus on what is happening now, we will miss opportunities to build a stronger, better and safer Vermont."
Scott has said his leadership is critical to ensuring the state recovers from the public health and economic crises caused by the pandemic. In an email to his supporters, Scott thanked the Republicans, Democrats and independents who voted for him in the primary.
"Moving forward, I'll do my very best to provide you with a steady hand on the wheel as we navigate these unprecedented times and work tirelessly to emerge stronger as a state," Scott wrote.
Editor's note: VTDigger's Xander Landen and Kit Norton contributed to this story.
Reporter John Flowers is at [email protected].
Click on the PDFs below to see town-by-town results.
More News
Blasting ledge could begin on Monday in Vergennes as work on the $25 million Vergennes Gra … (read more)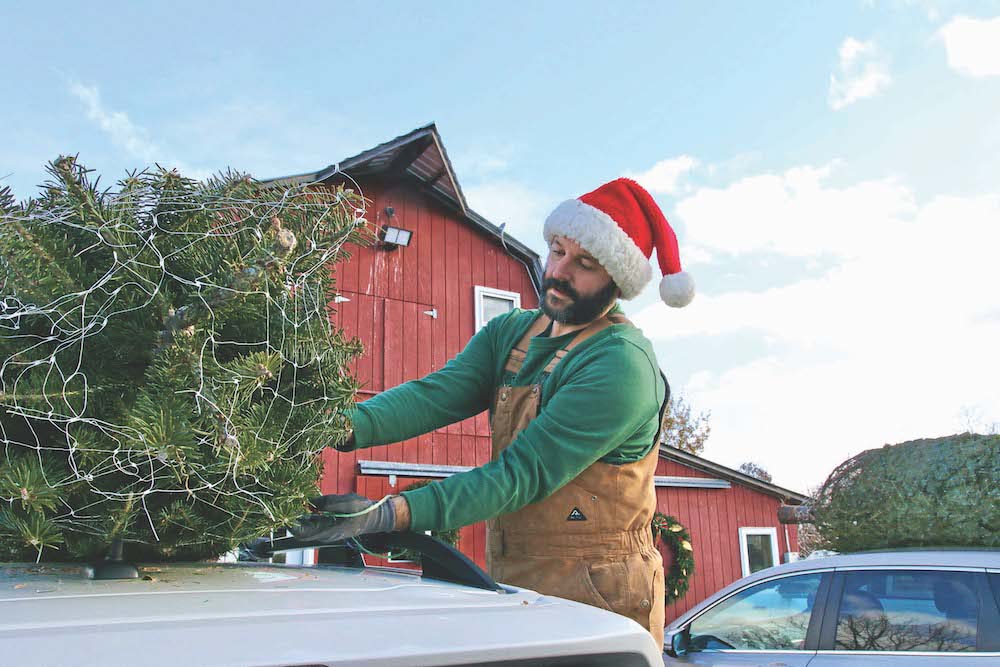 With the holiday season underway, county Christmas tree farms have begun welcoming visitor … (read more)
As the Middlebury Snowbowl prepares for opening day this Saturday, Dec. 9, loyal skiers an … (read more)