MUHS plans for limited in-person graduation
MIDDLEBURY — Middlebury Union High School officials were excited to announced to seniors last week that they had purchased caps and gowns for them.
The plan is to have those wishing to take part in a limited graduation exercise to wear the typical commencement regalia in an outdoor MUHS graduation ceremony on June 13. The school has arranged for MCTV to videotape the event and then combine that with other images to create a keepsake video for graduates and their families.
"While you can't all be together physically for graduation, we know that you will be together in spirit on your MUHS graduation day!" Principal Bill Lawson, Assistant Principal Cathy Dieman and Activities Director Sean Farrell said in an email to the school community late last week.
"We hope that the video will keep you connected in a special way while we remain optimistic that at some future point, we can create an opportunity for the Class of 2020 to celebrate together."
The school plans to distribute the cap and gowns this Thursday, May 21, between 10 a.m. and 3 p.m. at the E-wing door. Cars should pull up to the door and school officials will bring the cap/gown to each car. Officials hope to have honor medallions, National Honor Society cords, etc. accompanying the gown so that seniors will be all set for graduation day. At this same time, they will ask how individual students want their names read at graduation and confirm the accurate pronunciation.
"We have been busy planning this year's graduation ceremony to comply with the state's guidelines pertaining to group gatherings and social distancing," the officials said in the email. "While we still need some time to finalize many details, we want to share with you our general plan."
MUHS seniors' last day of school will be June 9 and for students in grade 9-11 the last day will be June 16.
MUHS graduation ceremony will take place on Saturday, June 13, beginning at 9:30 a.m. A stage will be set up under a large tent on the lawn adjacent to the E-wing door. Students will approach the stage in their vehicles with family members (one vehicle per family) and will walk across the stage to receive their diplomas/scholarships/awards and then have their picture taken by a professional photographer immediately after stepping off the stage.
Family members will be expected to remain in their vehicle as their senior walks across the stage, but are encouraged to clap, cheer and take pictures. The pictures from the professional photographer will be made available to families free of charge.
Officials expect to divide the senior class into groups based on the alphabet and designating specific times for arrival to minimize wait time for students/families, allow for a smooth/efficient traffic flow, and comply with appropriate social distancing expectations. The ceremony is expected to take several hours.
"We are looking forward to enjoying every moment of it as we honor our 2020 graduates," Lawson, Dieman and Farrell wrote. "We are extremely grateful to MCTV who will be live-streaming the ceremony throughout the day so that relatives and friends can watch from afar."
The school is collaborating with MCTV to create a compilation video that will include most elements from the traditional graduation ceremony. They will use the photographs from the graduation ceremony to create this virtual ceremony, which will include the faculty/graduate processional to Pomp and Circumstance, followed by the Pledge of Allegiance and welcome, final remarks from Principal Lawson, presentation of salutatorian/valedictorian awards, senior reflections, departmental awards, and remarks from Superintendent Peter Burrows. The video will also include presentation of awards and scholarships, a musical performance by seniors, and the presentation of diplomas.
They hope to have the video of the 2020 MUHS graduation ceremony, featuring all of this year's MUHS graduates dressed in cap/gown from the ceremony, posted to YouTube the week following graduation for all to enjoy.
—————
The Addison Independent will update readers on graduation plans at other area high schools. Officials from those schools are urged to reach out to reporters at the newspaper or to email [email protected] so we can let the larger community know about your plans.
 
More News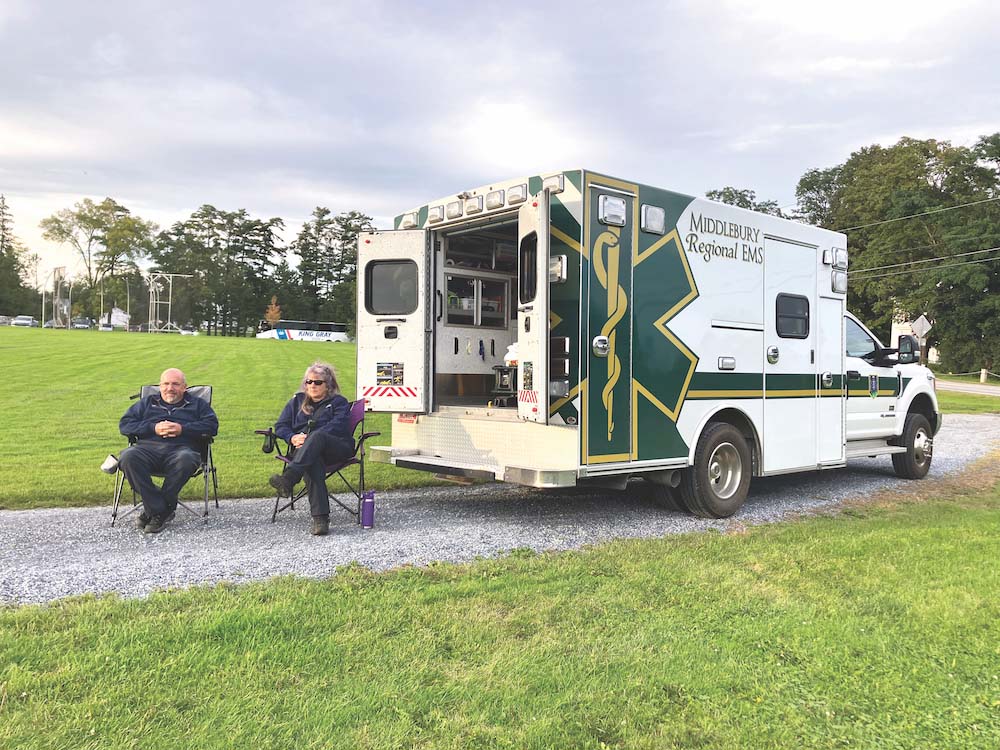 Middlebury Regional Emergency Medical Services wants to eliminate its annual Town Meeting … (read more)
Middlebury police are investigating the death of a Middlebury College junior and say the p … (read more)
Vergennes resident Margaret Clifford offers nearly a century of recollections, from losing … (read more)