Chief Hanley informs and entertains with his COVID-19 bulletins
Why not keep it light? I'm talking to people I know. It's not like I'm some bureaucrat sitting hundreds of miles away. These are my friends. My kids grew up here. My grandkids are growing up here.
— Tom Hanley, emergency management director
If you're on the town of Middlebury mailing list, you probably feel like you've gotten to know Emergency Management Director Tom Hanley pretty well over the last couple months. Hanley, who is also the Middlebury police chief, is responsible for those very informative, very readable, sometimes pretty entertaining daily bulletins about our local response to the coronavirus crisis.
Each one of Vermont's cities and towns is required by state law to have an emergency management director. Back in the '90s, Hanley recalls, the Burlington Free Press did a big article outing the towns that didn't have one — Middlebury was one of them. "It was kind of embarrassing to the town manager at the time," he said. "They ended up appointing me."
Since then Hanley has presided over several emergencies, large and small. There was the downtown train derailment in 2007 and the missing college student Nicholas Garza the following year. Then, of course, there was Tropical Storm Irene and Superstorm Sandy. Almost every year there are winter storms that require some emergency planning.
During typical years, the responsibilities are pretty straightforward: update the town's emergency management plan and file it with the state; maintain the local emergency management center — which in Middlebury's case is a conference room at the police station; coordinate disaster-preparedness exercises with Middlebury College and the local schools. 
This coronavirus emergency is unprecedented. At the outset, Hanley says, the town decided not to open up a formal physical emergency management center because of the medical nature of the emergency. Right away, he activated the town's emergency plan, which outlines the order of command — who will step up at the hospital, the college, the town, for example, if the leaders of those institutions get sick. 
Most important was to set up a joint information center between Hanley, Porter Medical Center spokesperson Ron Hallman and the college's Sarah Ray. "Everything we put out we share with each other first," said Hanley, who was appointed by Middlebury Town Manager Kathleen Ramsey as the public information officer for this emergency.     
He started writing his bulletins, seven days a week, in early March (since the COVID-19 cases started plateauing last month, he has cut back to five days a week). Still, if you are on the town of Middlebury's mailing list, it seems like you have the voice of Hanley in your inbox pretty much all the time.
"It's like earwax," he joked. "It just never seems to go away."
So where does he get his information?
"I have a bunch of different sources I'm constantly monitoring," he said. "I check them late at night when I get home from work and first thing in the morning." Those sources include the state emergency operations center, Vermont Department of Health, Porter Hospital and Middlebury College.
"I'm always watching, looking for trends, national trends, comparing how things are going here with the region and the nation."
Hanley, Hallman and Ray also have a weekly conference with the Attorney General's office and the Vermont Department of Public Safety. He says the group's main goal is to weed through a massive amount of information and distill it, also to translate the latest guidelines. "A lot of it is left up to local interpretation," he said. 
"I get a lot of questions," he said. "I spend a good portion of the day going one-on-one with organizations or individuals" parsing the latest recommendations on mask wearing and gathering.
He also follows up on complaints about people not following social distancing orders.
All this emergency management takes time, of course, which means he's had to shelve some of his typical police chief duties. "Usually after Town Meeting Day, I settle into a maintenance role here, updating policies, doing research. But there are only so many hours in a day. I've got good supervisors who are running the day-to-day police business."
The biggest challenge? "Just trying to keep ahead of the curve here, to keep things calm, make sure people get good information."
And to keep up community morale. 
If you're a regular reader of Hanley's bulletins, you know that he loves making pop culture references to lighten the mood. Recently he linked to a Frank Sinatra interview by way of telling his readers "the best is yet to come."
"The whole unpleasantness (of the pandemic) can get really dour," he says. "You know, why not keep it light? I'm talking to people I know. It's not like I'm some bureaucrat sitting hundreds of miles away. These are my friends. My kids grew up here. My grandkids are growing up here. It's not the worst thing that's ever happened to us." 
Hanley is working around the clock these days. When asked what he does for stress relief, he answered, "Right now, this is about all I do." 
But Hanley, who plays in a band, has been making an effort to stay connected to his family. 
"My daughter comes over and we play music. We've tried to have band practice over Zoom. I chit chat with all my grandkids over the cell phone. And I call all my siblings." He has six; one is a nurse at Porter. 
Several of his nieces are nurses, too, and he likes to call and check up on them. 
"We stay human," Hanley said. 
More News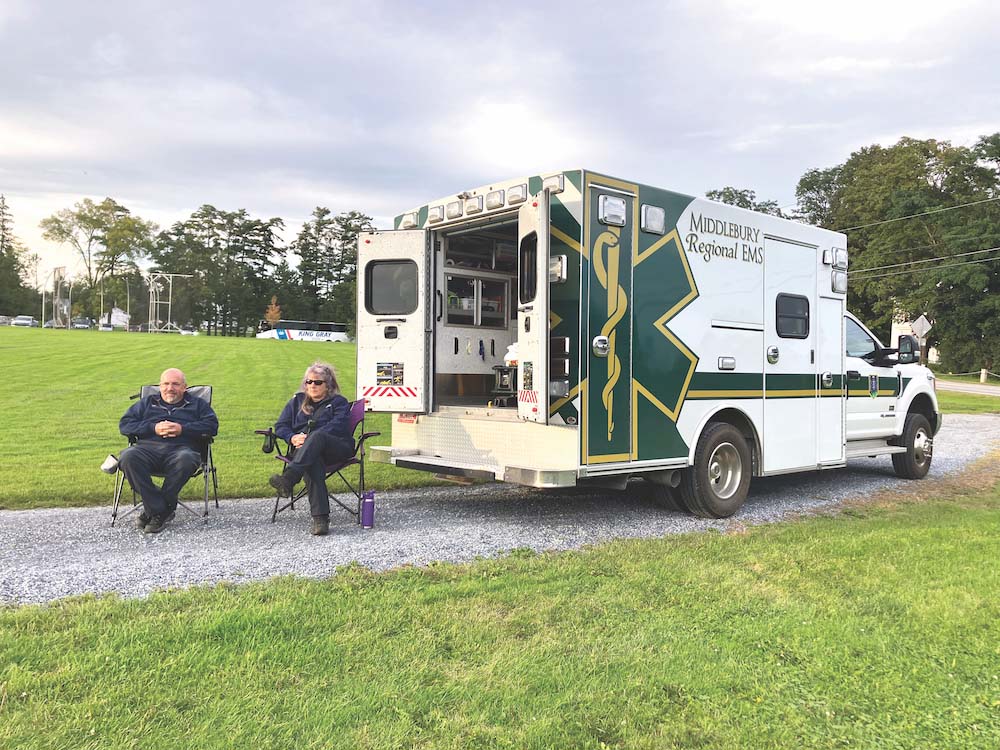 Middlebury Regional Emergency Medical Services wants to eliminate its annual Town Meeting … (read more)
Middlebury police are investigating the death of a Middlebury College junior and say the p … (read more)
Vergennes resident Margaret Clifford offers nearly a century of recollections, from losing … (read more)