Girls' volleyball splits matches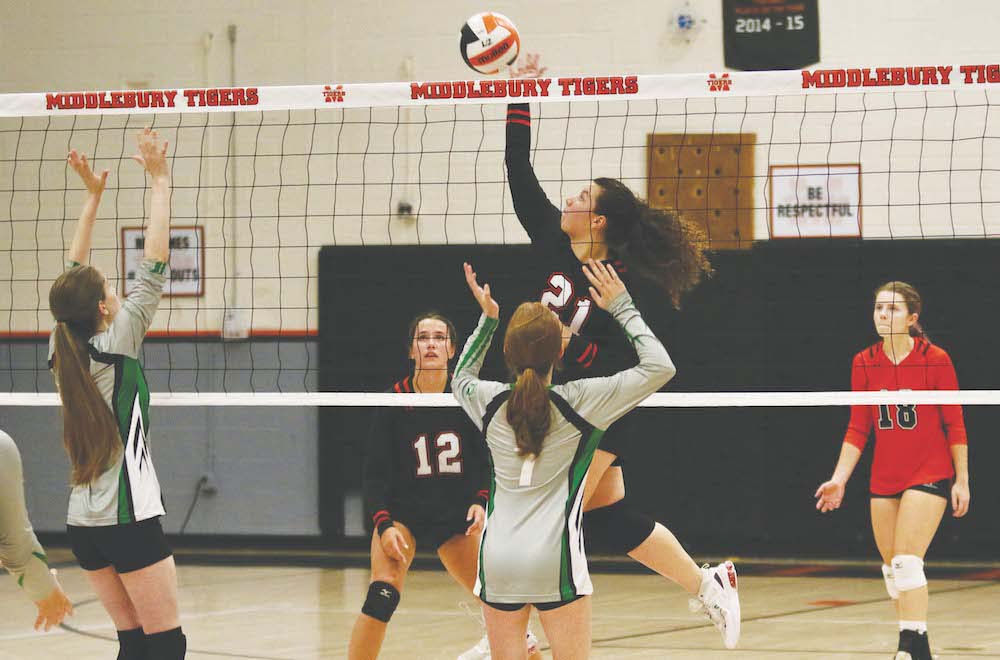 MIDDLEBURY — The first-year Middlebury Union High School girls' varsity volleyball team continued its roll against fellow Division II programs on Sept. 15, before visiting D-I St. Albans dealt the Tigers their first loss on Tuesday in a competitive four-set match. 
In this past Friday's match against Vermont Commons, the host Tigers prevailed with relative ease, 25-14, 25-6, and 26-24, in remaining unbeaten at 5-0, a record that includes one win over a D-I opponent, Rice. 
There weren't many points won with dramatic spikes, but MUHS played consistently well defensively, and their serves were weapons. In the three sets the Tiger racked up 22 aces, six apiece by juniors Ronan Young and Sara Kent. 
Their ace leader for the season to that point was senior captain Sienna Rubright, who in their first four matches had racked up more than 40, according to Coach Bethany Morrissey. Both Morrissey and Rubright said serving has been a point of emphasis for the program.
"Our serving is really what carries us a lot," Rubright said. "We've worked a lot on serving over the years. We serve every practice. We spend a lot of time making sure we can get it in."
Morrissey explained another, probably more important, element that has let the MUHS volleyball program hit the varsity ground running after one year as a club team and one season as a JV team. 
"They love volleyball. Honestly, they just love it. They play any chance they can get. During the summer they go to camps. They play on clubs," Morrissey said. "They just drank the volleyball Kool-Aid, right?"
Establishing the MUHS program at the varsity level was a goal the Tigers are happy to have achieved, Rubright said. 
"It's super important. I think it's so cool that we've made it this far, and I'm so proud of how far we've come and how we're doing this season," Rubright said. "I think we're doing so well for it being our first year."
She also theorized why the Tigers have done so well in their first varsity year.
"I think just because we've all played together for three years we all have really great chemistry, and we all know where each other are. And we just work really hard in practice," Rubright said. 
 The play that allowed the Tigers to win five straight while dropping just one set was on display vs. Vermont Commons, especially in the first two sets on Friday.
Two big service runs helped break the first set open. The Tigers led early, 4-3, when they rattled off six straight points with Young serving, including three aces. Vermont Commons, a team that also looks like it enjoys the sport, closed to within 14-10, but MUHS senior Addison Copeland soon afterward rattled off four aces and also added a kill at the net as the Tigers pulled away to lead 20-11. 
Rubright and freshman Tenny Laroche also had kills in the set, Young finished with four aces, and junior Emma Morrisey and Rubright each contributed one ace. 
Young also went on a service run to break open the second set early as the Tigers dominated. She contributed two aces as MUHS went on a 5-0 run to take a 9-4 lead. Later, Morrissey served a pair of aces as the Tigers stretched the lead to 17-5. Kent also served an ace, and Young, sophomore Anna Wolosinski, Rubright and Georgie Kiel contributed kills. 
Coach Morrissey experimented with her lineup and Vermont Commons played with grit in the more competitive third set. Commons server Sara Rawal went on an early run as the visitors took a 10-3 lead. Young tapped a kill into empty space to stop the surge, and Kent served four aces to get the Tigers back in the match, down two at 11-9. 
Plays by Rubright, Young, Morrissey, Kiel, India Danyow and Marilyn Almeida-Perez helped the Tigers take a 19-17 lead, but serves by Ro Dougherty-Masé and Amelia Foster and a Rawal kill helped Vermont Commons rally to tie the score at 24-24 before the Tigers restored order. 
In the final set Kent served four aces, and Young and Laroche one apiece. Young added two kills, and Maggie Klingensmith, Rubright and Laroche one each. 
Coach Morrissey would like to see the Tigers win more points by concluding them with kills, but she is confident that will come. 
"We're doing everything separate well, but putting it together is that next piece," she said. "I actually think we have some powerful hitters. It's more along putting the whole pass-set-spike thing together."
Rubright said as long at the Tiger continue to have fun, work hard, believe in themselves and support each other, they will just keep improving at details such as those. 
"We always try to have fun and keep the momentum up and cheer each other on when we make mistakes so we don't get down on ourselves," he said. "Be confident and have fun. That's our motto pretty much."
VS. ST. ALBANS
Tuesday's match provided a needed test against tougher competition, according to Coach Morrissey, something she expects the team will see more of down the stretch. 
"We learned a lot," Morrissey wrote in an email.
The Tigers cruised in the first set, 25-12, but couldn't sustain the momentum, and lost the next three, 11-25, 22-25 and 17-25. That makes a total of four sets in six matches the Tigers have lost as they fell to 5-1. 
Over the four sets on Tuesday, Young led the team with 10 aces, and Morrissey said Aven Fronkovic "had a strong offensive game," with 10 kills in the match.
Coach Morrissey said after the Friday victory she was more concerned about the process than the results. 
"We have to remind ourselves of that. They actually started feeling some pressure because of the record," Morrissey said. "And I just said, 'In the beginning of the season, when we all made goals, nobody said to go undefeated.' Everybody said to have fun and play volleyball and get better. So that's happening."
More News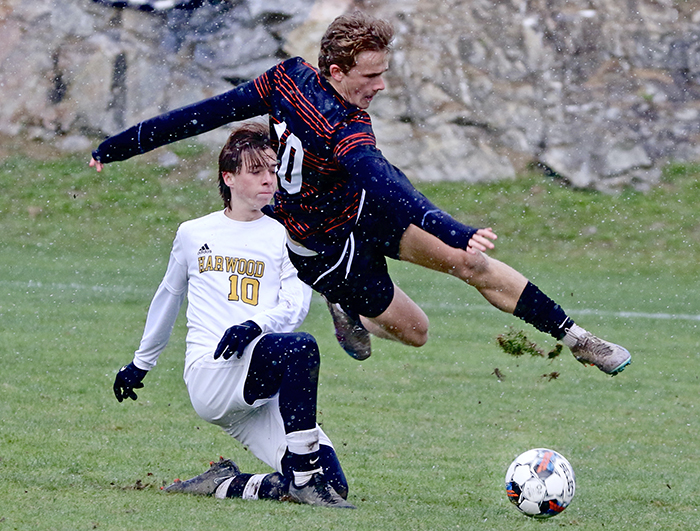 Seven local high school boys' soccer players were named to the Division II or III All-Stat … (read more)
Five area high school girls' soccer players were named either Division I or D-II All-State … (read more)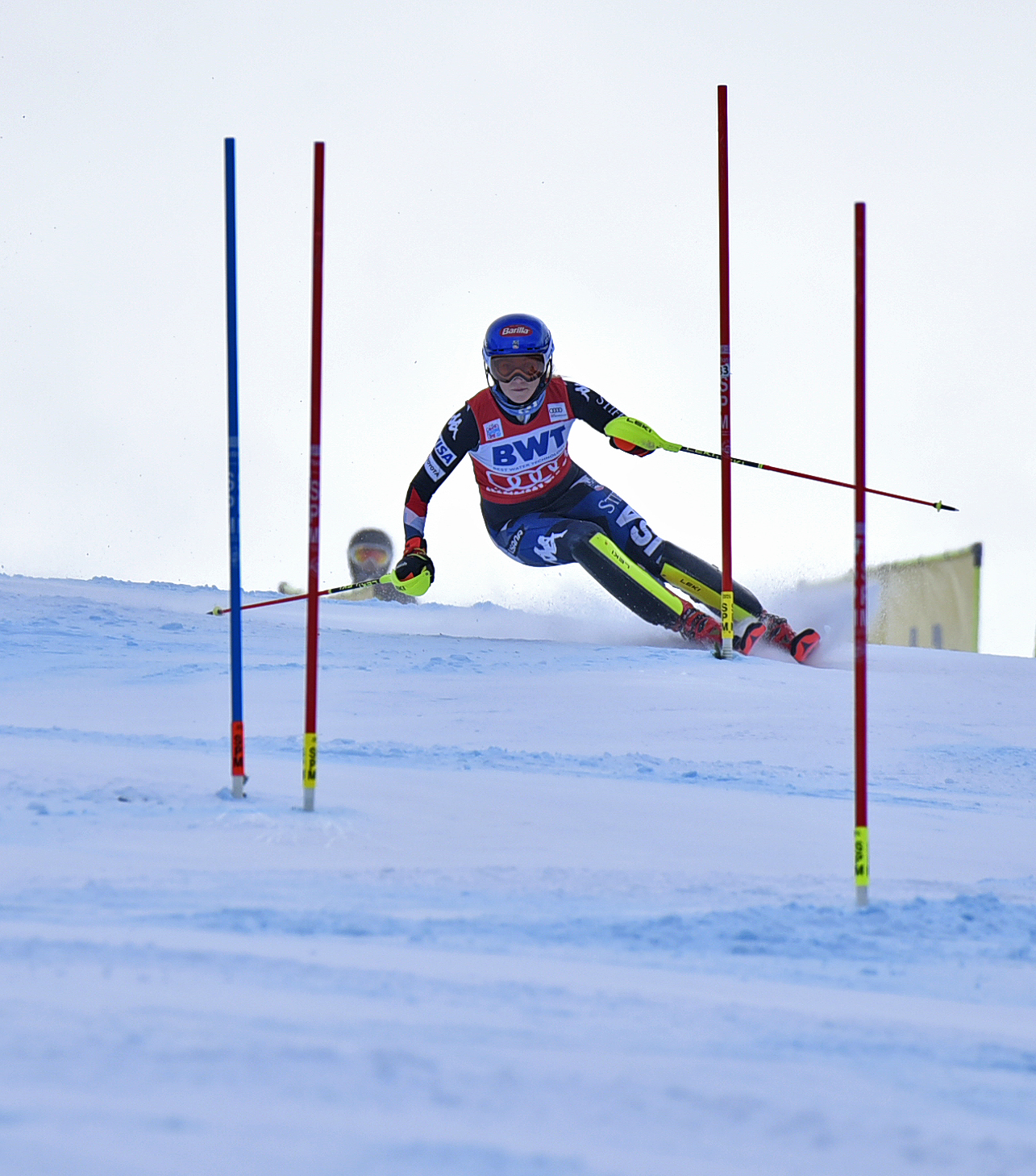 "To be perfectly frank, I'm not sure I'm in a position to win either of these races," Mika … (read more)