Brandon brewhouse Red Clover Ale builds community
BRANDON — Pete Brooks, 35, Andrew Gates, 39, and Riker Wikoff, 33, who together founded Brandon's Red Clover Ale Co., are about to make their 250th batch of beer. 
Their timing didn't make it easy. The milestone approaches after several years of reconstruction on Route 7 through the downtown followed by a couple years dampened by COVID-19. The trio considers this their first "normal" year since opening the Central Street brewery in 2018.
"The town was under construction for our first year," Brooks said. "Having that be our first year, we were always kind of amazed that people could even get to us." 
Things were looking good for the brewery following the completion of construction, but shortly thereafter COVID hit. 
At the time, the brewery had just received its second national accolade: It was designated a USA Today top 10 new brewery, which came just two years following a similar award from Hop Culture Magazine.  
The good news, then, was that craft beer lovers knew Red Clover was brewing some of the best beer in the nation. The not-so-good news, said Red Clover's owners, was that the pandemic seriously affected the community atmosphere they cherish. 
When they were forced to close their doors to the public, they say their sales remained steady, but the sense of community temporarily faded and forced new tactics.
 "We just started packaging everything," Wikoff said.  
Instead of the conversations and the face-time with customers the owners value, their days were filled with growler fills, curbside pickup and online or over-the-phone orders. 
As COVID restrictions eased, Brooks, Gates and Wikoff opened a beer garden across the street in Green Park. 
With the pandemic officially over, the trio has been able to reestablish a strong sense of community in their taproom — one of the aspects they love about running Red Clover.
Today, their slate-blue, red clover-covered, farm-inspired space is filled with liveliness.  
On Thursdays, a small corner of the taproom becomes a stage for open mic night: "Every Thursday, 6 to 8:30, sometimes nine," Gates said, adding the number of performances can range from five to 20. 
"It's a really incredible amount of talent. And that's always a lot of fun, brings out a lot of people," he says. 
It's so fun, he says the weeknight has become their busiest. "Which is kind of crazy," Gates added.
The open-mic night has even been the origin story for some local bands. 
"The open mic, sort of house drummer Walter, is like drumming for every band. Anyone who wants to play a show, they're like, hey, will you drum for me," Gates said. 
He recalled a recent open mic where somebody performed with unique accompaniment — her baby on her back. 
This anecdote is testament to the family atmosphere the Red Clover taproom touts. The brewery encourages families with children to come in, and add to the family vibe by bringing their own kids to join the fun. 
"We all have young kids," Wikoff said. "We want it to be a space that you can bring your kids to."
Adding to the family atmosphere, Gates's 9-year-old daughter has already been recruited to help out. 
"My daughter works with me most Saturdays … so she'll run the register and do tables," Gates said. 
"She makes sure to point out her Tip Jar too," Brooks chimed in.   
On Fridays the brewery normally hosts trivia, while Saturday features food, music and beer gardens "as often as … we can." Meanwhile, Sunday afternoons are for board games — an underrated event. 
"We don't really get to talk about it enough … We signed out a bunch of board games from the library … so we have tons … available. And it's kind of like a day just to hang out, play board games, drink some beer… plus we'll have a DJ work on those days," Gates said. 
Their small staff is one attribute they feel sets them apart. 
"It's just us," said Brooks, adding, "I think people like when they come here that it's one of the three of us that they're chatting with each time." 
Other than the three owners, the brewery has one other employee. 
"We just hired an employee for Sundays, but she's awesome too," Brooks said.  
GET TO KNOW YOU
Gates reiterated the value of getting to talk face-to-face with customers. 
"You buy beer on a shelf, you have no idea what it's gonna be like, you have no idea what you're gonna be tasting, what's in it.
"You come here, and we're having that conversation. I think that conversation is a huge thing."
Gates stressed that what the brewery calls the high "drinkability" of their beer also sets them apart. He says part of this comes from not trying to fit any specific niche.
"A lot of places always strive to go through, like the extremes of a style or like have a flavor. Rather than targeting the extremes, our target is just (producing) the best example of that (a style)."
"We have some very low alcohol beers, we have IPAs, we have pils … drinkability is such an important thing. It's great to have that random 12% IPA, but most times, I want a 5.5% beer that I can just drink a couple of."
Gates says the effect of focusing on the beer's "drinkability" is "really awesome." 
"It makes it so that even the people that come in on a daily basis, are true regulars, they don't get sick of our beer."
THOUGHTS OF EXPANSION?
With the taproom busy and their beers earning national accolades, is the brewery considering expansion? Maybe. 
"Trying to figure out the best way to (expand) isn't easy… because we love the model we have set up right now, lifestyle wise, and just not feeling like we have to make a certain amount of beer," Brooks said. 
But expansion could mean a few more places to pick up their product.  
"If we increase productivity … we'll have some additional beer to be able to distribute out. Probably still be limited," said Gates, as he contemplated the prospect.  
But, he added, they're not keen to grow out of their current location. 
"We would like to keep this Taproom as long as we can. We really love this Taproom."
More News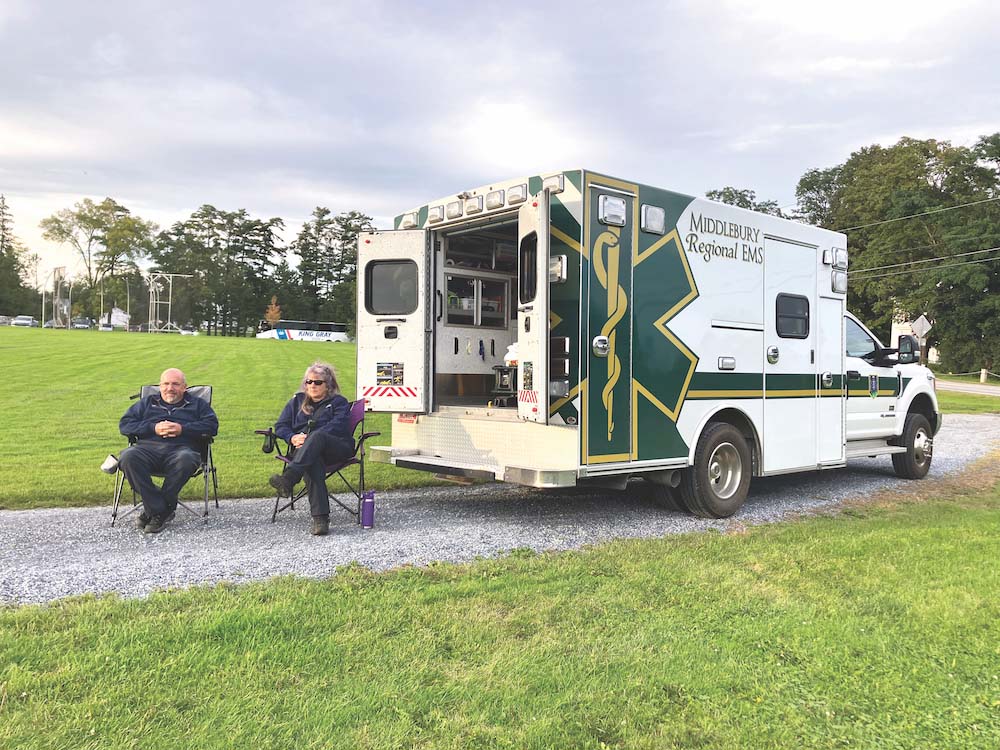 Middlebury Regional Emergency Medical Services wants to eliminate its annual Town Meeting … (read more)
Middlebury police are investigating the death of a Middlebury College junior and say the p … (read more)
Vergennes resident Margaret Clifford offers nearly a century of recollections, from losing … (read more)