Middlebury gunfire suspect faces charges
MIDDLEBURY — A Middlebury man is being held on $1,000 bail — as well as under a mental health warrant by Rutland Mental Health — following a gun shooting incident this past Friday, that closed several streets around the Seymour Street railroad overpass for more than six hours.
Paul Allard, 54, allegedly fired a rifle from his Seymour Street window, resulting in a response from multiple police and rescue agencies that cordoned off the neighborhood, including the Marble Works complex.
The standoff ended around 8 p.m., when Vermont State Police shot teargas into Allard's apartment, then busted in, took away Allard's .3-06 rifle, and took him into custody without further incident. 
Police said Allard appeared that he was having an emotional crisis of some sort, and they took him to Porter Hospital for evaluation. 
Police cited Allard for aggravated assault, assault on a health care worker and reckless endangerment, after the six-and-a-half hour standoff. 
Multiple Middlebury police cruisers descended upon a home at the intersection of Maple and Seymour streets at around 1:30 p.m. on Friday, June 30, in response to a report of gunfire at the abode, which includes several apartments.
The large, white house (36 Seymour St.) is located adjacent to the train overpass and a mere stone's throw away from the Marble Works, the Amtrak passenger rail platform and the Middlebury Police Department on Lucius Shaw Lane.
The offices of the Addison Independent in the Marble Works is located only a few hundred yards from the incident site.
Maple Street and Seymour Street west of Greg's Meat Market were blocked off by Vermont State Police as Middlebury officers — some attired in tactical gear that included assault rifles, helmets and body armor — canvassed the property. They were quickly supplemented by officials from the Vermont State Police; Bristol, Vergennes and Brandon police departments; and the Addison County Sheriff's Department.
It was at 12:21 p.m. that Allard called the Middlebury PD from his residence to report he thought someone was breaking into his apartment, according to police. Middlebury Police Officer Kevin Emilio — the first on the scene — notified the Counseling Service of Addison County (CSAC) and asked Allard to speak with them. Police said they were aware Allard possessed a firearm and had been experiencing paranoia. 
Sgt. Jason Covey soon joined Emilio at the scene.
Police said Allard declined to talk to them, and a local dispatcher reported hearing Allard mumbling, raising concerns he might be experiencing a medical issue, according to Emilio's report. Authorities called Middlebury Regional EMS, which stationed an ambulance at the Middlebury PD.
"Allard then disconnected and several attempts to reach him by phone were unsuccessful," Emilio wrote in his report. "After knocking on his locked door several times and even using our batons to make more noise, Allard did not come to the door or respond verbally. At around 12:46 p.m., Sgt. Covey broke the front door window with a sledgehammer and unlocked the bolt lock from the inside. 
 "Upon gaining entry and yelling to Allard, he yelled (expletives) and 'get out!' several times," the report continued. "He was in a locked room on the second floor and could later be heard crying."
Chief Tom Hanley arrived on scene with a CSAC clinician, but attempts to communicate with Allard were unsuccessful, according to Emilio. 
"CSAC was unsure if an emergency examination warrant could be issued and we left the scene and returned to the Middlebury PD," Emilio wrote.
Chief Hanley added to the report at this point: "At this time we assessed the situation — Allard did not present as suicidal nor did he make any threats, tacit or otherwise, against anyone else. He just wanted to be left alone. In conference with the CSAC clinician we elected to depart and try to connect with him later."
Emilio's report continued: "At around 1:28 p.m., Chief Hanley called me by radio and requested that I meet him in our parking lot. He told me that when he was leaving the PD onto Seymour St., he heard a gunshot come from 36 Seymour St. Sgt. Covey was dispatched back to the scene as Chief Hanley and I arrived."
 Emilio said shortly after his arrival, he heard another gunshot and glass breaking coming from the south side of the residence. He then heard a second gunshot and broken glass from the same location and notified dispatch.
Covey arrived on scene and requested Addison County Sheriff's Department and VSP — well as its Tactical Services Unit, which ultimately took command of the case. Other Middlebury police officers responded, while neighboring homes were evacuated, and nearby businesses were phoned and asked to shelter in place.
Brandon, Vergennes and Bristol police cruisers could also be seen at and near the scene. The VSP's Crisis Negotiation Unit also assisted.
Emilio said police got a view of Allard, who was "unresponsive to verbal efforts to elicit a response," and was seen "in his room with a rifle across his legs conscious yet unresponsive to communication."
Then came the teargas, the raid into the apartment and the arrest.
Streets in the area were reopened, and people who were asked to leave their homes and businesses returned. No injuries were reported. 
Police thanked all the members of the community for their patience and understanding during this incident.
Reporter John Flowers is at [email protected].
More News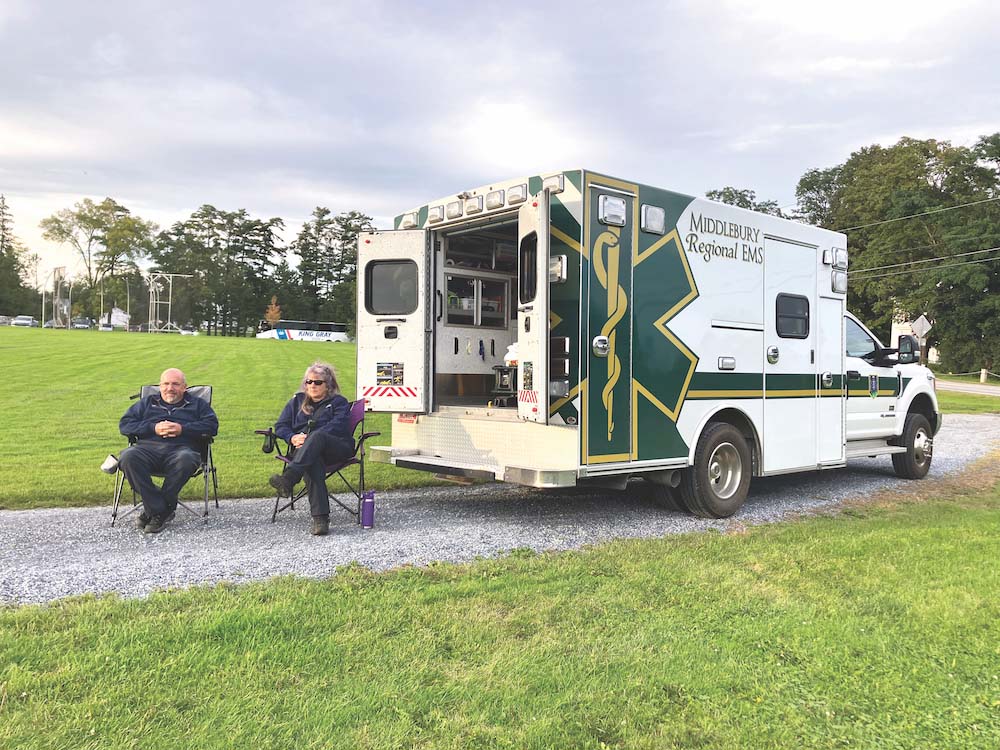 Middlebury Regional Emergency Medical Services wants to eliminate its annual Town Meeting … (read more)
Middlebury police are investigating the death of a Middlebury College junior and say the p … (read more)
In the course of her almost 101 years on Earth, Vergennes resident Margaret Clifford, bett … (read more)