Local barber caps happy 65 years of plying his trade
MIDDLEBURY — Most Americans plan to retire between the ages of 65 and 70.
Joe DeGray on May 24 reluctantly hung up his barber scissors and shears at the tender age of 90. The patriarch of Joe's Barber Shop at 10 Washington St. in Middlebury has finally ended a long run of snipping generations of Addison County residents' hair that began during the Eisenhower Administration.
If the late artist Norman Rockwell had met Joe DeGray, the former would have probably committed the latter to canvas and titled it, "The Town Barber." 
DeGray has played the part to rave reviews for more than six decades, during which he's shorn four generations of some local families. He's a throwback — in the best sense of the word. 
A simple wooden sign reading "Joe's Barber Shop" hangs above the storefront across the parking lot from Shaw's supermarket. The sign, and the barber pole, evoke nostalgia, particularly for those born in the '40s, '50s and '60s, folks whose cup of tea is a hole in the wall featuring a guy who reminds you of your uncle who'll lower your ears or give you a no-frills crewcut, and then send you on your way.
You cross the threshold and there's Joe, sporting a beaming smile and a dark barber's smock. His 90-year-old hands — still as steady as a surgeon's — are dancing across his current customer's silver locks, his scissors peeling off wisps of hair that gently float down into a growing pile at the base of the vintage barber's chair.
Joe's mouth is keeping pace with his scissors, as he talks politics, the latest town news, bowling, Middlebury Panthers hockey, football — anything his customer wants to discuss while getting their new 'do. 
"When I started, there were seven barbers in Middlebury," DeGray noted. "(My former boss) in Springfield told me, 'You'll never make it in Middlebury; there's too many barbers over there.'"
But there was enough business for Joe and his counterparts, and a big reason was the Middlebury College students. Back in the '50s and early '60s, short hair was in style. And students enrolled in ROTC had to get clipped every few weeks.
"We were really mobbed at times," he recalled.
Then came the late '60s and '70s, when long hair ruled.
"The barbers kept dropping off and dropping off," DeGray recalled. "I'm the only male barber left here in Middlebury, as far as I know."
HOW IT ALL BEGAN
His journey began and continues here in Addison County. After graduating from Middlebury High School in 1952, DeGray began weighing career paths — until the U.S. Army chose a path for him in May of 1953. That's when, at age 19, DeGray was drafted into the Korean War.
Fortunately for him, the shooting part of the war ended three months after he was drafted.
"I think they knew I was coming," DeGray said with a laugh. 
So he served a year as an Army cook in Trieste, Italy. At the time, Trieste was a free territory, with both Italy and Yugoslavia claiming it. Ultimately, Yugoslavia got the port and Italy got the city, according to DeGray.
November of 1954 saw DeGray return stateside, to Camp Kilmer in New Jersey. There he would serve out the balance of his two-year hitch, earning his honorable discharge in May of 1955.
After leaving the service, DeGray returned to Middlebury and began working at a local filling station, primarily pumping gas. It wasn't long before the station owner told DeGray he'd be laid off if a gasoline price war broke out in Middlebury.
That was enough to send him searching for a new line of work that would afford him more stability and independence.
"I thought, 'Gee, I don't want to work all my life being at someone else's calling,'" he said.
So he went to the Veterans Administration for job counseling.
"We worked out that I would become a barber, and they paid my tuition to barber school (in Schenectady, N.Y.)," DeGray said.
Cutting hair hadn't been on his careers list, but he was willing to try it. He wanted to be gainfully employed because he knew good fortune could turn on a dime.
"I was born during the Great Depression. I just figured if there was another Depression, I could swap a haircut for a chicken, or something like that," he said with a smile.
DeGray breezed through barber school, quickly learning how to manipulate the scissors and shears. Then, to qualify for his master's license, he apprenticed for an additional six months at Otis's Barber Shop, which used to be located next to Middlebury's Campus Theater (now the Marquis Theater).
Given his Spartan roots, Joe DeGray has always appreciated what he's had and never let anything go to waste. His master's license, courtesy of the Vermont Board of Barber Licensing and Examination, remains almost as pristine as the day it was issued on Jan. 23, 1958.
He keeps his first barber's kit in a leather case tucked away in a cabinet in the shop.
Leon Otis agreed to hire DeGray, who would have to bide his time until that September of '58, when the Middlebury College students returned to campus. So DeGray spent the first six months of his professional career barbering in Springfield.
DeGray would work for Otis until 1968. That's when Otis's landlord sold the building. DeGray told his boss that a space had opened up off Washington Street.
"I told Leon, 'You ought to go up there and open a shop,'" DeGray said. "He said, 'I'm too old to move,' and I (replied), 'I'm too young not to move.'"
So DeGray took the vacancy in what was the Washington Street shopping center. And he's been there ever since.
It was a transition that allowed the student to repay the mentor with a soft landing once the Otis Barber Shop building had changed hands.
"Leon came to work for me," DeGray said with a smile.
Otis sadly passed away in 1971. Joe would clip solo for several years, until the early-1990s, when folks at the Whiting Church asked him if he could offer a job to a Bosnian refugee by the name of Sabaheta.
He did. The gesture of goodwill paid dividends, as Sabaheta knew her way around a pair of clippers.
"It wasn't a mistake," he said. "She was great."
Then there was Gail MacKenzie, and 15 years ago, Shelley Bryant joined the fold. Bryant, who now owns the business, has been a great partner, according to DeGray.
"I've always had great people to work with," DeGray said, glancing at Bryant, who had quietly entered the building and was readying for her shift in the shop.
90-CENT HAIRCUTS
Sixty-five years after whittling his first mop top, DeGray's hands remain as steady as a rock and he's as dependable as a Swiss watch. His only concession to professional mortality was a recent transition to two hours per day. 
He's earned every nickel that's come his way. And back in the day, nickels were worth something.
"When I started cutting hair, they were 90 cents," he noted, adding it was 75 cents for a shave.
Even with inflation, you'll still get a great deal at Joe's Barber Shop — haircuts are $16.
Having reasonable prices — and interesting conversation for free — has contributed to an abundant, loyal clientele at Joe's. DeGray had been cutting his fourth generation of some local families before retiring his scissors last week. Some of those kids might still have a "first haircut" certificate the shop used to give out.
DeGray has cultivated a following in part due to his congeniality, amiable ear and ability to banter on multiple topics — from politics to Middlebury College sports.
He's indulged his student customers' unusual styling requests through the years, such as shaving their team numbers and/or lightning bolts into their hair. DeGray has fashioned his share of crewcuts, pompadours and mullets.
"It's interesting to tell some of these kids, 'I cut your grandfather's hair when he was you age,'" DeGray beamed.
Along with locals, DeGray has cut more than a few celebrity heads of hair, including legendary poet Robert Frost, and actors Burgess Meredith (Rocky Balboa's manager) and Alan Alda (Hawkeye of the TV show "MASH").
Frost was of course synonymous with Ripton.
"I worked at Bread Loaf and (Frost) was up there, and he played softball with us," DeGray said of a seasonal students' league.
He recalled Frost as being "different," an interesting man with a memorable idiosyncrasy.
"He didn't like you taking a picture of him unless he was told. If you wanted a picture of him he'd gladly do it, but if he caught you taking a picture without him knowing it, he'd ask you to leave," DeGray chuckled.
AN ACTIVE CITIZEN
Leaving the barbering business will be a big change for Joe DeGray, but he won't be retiring to a rocking chair or a comfy couch. He shares a lawnmowing business with his son and remains active with Middlebury American Legion Post 27 — which he led for 21 years. He's still a member of the Bridport Fire Department, responding to just about every fire call and accident, where he performs traffic control. Monday saw him marching in the Honor Guard in Middlebury's Memorial Day parade.
His resume includes stints on the Bridport school board, planning commission and zoning board; coaching Little League and Babe Ruth baseball; charter member of the Memorial Sports Center board; and numerous other activities.
Past customers and colleagues agree he'll be sorely missed.
"There are a lot of people who'll walk up to the door, (and if they don't see Joe in the shop), they'll turn around and walk away," Bryant said wryly, glancing at DeGray. "I think they'll be knocking on your (home) door."
"It'll go on the same as usual, Shelley," he assured her.
Bryant doesn't plan to make any major changes post-DeGray. As a tribute, the shop will continue to bear his moniker.
"He is Joe's Barber Shop," Bryant said.
Armond Brisson got his first haircut from DeGray in 1959 and has only gotten around 10 haircuts elsewhere ever since. Early last week he was looking forward to becoming Joe's last customer.
It's not just DeGray's clipping skills that made Brisson a regular.
"You'd always get the news from the barber shop and the Legion — and none of it was 'expanded'; it was all true," Brisson said. "Joe is the most honest person I've ever known. He's a good human being. He's out to help people."
Mark Perrin operates Green Peppers Restaurant right next door to Joe's Barber Shop. He marveled at DeGray's work ethic and punctuality.
"You can set a clock to (his routine)," Perrin said. "He'd show up early, go across the street (to Rubright's) to get coffee (and chat with friends). But he would be putting the key in the door two or three minutes before 8 a.m. Joes is 'Mr. Steady.' I hardly ever saw him sick."
Reporter John Flowers is at [email protected].
More News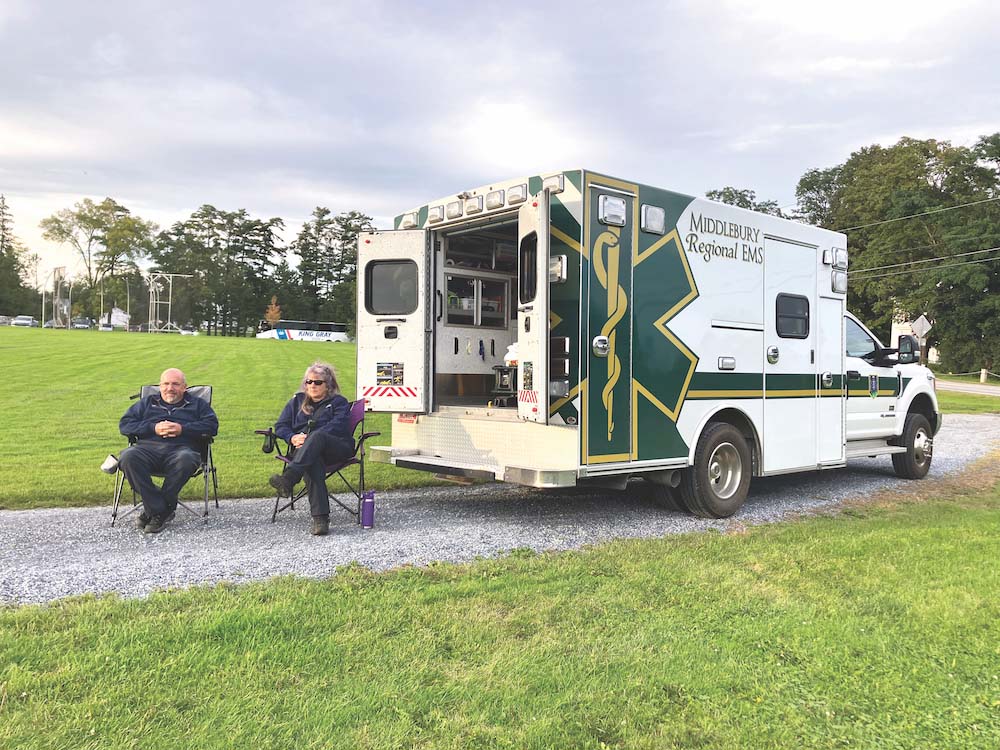 Middlebury Regional Emergency Medical Services wants to eliminate its annual Town Meeting … (read more)
Middlebury police are investigating the death of a Middlebury College junior and say the p … (read more)
In the course of her almost 101 years on Earth, Vergennes resident Margaret Clifford, bett … (read more)