New liquor store opens in county's shire town
MIDDLEBURY — Local business partners Ned Horton and Scott Hirschberg have recently opened a new liquor store in Middlebury they hope will mirror the success of their first business collaboration: Vergennes Wine & Beverage.
It's called "Hare and the Dog," a twist on the old expression "hair of the dog," which playfully posits that the best cure for a hangover is a dram of what got you inebriated the night before.
But the duo stressed Hare and the Dog — based in the former Olympia Sports spot in The Centre shopping plaza off Court Street Extension — will offer much more than a panacea for a "big head."
"We'd like the feel of a local market, at some level," Hirschberg said. "We want to bring in all the products for people to shop for their party. Everything will be here for them."
It was two years ago that Horton and Hirschberg joined forces on Vergennes Wine & Beverage at 211 Main St. in the Little City.
"Ned (bought the business) and needed an operator," Hirschberg recalled. "He and I put our heads together and opened it Jan. 2, 2021."
It's a well-trafficked store that sells spirits, wines, craft beer, cocktail mixers, non-alcoholic beverages and a variety of locally made products.
So when Middlebury's liquor license became available late last year, the duo decided to put in a bid. They were successful, and now take over for Hannaford's Supermarket — ironically, just around 40 yards away from Hare and the Dog — in having exclusive rights to sell spirits in the county's shire town.
"The bid came up and we applied. It was as simple as that," Hirschberg said. "Ned lives in Middlebury, I live in Cornwall and my kids go to the school system here. This made a lot of sense for the two of us."
With almost 4,000 square feet, the partners have a lot of room to play with — and they'll use it to maximum advantage.
"The size of the space gives us room to grow," Hirschberg explained. "New (products) will become available, and we want to keep up with that."
In addition to being able to carry most of what the Vermont Liquor Retail Division has to offer, Hare and the Dog will sell a wide selection of international and domestic spirits and wines, craft beers, and artisan food products — including cheeses, charcuterie and drink garnishes like olives and cherries.
Horton and Hirschberg are hoping to contract with Vergennes-based lu•lu for some adult (alcohol-infused) artisan ice cream.
The store's beverage selections include all of Addison County's local producers, including App Gap Distillery, WhistlePig, Golden Meade, Drop-In Brewing Co., Lincoln Peak and Woodchuck Hard Cider.
Plans call for weekly product tasting opportunities. Hare and the Dog hosted Barrelsmith — a manufacturer of barrel-aged craft cocktails — last Saturday afternoon.
Dealing in liquid, it helps to have vessels. So Hare and the Dog's wares will include glassware, bar sets, mixers and drink manuals.
"We're building up to that," said Hirschberg, who estimates Hare and the Dog will have its full bounce and bite by the spring.
Anything you can't find in the store? Hare and the Dog staff will try to order it for you.
Experienced local ownership should help build a loyal clientele, Hirschberg and Horton believe.
Hirschberg has family in the Waterbury area; he, his wife and children have lived in Vermont for three years. He used to manage a concert venue in Montclair, N.J., and has previous experience in the hospitality industry.
Horton is a Middlebury Union High School graduate who has established himself as an industrious local entrepreneur. His entrée into the business world was through digital marketing; he launched the "Horton Group" back in 1996. He sold that venture in 2019 but retained its "power marketing" division. He now owns two "Tin Cup" coffee shops in the Nashville, Tenn., area and three years ago began investing in his old stamping ground. 
Horton acquired the Otter Creek Bakery from the Wood family in January 2020, then established East Middlebury's "Otter East" bakery in November of that year.
Current Hare and the Dog hours at 10 a.m. to 7 p.m. Monday through Saturday, and 10 a.m. to 6 p.m. on Sundays.
"We're customer-oriented and just having fun down here," Hirschberg said. "It's fun to do it in our hometown."
Reporter John Flowers is at [email protected].
More News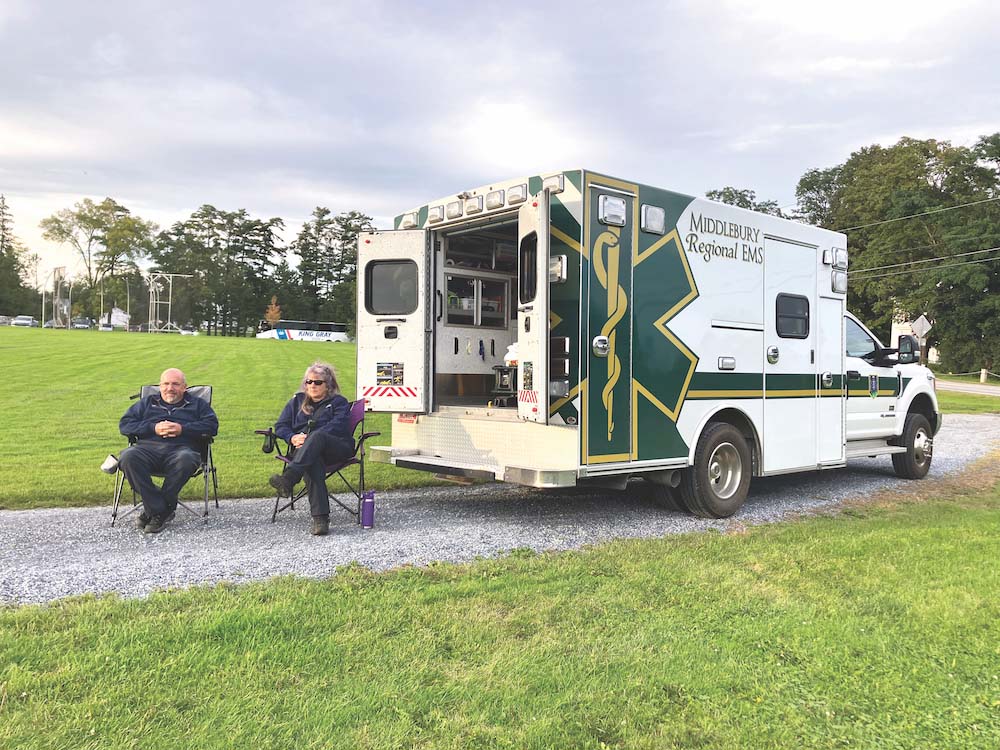 Middlebury Regional Emergency Medical Services wants to eliminate its annual Town Meeting … (read more)
Middlebury police are investigating the death of a Middlebury College junior and say the p … (read more)
Vergennes resident Margaret Clifford offers nearly a century of recollections, from losing … (read more)