Karl Lindholm: 'Is this heaven?' 'No, it's Pepin'
If I were the impresario of the Middlebury Men's Alumni Basketball Weekend, I would have done it up right, with great hoopla.
I'd have publicized widely the alumni game on Saturday, in the Campus newspaper, in the Independent, with posters, and other media, highlighting the terrific players returning — All-Americans, NESCAC all-stars, so many players with honors and accolades galore, and I'd profile what they have done since graduating (you know, the human-interest stuff).
I'd extoll the accomplishments of the teams they played for under Coach Jeff Brown: In the last 15 years his teams have won nearly 80% of their games (317-86) and gone to the NCAA post-season tournament 11 times.
For the game itself, I'd get silver-tongued Matt Jennings to be the PA announcer ("your Middlebury Panthers!"), have real refs call the game, and put the opposing teams in blue and white contrasting uniforms (shirts anyway).
That's how I'd do it. 
But I'd be wrong to do it that way. The way it was done, without my help (interference?), was perfect: highly informal.
The game itself was like a pickup game at a very high level. The older attendees (in their 30s!) brought their families. There were little kids rolling the balls around the gym while the "big kids" casually stretched and warmed up and many warm conversations (audible conversations, no deafening music!), hugs, laughter, high fives: a gathering of old friends bound by a love of game and teammate (and perhaps of place too).  
It was decided that it would be "old" guys in their 30s, in shirts of various colors, against young guys in their 20s, recent grads in white and gray. No refs. Call your own fouls and violations. Members of this year's squad were all present and sitting in the stands, one of whom assumed the role of maintaining the score and time on the electronic scoreboard. 
Ryan Sharry '12 was back with his wife Erin (sister of his Panther teammate Ryan Wholey) and their two small children. Ryan is likely the most accomplished and celebrated player in Middlebury men's basketball history, twice an All-American. At 6 feet, 8 inches tall, he was a player of wonderful and diverse skills. In a Division 3 all-star game for seniors at the national championship, he scored 20 points and grabbed 18 rebounds in 20 minutes of play.  
In Ryan's four years, 2008-2012, the Middlebury team won 103 games and lost just 14. In his junior year, the Panthers were 28-2 and went to the final four in Salem, Va., losing to the eventual national champs, St. Thomas (Minn.) by one basket.
At Saturday's alumni game, he was joined on the Old Guys by his teammates Nolan Thompson, Jamal Davis, Peter Lynch and Tim Edwards. Tim, like Ryan, had played professional basketball in Europe after graduating. It was very clear that these grizzled fellows were still finding time in their busy lives to hoop.    
The Young Guys had 13 players in all, including four players from the ill-fated class of 2021: Jack Farrell, Max Bosco, Griffin Kornaker and Ryan Cahill — "ill-fated" as the whole basketball season their senior year was canceled in the pandemic lockdown. As juniors, the team had been 21-6, and was clearly one of the best teams in the country, primed for a fabulous senior season. Farrell scored 1,000 points in his three years.
The youngsters were reinforced by three 1,000-point scorers: Swanton, Vt.'s Matt St. Amour '17 (All-American, third most points (1,700) in school history, played for a couple years in Ireland), Matt Folger '20 (1,257 points), and Jack Daly '18, who also earned All-American honors. With the benefit of youth, the Young Guys looked to be an overpowering unit, a veritable juggernaut.
As it turned out, the Old Guys won, decisively!
Two factors combined to undermine the Young Guys: (1) it was hard to parcel out minutes with that 13-man roster (you can't have a player come to an alumni game and sit); and (2) Tim Edwards, the second-oldest man on the floor (to Mike Lynch '08).
Edwards, who was the NESCAC defensive player of the year in both 2009 and 2010, just lit it up, couldn't miss, en fuego, each shot more distant from the hoop than the last, much to the delight of the current players. He must have hit a least eight long bombs!
I watched the game with my son Peter '18, an avid pick-up hooper living now in Burlington, and my teammate from the 1967 Middlebury team Rich Roller, who coached basketball for over 30 years at Tabor Academy. Rich and I and our classmate Gary Margolis played for Middlebury in a very different era when wins were hard to come by. 
The alumni who came back saw their legatees, the current team led by its All-American center Alex Sobel, win two NESCAC games against Bowdoin and Colby. The Colby game on Saturday before a big crowd (700-800 fans) was an exciting, fiercely contested game between two good teams. The Panther men are now 13-2 and ranked 11th in the country. 
A gathering of friends is what Middlebury games are for me too — friends and family. I have the remarkable good fortune to live in the Middlebury area with my three closest friends from college — Peter, Gary and Rick, all of whom enjoy attending games with me. I have not missed many home games in the over 50 years I have lived here in Middlebury.  
Son Peter gets to all the home games; daughter Jane comes down from nearby Monkton with my grandchildren (third-grader Dylan, 9, has taken a liking to basketball); Brett, my wife, is an avid and knowledgeable sports fan; and my daughter Annie, who lives in Boston at present, was at this weekend's games. It's a family affair.
I was sorry to miss the Saturday dinner for alumni, current players, and families after the game as I had a prior commitment, an even higher priority — a party for me! and for Jane, as our birthdays are just a week apart. I would have enjoyed meeting the new players and their parents. 
Had I been allowed a minute to speak (which I think would have been permissible), I would have told the players who returned how thoroughly happy it made me to see them again.
And I would tell the current players what joy I and others take in their play — and encourage them, all of them regardless of their playing time, to take it all in, live in the moment in sport, take none of it for granted, love and respect one another, and enjoy America's "beautiful game." 
—————
Karl Lindholm, Ph.D., is dean emeritus of advising, assistant professor of American Studies (retired) at Middlebury College. Contact him at [email protected].
More News
Tiger boys' cross-country team held off runners from Burr & Burton, VUHS and Mount Abe in … (read more)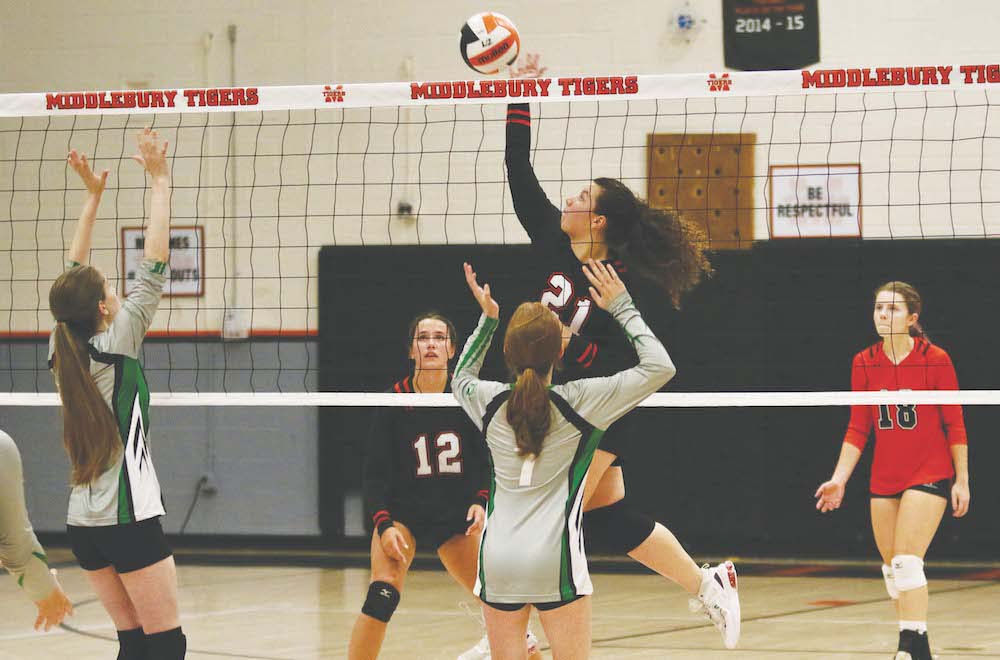 The first-year Middlebury Union High School girls' varsity volleyball team continued its r … (read more)
I gave Bill Lee a call last week, hoping he was at his home in Craftsbury and we might arr … (read more)