Omicron boosters are coming
A new COVID-19 vaccine booster targeted at Omicron strains, called the bivalent vaccine, is coming to Vermont this week, according to the state Department of Health.
Vermont pharmacies including CVS and Walgreens list bivalent vaccine appointments starting Wednesday, although availability is limited. The health department is also offering the bivalent vaccine starting Wednesday at walk-in clinics listed on its website.
Both Pfizer and Moderna's bivalent vaccines were authorized by the federal government last week, with Pfizer offered to anyone 12 and older and Moderna to those 18 and older. The department has ordered an initial 17,000 doses to start arriving this week, with thousands more on the way in the coming weeks.
Health Commissioner Mark Levine praised the new booster in a press release last week.
"As the weather cools, we start spending more time inside — and that is when we see increases in cases of respiratory viruses like colds and flu, and now COVID-19," Levine said. "This fast-evolving virus continues to demand our attention, and I am pleased we now have an updated vaccine that targets the variants we see circulating in Vermont."
Here are some responses to common questions about the vaccine from two sources: Monica Ogelby, immunization program chief for the health department, and Tim Lahey, an infectious disease physician at the University of Vermont Medical Center.
How is this vaccine different from previous vaccines/boosters?
Until now, the federal government recommended one booster for young and healthy adults, and a second for high-risk people and those 50 and older.
But those boosters were the "same vaccine just given again," Lahey said, in order to trigger a stronger immune response. The bivalent vaccine contains antigens from the original strain along with two other strains: BA.4 and BA.5, the two Omicron subvariants that are dominant in the United States right now.
"It's a broader spectrum of coverage against current variants and what we might expect to be emerging variants in the future," Ogelby said.
Lahey said scientists have noticed that protection against COVID is better for people who have immunity to strains closer to the current virus, so "they're hoping to kind of catch everybody up to having that same level of matching immunity."
How effective is this vaccine?
At this point, there's little data on the real-world effectiveness of the bivalent vaccines, Lahey said.
"The challenge is that we're in one of those points in time where we have some information, but the ideal information to make the decision — those data aren't in yet," Lahey said.
We do know that bivalent vaccines improve the antibody responses of boosted individuals, he said, and that good antibody responses tend to correlate with better protection against the disease.
So it's "a reasonable extrapolation" that increasing the levels of antibodies, particularly ones tailored to the strains that are going to be circulating this fall, would protect people from severe disease, Lahey said. "But we don't have evidence that that is definitely the case with this vaccine."
At the same time, he pointed out that the risks of getting vaccinated have been demonstrated to be pretty low, usually just a day of side effects.
And, he added, "every single time we've boosted, we've seen that particularly older and immunocompromised people show lower rates of hospitalization and death."
For younger folks, he said, the benefits might be more incremental, but the shot could help prevent a "few days of misery" from a nasty bout of COVID.
Lahey said "that's good enough" for him. "I'll get the booster because I don't want to be out of work. I have a busy life and I don't want to be kept out of it."
How can I get this vaccine?
Pharmacies and walk-in clinics are reporting bivalent vaccine availability starting on Wednesday. Vermonters should be able to get the vaccine at "all the places that they have been historically going to get vaccines," Ogelby said.
Vermonters can get either Pfizer or Moderna, regardless of which of the two vaccines or boosters they had in the past, except that 12- to 17-year-olds must get Pfizer, she said. You must have gotten a primary vaccine series of Pfizer, Moderna or Johnson & Johnson in order to get boosted.
The new vaccines are listed on the health department's clinic schedule as "Moderna Bivalent Booster 18+" and "Pfizer Bivalent Booster 12+."
Ogelby said the state is planning to increase its capacity at walk-in clinics to make sure it can accommodate increased demand. The department is also working to offer flu vaccines at walk-in clinics in the near future, except for the high-dose flu vaccine for older Vermonters.
While COVID vaccines have been available at most doctor's offices, Ogelby said the department is unlikely to distribute the vaccine to providers on "day one," because most don't have the bandwidth to accept phone calls from hundreds of patients.
Most primary care practices should be able to offer the vaccine starting in mid-September, she said. It will likely be available at specific appointments as well as routine check-ins.
I think I have immunity from getting sick or getting vaccinated recently. Should I still get the Omicron booster?
Ogelby said the bivalent vaccines are authorized to be taken two months after a person's last dose of the vaccine, whether that's from the primary course or a booster dose.
If you've recently been infected with COVID, you should consider waiting up to 90 days before getting the bivalent vaccine, she said.
"If I had had COVID, I'd probably wait 90 days so I would kind of ride out that natural immune response as long as I could, and then boost my immune system once I knew that that immune response was starting to wane," she said.
Why get vaccinated now, when COVID levels are low?
An increasing percentage of Vermonters have fallen behind on their recommended doses of booster shots. Only 37% of Vermonters 5 and older are up to date on their vaccines, the health department reported last week.
At the same time, the health department has reported "low" COVID levels since June, with few outward signs that the state is poised for a surge. Vermont has among the lowest case and hospitalization levels in the nation.
Yet there are still benefits to being protected against the virus.
"Getting this new booster will help build protection for when you do encounter the virus," Levine said in Tuesday's press release. "This can reduce cases of serious illness and hospitalizations — and, most important, help prevent additional deaths and loss from this terrible pandemic."
Ogelby said the vaccine would help protect not just the individual getting it, but the community as a whole. She also said that vaccinated people were less likely to have to access the health care system, find childcare or miss work because they're sick.
There's also the potential for future surges in the fall and winter. The virus could follow its current pattern of ripples coming and going periodically, where "they're not as lethal as some of the earlier surges, but they're still important," Lahey said.
He likened the state of the virus to HIV, which is far less fearsome now than it was in 1985 — "because of condoms and testing and treatment," tools that have prevented it and lessened its effects on those who live with it.
"So if you put down those tools and don't use them, it turns into a fearsome thing" again, Lahey said.
More News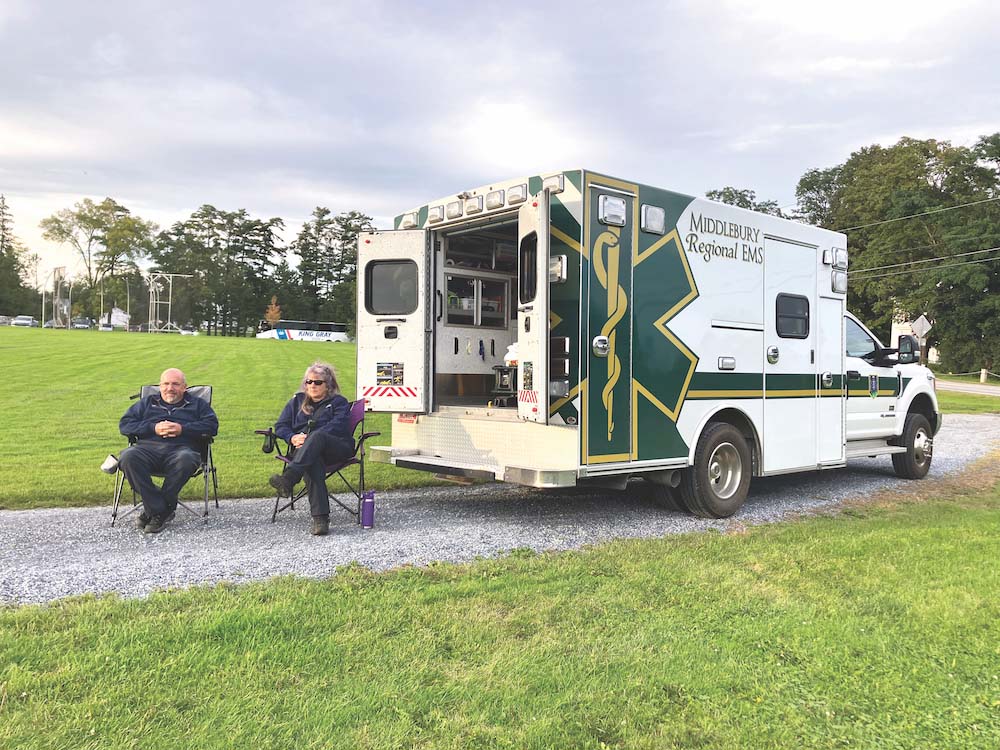 Middlebury Regional Emergency Medical Services wants to eliminate its annual Town Meeting … (read more)
Middlebury police are investigating the death of a Middlebury College junior and say the p … (read more)
In the course of her almost 101 years on Earth, Vergennes resident Margaret Clifford, bett … (read more)