Peter Conlon touts six years on education panel
CORNWALL — Rep. Peter Conlon, D-Cornwall, has experienced a lot during his six years representing the Addison-2 district in the Vermont House.
Special sessions. Vetoes. Building coalitions. Sponsoring and passing bills. Legislating during a pandemic.
This year, Conlon is finding out, for the first time, what it's like to be involved in a contested election.
While Ripton's Mac Cox mounted a write-in campaign for Addison-2 during the 2020 election, Conlon this year faces his first formal opponent, and it comes from his own party.
Ripton Democrat Wendy Harlin (see related story) and Conlon will square off in an Aug. 9 primary election. And it could be winner-take-all, as no Republicans, independents or minor party candidates have so far surfaced to run in the general election.
"I feel my record as a Democrat in the House is rock solid, so I was somewhat surprised to face a challenge within the party," Conlon, 58, said. "But anything that sparks voter interest in our Legislature is welcome."
The Addison-2 House district encompasses the towns of Cornwall, Goshen, Leicester, Ripton and Salisbury.
Harlin, a member of the Ripton School District board, cited Conlon's association with H.727 — a bill that updates how union school districts are formed and how communities can withdraw from them — as a major reason for her candidacy.
But Conlon countered, during a recent interview with the Independent, that his work on H.727  proves his support of local control by communities pursuing educational independence.
H.727 was a rewrite of a state statute that hadn't been updated since 1960, according to Conlon, and arrived in the House Education Committee with no language pertaining to withdrawing from union school districts — a matter that was left for the Legislature to decide.
The panel heard abundant testimony from stakeholders like the Vermont Agency of Education and the State Board of Education, "advocating to give the state the power to stop a withdrawal if the SBE or the AOE didn't think it was in the best interest of students," Conlon recalled.
House Education members found themselves in two camps, according to Conlon: Those who supported giving the SBE and AOE veto power over withdrawals, and "others, like me, who felt that the unelected secretary of education shouldn't have the power to thwart the will of the voters. I advocated very strongly for that position of keeping the state board and the AOE in an advisory role, only."
House Education passed out an H.727 without the veto powers sought by the SBE and AOE. But the Senate-passed version of the bill granted those veto powers to the AOE and SBE, according to Conlon.
So the two bills had to be reconciled in a conference committee, and Conlon said he successfully lobbied for the House version that placed communities in the driver's seat for education independence drives.
Conlon believes the ultimate goal of H.727 was "to improve transparency and accountability by making the withdrawal group a public body, subject to the Open Meeting Law, and to provide voters with far more information than was (previously) required."
"When Ripton was promoting its withdrawal, they told folks in all the towns they expected to be assigned to another SU and were having substantive talks with the White River Valley SU. Neither of those things came to be, and no one knew that until long after the public votes had taken place. That was a key bit of information voters didn't have (prior to going to the polls)."
Conlon said he's proud of his advocacy for towns' rights when it came to H.727, and reported receiving two messages of thanks from the Ripton School board and another from a lawyer representing Lincoln's withdrawal bid from the Mount Abe Unified School District.
Conlon acknowledged the ACSD board, during his leadership, began exploring potential remedies for declining enrollment, rising school costs and deteriorating school buildings. One of the ideas floated centered on reducing the district's count of seven elementary schools from the current seven, to three or four. The board has yet to call for any school closures. Ripton launched its independence drive last year as a way of ensuring the long-term future of its local school.
"I think the 13-member ACSD board took very seriously its role to create a high-quality, equitable and affordable preK-12 education, and part of that required a serious look at our footprint and how they fit with our goals," said Conlon, who no longer chairs the ACSD board.
If re-elected in Addison-2, Conlon could get an even larger role on House Education. The current chair of that panel — Rep. Kate Webb, D-Shelburne — is stepping down this year, and Conlon is a potential replacement.
It's a challenge he said he'd welcome, and he believes he has assembled a good résumé to be considered for a committee chairmanship.
It's clear House Education will have a slate of weighty assignments during the 2023-2024 biennium, according to Conlon, with a list that includes:
Ensuring a proven payoff for the money and programs the state has invested in the post-pandemic recovery of Vermont's public school system.
Figuring out "how to address the overwhelming school facilities needs in the state." He acknowledged many school districts have had to defer important building renovations due to limited resources. Until 2007 the state covered 30% of the bonded costs of school capital improvements.
Exploring the impacts of Vermont's new special education and pupil-weighting laws. If those laws change the financial landscape for school districts, the Legislature will need to make adjustments, according to Conlon.
Working on a paid family leave initiative that can earn Gov. Phil Scott's signature.
Looking at state policy as a whole, Conlon said the Legislature needs to make more progress on climate change solutions, improve the state's child care system, and create more affordable housing opportunities.
Looking back, Conlon is proud of the role House Education has played in reinvigorating the state's college system; supporting universal school meals; creating greater public education equity through new pupil weighting laws; and establishing a new special education law that enhances the effectiveness, availability and equity of services provided to students who require additional support.
More information about Conlon can be found at conlonforhouse.com.
John Flowers is at [email protected].
More News
Blasting ledge could begin on Monday in Vergennes as work on the $25 million Vergennes Gra … (read more)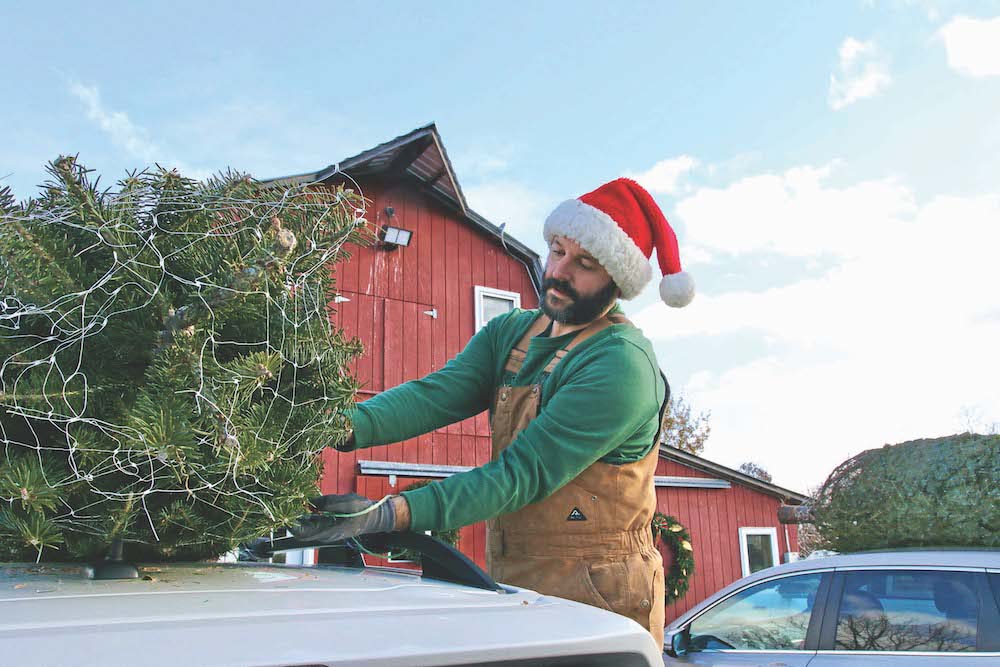 With the holiday season underway, county Christmas tree farms have begun welcoming visitor … (read more)
As the Middlebury Snowbowl prepares for opening day this Saturday, Dec. 9, loyal skiers an … (read more)