Commodore softball off to a strong start
VERGENNES — Vergennes Union softball has high hopes for this season and began with a decent start, taking two out of three games despite being shorthanded for two of them.
After two postponements the Commodores finally opened on April 21 with a big five-inning win over visiting Peoples, 41-6.
On Saturday the Commodores took an early lead over visiting Richford, but the Rockets took control on the way to a 14-3 victory.
On Tuesday two starters returned from vacation, including freshman Savanah Blaise, who earned the pitching win in her debut as VUHS defeated visiting Fairfax, 16-4, in six innings. The Commodores generated a 14-hit attack in that game paced by the team's seniors, Audrey Tembreull, Felicia Poirier and Sierra Bertrand, who combined for eight hits, seven runs and six RBIs.
Coach Travis Scribner was smiling after Tuesday's win.
For one, the Commodores set the tone in the first inning. His top seven hitters produced five runs, four earned, on five hits.
"I am super confident in the leadoff hitters. Any one of those girls can get on base at any time," Scribner said, adding he expects his younger players nearer the bottom of the order to adjust to varsity pitching as the season progresses.
Scribner was also happy with Blaise's debut. She struck out 11 and allowed four hits and four walks.
"She's a good athlete, a good all-around player, and we were excited to see her come up to the varsity ranks," he said.
Scribner expects to continue to give innings to Bertrand and Poirier as games begin to add up.
"The plan is between Savanah, Sierra and Felicia is to keep them fresh, maybe a 4-2-1 (innings) thing between them, so we can make a deep playoff run," he said. "Long-term, we need to have full steam come tournament play."
Scribner said he considered calling for Bertrand when Fairfax threatened in Tuesday's sixth, but wanted to give Blaise the chance to work out of a jam. He was happy with the poise Blaise then showed, and the fact she wanted to stay in.
"From a player development standpoint, for sure, it was nice to see her ask to battle through that," he said. "She said, 'I'm good, I can finish this.' … She was still throwing good stuff."
In that first inning junior Jasmine Little led off with a double and scored on a throwing error. Blaise then reached on an error, and back-to-back doubles by Tembreull and Poirier and a Bertrand single made it 4-0. An RBI single by freshman Katie LaBerge capped the rally.
The second inning was notable for two things: VUHS junior center fielder Sam Hallock went back to rob Bullet pitcher Sarah Coloney of extra bases at the fence, and the Commodores added three runs on a singles by Little and Blaise, a Tembreull double, a wild pitch to move Tembreull to third, and a Poirier RBI grounder.
Fairfax broke through for two in the third. Faith Benjamin tripled and scored on a wild pitch, and Abbie Langlois walked, moved up on another wild pitch, and came home on an Anna Villaneuve single.
VUHS added four runs in the fourth off reliever Emma Sweet. Blaise reached on an error and Poirier singled, and then came around on a series of wild pitches, stolen bases and passed balls. Bertrand doubled, Kaitlyn Little singled, and they both scored in the same manner, with Coloney back on the mound and responsible for the last wild pitch.
Fairfax rallied in the sixth. Sweet singled to make it 12-4 after a walk and a Coloney double, still with none out. Another walk and a Benjamin bunt single loaded the bases. But VUHS got the first out when catcher Kaitlyn Little tossed to Blaise at home to nail Sweet trying to score when a pitch bounced away, and Blaise fanned the next two hitters.
Then VUHS scored four in the bottom of the inning to end the game on the mercy rule. Tembreull singled and reached second on an error, moved to third on a wild pitch and scored on a misplay. Bertrand reached on a passed-ball strike three, and Maddie Perkins ran for her.
Hallock singled, and Perkins scored on a LaBerge grounder. Hallock scored the game-ending run from third base on the throw to first on a dropped third strike, the final Fairfax miscue.
EARLIER GAMES
In April 21's big five-inning win over visiting Peoples, among the many offensive standouts were Poirier, whose five hits included a grand slam; Tembreull, whose six hits included two doubles and a triple; Little and Rory Couture, with two hits apiece; and Bertrand, who tripled, doubled and singled. Bertrand earned the win, allowing three earned runs and striking out eight.
In Saturday's 14-3 loss to Richford, the Commodores took a 2-1 lead in the second inning, when Tembreull walked and scored on a Poirier double. Poirier stole third and scored on a passed ball.
Before the Rockets pulled away, VUHS tied the game at 3-3 in the third, with Tembreull again walking and scoring. But VUHS managed just two hits the rest of the way, by Jasmine Little and Couture. Bertrand took the loss.
Despite the one setback, Scribner is confident moving forward.
"We were the young team a few years back that really learned on a curve and had to take our lumps to get where we are," he said. "I expect we can win 10 games plus … I feel really good about where we're at."
More News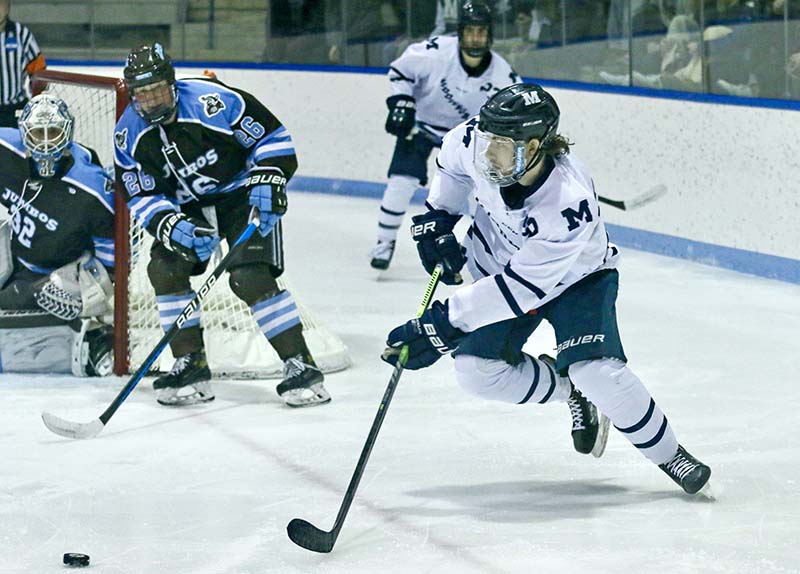 Middlebury College men's hockey surged passed Conn College before falling to Tufts this pa … (read more)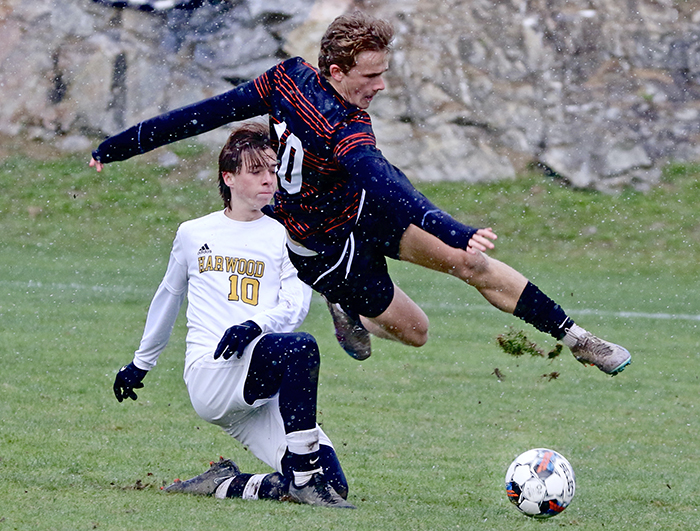 Seven local high school boys' soccer players were named to the Division II or III All-Stat … (read more)
Five area high school girls' soccer players were named either Division I or D-II All-State … (read more)