VUHS girls' basketball holds court vs. Eagles
VERGENNES — Back on Jan. 22, the Vergennes Union High School girls' basketball team lost by 19 points at Mount Abraham. The Commodores were in the middle of a nine-game losing streak at that point that left them at 4-10.
On Tuesday, they avenged that loss.
The Commodores look the lead four minutes into the game, held the Eagles to 10 first-half points, and knocked off their rivals, 43-32, on the night they honored seniors Felicia Poirier, Ryley Dubois and Geneva Verburg at their final home game.
They also improved to 7-11, 3-2 in their past five games since the final setback in that losing streak.
VUHS Coach Billy Waller said the key for his team was its positive approach despite the lack of results on the scoreboard.
"We kept battling. We laid a couple eggs in there, but for the most part it was every day grinding," Waller said.
The Division III Commodores were playing their fourth game in five days. They lost to Enosburg and Missisquoi, D-II teams with winning records, on the previous Friday and Saturday, before defeating Hazen at home on Monday.
"We didn't get a chance to prepare for any of them, and I said you've just got to play basketball," Waller said.
He said things began to click after a tough first half vs. Hazen on Monday.
"The second half we played really good basketball, and it fed into tonight," Waller said. "The key thing was we got the lead early and didn't have to chase."
Coach Connie LaRose credited the Commodores, while saying her 10-8 team simply couldn't make a shot early on and maybe lost a bit of its confidence when the ball wouldn't drop.
"They played good basketball tonight, and we just weren't hitting," LaRose said. "We have nights like this, and it's like we can't get ourselves out of it when it starts."
The situation puzzled LaRose because the Eagles were coming off a convincing win over Missisquoi on the road.
"It looked like we could have beaten anybody up there. Everything was clicking," she said. "And tonight, nothing was."
The trouble started for Mount Abe with the score tied at 4-4 in the first period after Eagle senior center Laura Bonar hit in the post at 4:25.
Twenty seconds later, Poirier converted inside for VUHS, and it sparked a 7-1 run to close the quarter. Poirier and junior guard Kyra Bradford both turned steals into layups, and VUHS forward Acadia Clark hit a free throw after being fouled in transition to make it 11-4.
Points remained hard to come by in the second period. It was 16-10 with 1:25 to go, and VUHS scored the final four points of the half by hitting the offensive glass. Verburg grabbed one board and hit two free throws after a foul, and Clark put in a missed free throw to make it 20-10.
With the Eagles misfiring from outside and senior guard Abby Reen often sitting with foul trouble, Bonar and junior forward Payton Vincent kept Mount Abe close in the second half. But the Commodores answered every time the Eagles made a run.
A Vincent jumper three minutes into the third period cut the lead to 22-16, but a Dubois three and free throw and a Kaelin Sullivan jumper made it 28-16.
Then Vincent cut in the lane for two on a feed from Maia Jensen, and Bonar scored inside and hit a free throw after an offensive rebound to cut the lead back to seven.
But a strong drive from Jasmin Little and a Poirier post move pushed it to 32-21 before a Bonar putback beat the buzzer to make it 32-23 after three periods.
The Commodores put the game away with a 6-0 run over the first 2:30 of the final period. Sophomore Ava Almeida laid in a nifty feed from Little, Dubois scored in the lane, and Little took it to the hoop to make it 38-23.
The Eagles cut the lead to 40-32 with 2:34 to go, but Little hit Poirier for a layup after a Bradford offensive board, and Poirier added a late free throw.
Bonar finished with 10 points and eight blocked shots and strong work on the boards, while Vincent scored all seven of her points in the second half. Jensen was next with six points.
"It's the best game Laura's played," LaRose said. "Payton had a good game. We just had too many shots that didn't drop that normally drop. Everybody has those nights."
The Eagles played without junior starter Madi Gile, whose sore back leaves her status in doubt for games at Middlebury (7-11) on Thursday and at home vs. Montpelier (5-13) on Friday.
The Eagles remain in good shape for a D-II home playoff game, and LaRose is confident they'll bounce back.
"I just hope we come back with a positive mindset and new energy tomorrow and get ready for Middlebury," LaRose said.
Poirier led the way with 15 points for VUHS. Every Commodore who played scored, including Dubois (eight points) and Bradford (five). Waller was pleased with the ball movement and contributions from the entire team.
"We found the people we needed to get the ball to," he said.
The Commodores close out their regular season at MUHS on Friday and should end up as the No. 10 or 11 seed in Division III. They have been competitive in the tournament in recent years even with a low seed.
Waller said he was also happy for his seniors.
"Felicia and Ryley and Geneva are great friends," he said. "I'm glad they beat Mount Abe in their last chance in their gym. It felt good."
More News
Tiger boys' cross-country team held off runners from Burr & Burton, VUHS and Mount Abe in … (read more)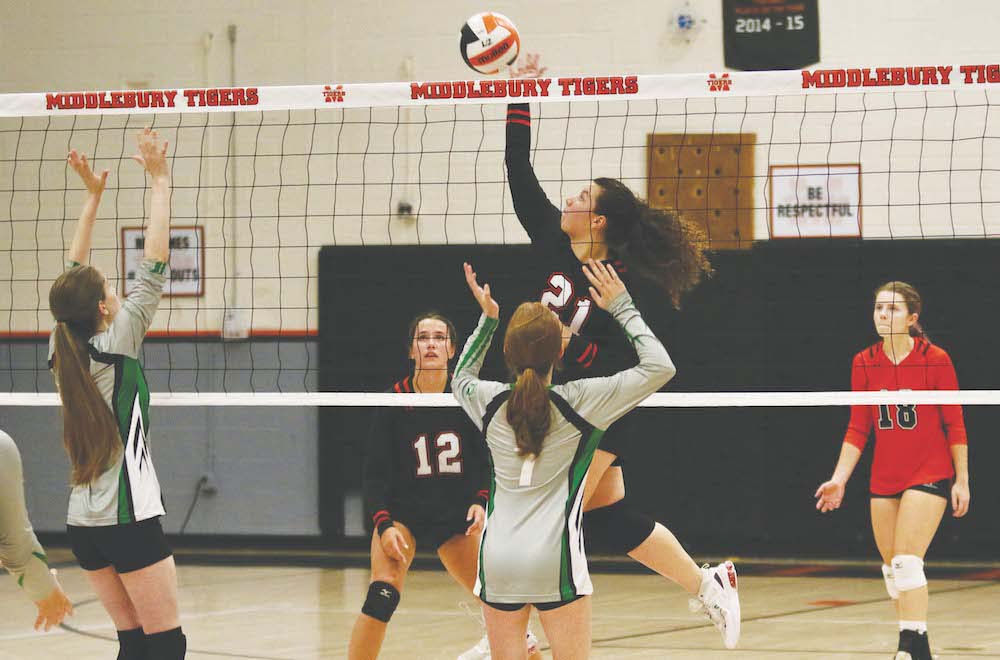 The first-year Middlebury Union High School girls' varsity volleyball team continued its r … (read more)
I gave Bill Lee a call last week, hoping he was at his home in Craftsbury and we might arr … (read more)