Eagle boys' hoop soars past visiting Tigers
BRISTOL — Make it five straight.
The Mount Abraham boys' basketball team pulled away from visiting Middlebury in Tuesday's second half to win big, 66-39, and improve to 7-4.
That record follows a 2-4 start and has Coach Martin Clark's Eagles thinking about a winning record and maybe even a Division II home playoff game, accomplishments not seen for the program since the late 2000s.
"The boys are mentally keeping their heads. They're playing a lot more under control than we were at the beginning of the season," Clark said. "And I think we're just building confidence. We're building confidence as a group, more than anything."
Senior Henry Cogswell, whose career-high 30 points help spark the Eagles on offense, said their defense and effort has made the difference, often by creating fast-break points, as they did when Mount Abe broke Tuesday's game open in the second and third quarters.
"We have a ton of players who give 100% all the time, and that impacts our defense a ton. And to have those type of kids who will just hustle for any ball, it becomes a big part of your game," Cogswell said. "This team works so hard and puts in so much effort it really shows in those situations, defensively and in transition."
The Tigers had been the better team in recent years, but Coach John Howe's 3-9 squad is inexperienced this season, and Howe is already looking ahead. He noted Nikolai Luksch, who returned from a multi-game injury absence on Tuesday, is the only senior seeing regular playing time.
"It's a good rebuilding year. We're finding little hooks here and there. We had a phenomenal start Saturday at Enosburg," Howe said. "We're just not finding the execution. So hopefully next season we've got some strong sophomores coming up, and these guys will have some experience, because most of the guys who are getting playing time are juniors."
He acknowledged the Eagle defense, but also said his team continues to struggle in its offensive sets.
"We just can't execute on offense," Howe said. "We run our offense for about two minutes, and then we stop. So a lot of credit to Martin. He's a good coach, the boys are wonderful."
On Tuesday the Eagles did not start quickly on offense, but their defense was a constant. After an opening hoop by Luksch, the Eagles went on a 12-0 run that opened with a Chance Denecker three-pointer at 4:45 and ended with a Cogswell drive at 1:30. Those two Eagles combined for 11 of those points.
Tiger center Penn Riney countered with two buckets inside to close the period, and it was 12-7, Mount Abe, after one.
Eagle forward Noah Gargano scored all of his team's eight points over the first 3:28 of the second period, with Willem Berry's two free throws and a Jack Trudeau three answering for the Tigers, and it was 20-12.
Denecker, Daniel Rodriguez and Cogswell combined as the Eagles went on an 8-1 run that threatened to bury the Tigers, but Luksch gave MUHS hope with five straight points to close the half, and the lead was 28-18 at the break.
Luksch stole the ball and hit a layup a minute into the second half, and it was essentially anybody's game at 28-20.
But the Eagles had switched from man to a 2-3 zone that baffled the Tigers, who kept turning the ball over, and Mount Abe went on a decisive 11-0 run. Gargano hit two more hoops inside, Cogswell nailed a three, and Denecker set up Cogswell in transition and Gavin Bannister in the post, and it was 37-20 with three minutes left in the period.
"When we came out in the second half in a zone it put a little pressure on them for a while, and we had some good transition play," Clark said. "We played solid man-to-man in the first half, and I was real happy with that. I just thought I'd change it up a little bit, show them a different look."
When Cogswell soon afterward beat the third-period buzzer with another three, the Eagles had capped a 21-8 quarter and led, 49-26.
The Eagles turned the ball over just 11 times, compared to 29 miscues for the Tigers, and earned a 45-40 edge on the boards, counting team rebounds.
Riney led the Tigers with 12 points, followed by Luksch (nine), Trudeau (six) and Cole Ashelin and Jeremiah Tinker (four apiece).
Following Cogswell in the scoring column for the Eagles were Gargano (13), Denecker (10) and Dominic DeNapoli and Bannister (four apiece).
Cogswell called Tuesday's result "a huge statement game," that demonstrated the Eagles' ability, and said with the team's coachability and hustle he expects more good results.
"If we can play the way we know we can play, we can win," he said.
More News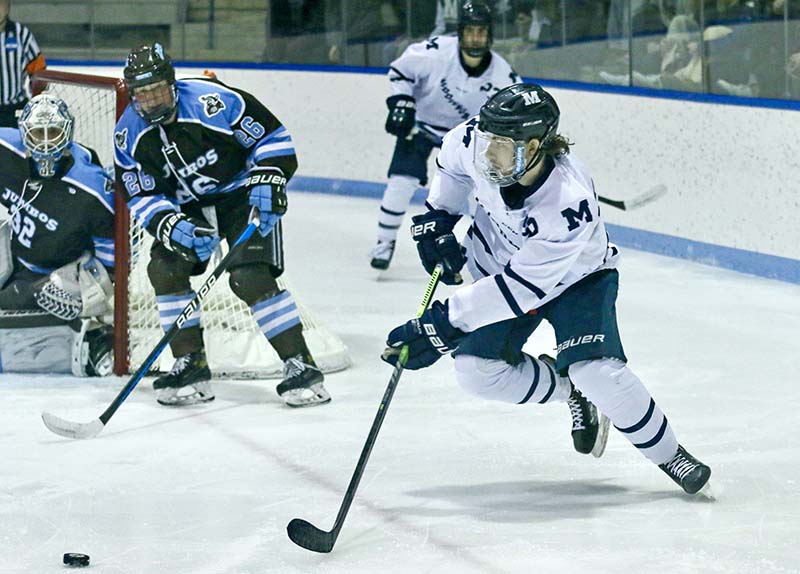 Middlebury College men's hockey surged passed Conn College before falling to Tufts this pa … (read more)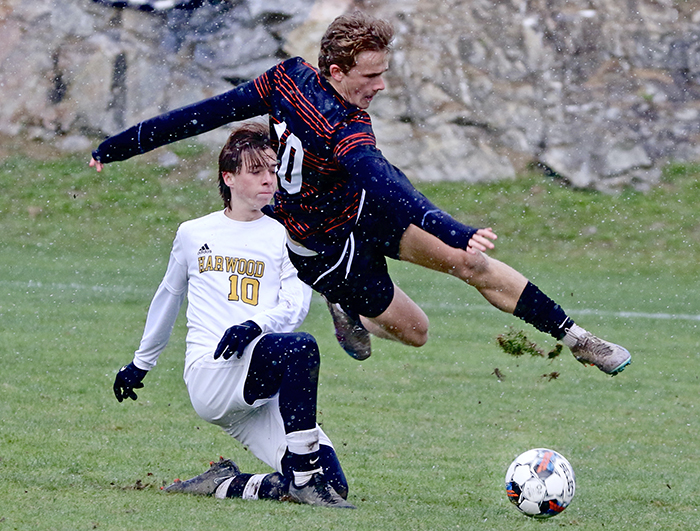 Seven local high school boys' soccer players were named to the Division II or III All-Stat … (read more)
Five area high school girls' soccer players were named either Division I or D-II All-State … (read more)