COVID deadly in Vermont in January
January 2022 was the second-deadliest month of the COVID-19 pandemic, according to data from the Vermont Department of Health.
The health department reported 64 people died of COVID in January 2022, slightly more than the 62 deaths reported for December 2021.
December 2020 remains the deadliest month of the pandemic with 71 fatalities, many of which were connected to outbreaks at long-term care facilities.
But even so, Vermont reported record-high case counts and hospitalizations in January. Vermont hospitals had more than 100 COVID patients for about two weeks, reaching a peak of 122 COVID patients on Jan. 19.
As of Wednesday, 88 people with the virus were in Vermont hospitals, the health department reported. That includes 23 patients in intensive care, in line with recent numbers.
The health department also said 677 more people tested positive for the virus, leading to a seven-day average of 688 new infections per day. At a press conference Tuesday, Vermont officials predicted that case counts would continue to decline in the coming weeks.
On Tuesday, the health department also released its latest week of data on coronavirus cases among children. Children under 18 continue to report higher infection rates than the adult population, although that rate has declined in recent weeks as overall cases have declined.
COVID-19 cases declining and hospitalizations beginning to tick down, Vermont officials spent much of their weekly COVID press conference discussing the need to shift state attention to issues other than the virus.
"There's not much new for me to say on the COVID front other than I'm very encouraged, so I'm going to focus my remarks on other topics," Gov. Phil Scott said Tuesday, and he proceeded to talk about his workforce development plan and mental health in Vermont.
The state is planning for a new phase of coexisting with the virus, Health Commissioner Mark Levine said.
"Many of us in public health believe omicron has hastened our pathway to the endemic state, meaning a time when the virus is constantly present in our population, a permanent or hopefully milder part of our lives," he said.
He likened it to the flu, which can be dangerous but is managed through "regular vaccinations and good prevention practices," rather than urgent public health orders.
In that future stage, the number of new infections would be less important than tracking hospitalizations, viral levels in wastewater and focus testing of at-risk populations, he said.
He said the health department would like to concentrate more on other health issues that have arisen during the pandemic, such as mental health concerns, chronic health conditions and other infectious diseases.
The delta surge of COVID-19 coincided with a rise in non-COVID-related deaths that reached their highest point in years, federal data showed, driven by suicides, overdoses, delayed health care and crowded hospitals.
"The public health surveillance data continues to be collected. That's not the issue," Levine said. "It's really the ability of public health and all of us together to focus on all of the issues at a time when a pandemic is occurring and lots of mitigation is going on."
Vermont is already taking one step toward changing its COVID-19 data strategy. It will no longer publish COVID-19 case counts on weekends, something it had done throughout the pandemic, Levine said.
Experts interviewed by VTDigger last week agreed that the less severe omicron strain was a reason for cautious optimism but warned that the virus could mutate at any point and lead to another wave of an infectious variant.
Omicron is far from over in Vermont, but the latest state data shows that case counts have declined significantly. The state reported a seven-day average of 669 infections per day on Tuesday, down 40% in the past week, said Mike Pieciak, commissioner of the Department of Financial Regulation.
For context, the state reported about 400 COVID cases per day in the weeks leading up to Christmas and reached a peak of about 1,900 cases per day in mid-January.
New hospital admissions also declined 10% in the past week, he said. The state reported 94 patients were in the hospital for COVID on Tuesday, the second day with fewer than 100 COVID patients. That includes 26 people in intensive care, a number that has remained steady in the past week.
More News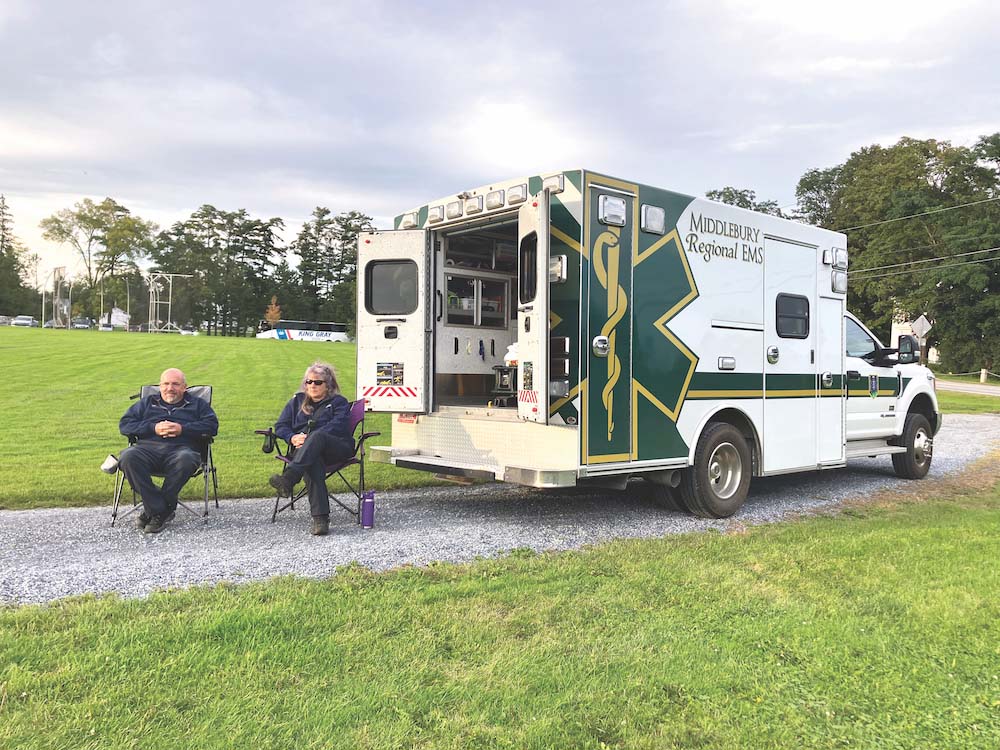 Middlebury Regional Emergency Medical Services wants to eliminate its annual Town Meeting … (read more)
Middlebury police are investigating the death of a Middlebury College junior and say the p … (read more)
Vergennes resident Margaret Clifford offers nearly a century of recollections, from losing … (read more)