Tiger girls' basketball rally stuns Eagles
BRISTOL — The host Mount Abraham girls' basketball team led Middlebury by 18 points in the second half and by 11 entering the fourth quarter on Saturday.
It wasn't enough.
The Tigers buckled down on defense, and shots that had been going astray began to fall, particularly those from junior forward Ele Sellers.
Sellers scored nine of her 21 points in the fourth quarter as the Tigers outscored the Eagles by 15-2 in the period to earn a 42-40 win.
The result left both teams at 7-5, but one team feeling much better.
"It's really disappointing. I thought the kids earned a win, but just didn't quite get there," said Mount Abe Coach Connie LaRose. "But give Middlebury credit. They worked hard and came back."
Sellers pointed out the Tigers were coming off a Tuesday win at Vergennes and said the Addison County sweep made Saturday's result sweeter.
"It feels great to win against two rivals in a row," Sellers said. "We're feeling really good after this."
Sellers and MUHS Coach Chris Altemose said the Tigers' halftime changes in the way they attacked the Eagles press paid off. That press was creating transition points for Mount Abe and throwing the Tiger offense out of rhythm.
In the second half, MUHS stationed a guard, usually junior Cady Pitner, in the middle of the Eagle zone, and threw long over the press. The plan created better shots, and they started to fall.
Altemose said the Tigers began to believe offensively.
"That (change) just gave us some aggressive looks at the rim," Altemose said. "That got a few things to go, and then the confidence piece kicks in."
Sellers agreed.
"We figured it out a little bit. We made a halftime adjustment, and it all worked out," she said.
LaRose brought up another late-game issue for Mount Abe. The Eagles are not deep, with after an injury resulting in only eight regulars plus two players shared with the JV. She subbed in only a couple players, while Altemose used a half-dozen subs.
Mount Abe has also had a tough schedule of make-up games after postponements, while also missing players due to being close COVID contacts. LaRose said she has not had 10 players at a practice in more than a month.
"Fatigue was certainly factoring into things for us," LaRose said.
Still, there was a lot to like in the Eagles' effort. They closed the first quarter on a 13-2 run to take a 15-6 lead, with junior Maia Jensen converting three three-point plays driving to the basket, and junior Lucy Parker coming in to hit a jumper and a layup.
The Eagles used the press in the second period to push the lead to 23-8, with junior Madi Gile scoring six points, including two transition layups set up by Jensen.
Altemose called time at 5:17 of the quarter after the second of those buckets, and the Tigers started digging in on defense and got a jumper from Pitner and a layup from junior Makayla Swan assisted by Sellers.
But their offense fizzled, and the Eagles added hoops by senior Abby Reen and Gile in the final minute. Sellers offset those with a putback, but Mount Abe led at the break, 27-14.
After halftime, Jensen converted a transition feed from Gile and set up a hoop by junior forward Payton Vincent. Sellers scored twice inside to make it 31-18, but a Jensen three and Gile transition made it 36-18, Eagles, at 5:10.
Then the Tigers began to hit their stride. Pitner hit a three, senior Sophie Larocque made a free throw, and at 1:00 a Sellers jumper made it 36-24.
Parker drove for a bucket to answer for the Eagles (their last hoop of the game), but the Tigers gained momentum on senior point guard Ivy Doran's three-point play at 0:1.9.
The Eagles committed four turnovers against the Tigers' aggressive play-on-player defense in the first two minutes of the fourth. At the other end Sellers swished a jumper, and senior Gennie Dora banked a layup set up by Pitner.
The Eagles kept misfiring, and the Tigers kept scoring. At 5:14 Sellers drove and finished with her left hand: 38-33. At 4:43, Swan put back her own miss: 38-35. At 4:00 Swan laid in a sweet high-post bounce pass from Sellers: 38-37.
A dagger came at 1:50. Sellers got the ball at the top of the key, and by now she was feeling it, although she had not shot well earlier on.
"It was a rough first, I guess, three quarters. But I know my teammates have the confidence in me. We've practiced in the game situations, so I knew what I had to do," Sellers said.
Her three-point shot hit nothing but net, and it was 40-38, Tigers, at 1:50.
The Eagles were not done. Reen sank two free throws with 48 seconds to knot the score. But Sellers answered again, following her own missed shot at 0:30 to make it 42-40.
The Eagles had a chance to tie, but missed the front end of a one-and-one with 13 seconds to go, and the Tigers' improbable comeback was complete.
After Sellers' 21 points, Swan (six) was next, with Pitner and Dora (five apiece) and Doran (four) also contributing.
Altemose would like to see more consistency from the Tigers, and said the late-game surge should prove to them what they can do.
"It was a good team effort," Altemose said. "It's fun to see them believe in themselves."
Sellers said on Saturday, they did.
"We have the confidence. Vergennes the other night gave us the confidence," Sellers said. "We just played the next play and moved on after the first half."
For Mount Abe, Jensen and Gile each scored 14 points, Parker contributed eight, and Reen added four.
LaRose was happy the Eagles battled the Tigers evenly on the boards, and said she believes in her team.
"We're working hard. They're a great group to coach," LaRose said. "They just come in every day trying to get better, and they are. But sometimes we just run out of gas."
More News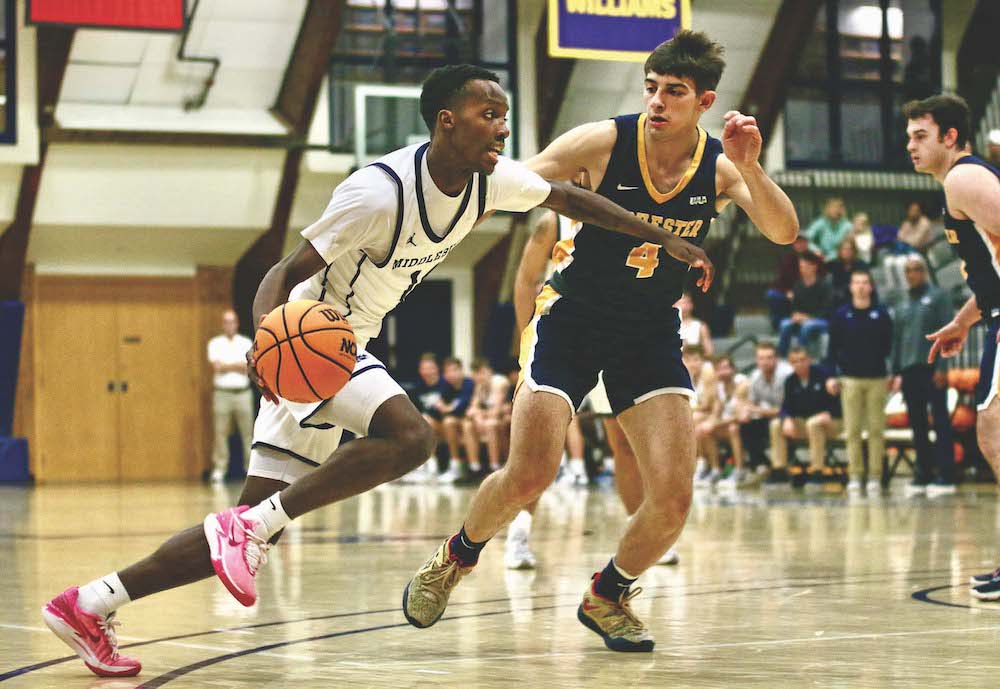 The Middlebury College men's basketball team dropped a pair of home games to teams in the … (read more)
The Middlebury College women's basketball team split a pair of games this past weekend at … (read more)
The Middlebury College women's hockey team lost one game and settled for a tie in another … (read more)