Winter 2021 Sports Report: MUHS
MIDDLEBURY — The short 2021 winter season brought mostly good news to the Middlebury Union High School programs.
The hockey teams arguably fared the best. A girls' squad, with barely enough skaters to field a team, surged through the postseason and claimed the Division II crown, and the boys' hockey team's 6-3 record included two playoff wins and a trip to the semifinal round.
Both Nordic teams were third in D-II, the dance team picked up a third in one of its disciplines, the girls' basketball team hosted a playoff game for the first time in seven years, and boys' hoop at least hit .500.
The pandemic idled wrestlers and gymnasts this past winter out of the proverbial abundance of caution, but those programs are back this winter, when — if fortune smiles — Vermont high school teams will play full schedules.
GIRLS' HOCKEY
The coach who led the girls' hockey program in recent years, Matt Brush, opted to step down. His two assistants, Erin Robinson and Duncan Rollason, have jointly taken over the reins.
They will lead a different team. Last season's had just nine skaters and four goalies. Even though four of this season's athletes are new to the sport, there are 20 on the roster, so the coaches don't expect every game to be an endurance test.
But they do expect it'll take a while for this year's edition to develop the bonds that helped last season's group succeed. Robinson said unity will be key once again.
"Team chemistry is huge. Last year we had some new girls, too, and certainly some adversity with only nine skaters. Everybody had to really pull their weight and work hard," Robinson said. "It's not all about skill. It's about how well we can work together and trust one another."
Rollason said part of that chemistry will be "instilling some confidence in those younger players so they can develop." He pointed out they have talent, but are making a step up from youth play.
If that occurs, he said, their abilities can blend with the returners.
"There is skill among those young players, and skill among our veteran players," Rollason said.
On the ice junior Hana Doria and sophomore Lily Finn return on defense in front of freshman goalie Lucy Hubbell, who this past winter saw limited action behind two seniors.
Eighth-graders Ireland Hanley and Sawyer Witscher (also a forward) will also see time as a back, as could junior veteran Nyna Cole, returning after missing last season with an injury. The coaches might start Cole up front and move her back when she gets up to speed.
Veteran senior Avery Gale also returns after a year off, and the coaches said she could team up on a line with sophomore returner Erin Mulcahy and 8th-grader Lea Calzini.
Cole, senior Patience Hanley, sophomore Amelia Quesnel, freshman veteran Mckenna Raymond, and 8th-graders Kenyon Connors, Ila Crowley, and Ellie Wilkinson Sachs are also all in the mix up front.
The four who are new to the sport are senior Taylor Betourney, sophomore Brandy Bishop, and freshmen Mai Doan and Maya Shea.
The coaches said lineup plans might not last much longer than the first game — the Tigers were unable to line up any scrimmages to help evaluate skaters and combinations.
"A lot could change once we have real game-time observation of these players. Right now we're just observing through practice," Rollason said.
Early indicators were promising.
"What we've seen is a hard-working team," Rollason said. "We look like a hockey team when we're skating."
Robinson said the coaches will set firm goals for their athletes.
"It wouldn't be Middlebury hockey if we didn't expect to come and work and leave it all out on the ice," Robinson said. "Success is bound to follow."
BOYS' ICE HOCKEY
Like the girls' hockey program, the boys' skaters have new, but familiar, leadership. Jordan Stearns, a Vergennes member-to-member player whose Tiger playing career concluded in 2014, takes over as coach from Derek Bartlett, who will assist.
Stearns, a 2018 UVM graduate who is working on his MBA, is coming off a three-year stint leading a Middlebury Amateur Hockey Association Bantam team that included a number of his Tiger skaters. He said he wanted to stay in hockey.
"Once I finished (college) I had more time, and I reached out to MAHA to see if they needed anybody just because I wanted to be involved," he said.
Stearns was also motivated to emulate his coaches.
"I was pretty fortunate as a kid, growing up through youth (sports) and right through high school, all my coaches, not just hockey, all the other sports I played were awesome," he said.
Stearns said he's taking over a young, but talented, MUHS team.
"We've got a lot of speed, and we've got a lot of skill. I think that can really make up for our lack of experience," Stearns said.
He will rely on the leadership of the team's four seniors, Jordan Martin, Matthew Kiernan, Eddie Hodde and Joey Niemo, to help the younger players make the transition to varsity play.
"There's quite a big jump from bantam hockey to high school hockey, physicality, speed. It's a lot faster game," he said.
Hodde will be the No. 1 netminder, with sophomore Casey Calzini ready to step in. Niemo will help anchor a blue line crew that will include juniors Cole Schnoor and Henry Hunsdorfer, sophomores Eliot Heminway and Jake Kadar, and freshman Ian Sinclair.
Stearns plans, at least to start, call for Martin to center a line with junior Clyde Malhotra and sophomore Kellan Bartlett.
The makeup of the other lines were less set in stone. Kiernan; sophomores Toby Draper, Gavin McNulty, Gus Hodde, Iver Anderson; and junior Nate Muzzy looked to be top candidates, with juniors Henry Anderson and Trevor Schnoor and sophomores Sawyer Leonard, Brady McDonough and Dylan Stowe looking to work their way in.
For the Tigers to make the most of their talent, Stearns said they'll have to work together.
"We're going to have to play as a team. For us to take advantage of that skill and speed we're going to have to possess the puck, and for that to happen they're really going to have to come together as a team and learn to trust their teammates. Everybody is going to have to do their jobs on the ice, and everybody is going to have to move the puck," he said.
The final elements will be hard work, personal growth and fun, Stearns said, and the rest will take care of itself.
"Really what I'm looking for is for them to mature mentally and really grow as individuals, learn to work hard," Stearns said. "I'm a big advocate for working hard and finding the joy in that."
NORDIC SKIING
While Coach Keith Wilkerson's girls' and boys' Tiger Nordic teams are both coming off solid finishes in D-II this past winter, both will also be dealing with the loss of top skiers to graduation, decisions to take jobs, or attend Green Mountain Valley School and focus more intensely on the sport.
But Wilkerson said plenty of good skiers remain, and that the first wave of younger skiers expected to join the MUHS program over the next several years also is arriving this winter.
"It's a good mix of veterans and new people," he said.
Top returners on the girls' side include seniors Astrid Olsen and Ella Landis and juniors Lia Robinson, Ari Graham-Gurland, Naomi Brightman and Dahlia Harrison-Irwin. Wilkerson believes ninth-graders Beth McIntosh and Ava Schneider will be ready to challenge for the starting lineup.
"We have two freshmen girls I expect even to displace some of those girls," he said.
Wilkerson looks for more strong results for the girls' team.
"I'm expecting a top-five, if not better, at states if we continue on the way we're looking," he said. "If anything we might be a little stronger than last year on the girls' side."
The boys lost three skiers who posted top-10 results at the two-day state meet.
"The boys are a little more challenged. They're a little more rebuilding," Wilkerson said.
Sophomore Baxter Harrington is the top returning finisher, and juniors Eliot Schneider, Ben Seaton and Trey Bosworth all posted solid results a year ago. Wilkerson expects a number of freshmen to excel, including Matthew Berg, Aaron Carr-Perlow, Lucas Flinner, Baker Nelson and Haakon Olsen.
"We have a lot of youth on our side for the boys this year," he said.
And, as Wilkerson noted, there's more young talent in the middle school pipeline.
"We're looking to continue that wave," he said. "We're pretty excited about it."
And regardless of the results, Wilkerson expects he, the other coaches and the athletes will enjoy the winter.
"It's a young, really enthusiastic group of kids," he said. "It's a lot of fun."
WRESTLING
Word around the state is that many wrestling programs have lost athletes. Wrestling teams are often hard-hit because the 2020-2021 season was called off due the abundance of COVID caution. But that's not the case for Coach Ethan Raymond's MUHS wrestling squad, with 17 wrestlers on the roster during the preseason.
"I'm really excited about the numbers," Raymond said. "Everyone's come in and everyone's worked hard."
He added the wrestlers cover most weight classes, while almost all have a background in the sport.
"With the exception of one kid, they all have at least one year of experience," Raymond said. "It varies, but they're coming in with a basic grasp of wrestling, fundamentals and positioning, things like that. So we're able to jump in where we left off two years ago."
Many are young, but there are four seniors: Milo Gordon at 145 pounds, Brian Whitley at 152, Tucker Kennett at 160, and Calvin Kennett at 170.
Raymond has high hopes for all four, but said Whitley and the Kennett twins have the more proven track records.
"They can really compete with anybody," he said. "Those three guys are going to kind of lead the team. They have the confidence and the experience."
Five juniors have also signed on, most of whom gained seasoning two years ago. Layne Chant slots in at 132, Liam Wagner at 195, and Berkley McDermott at 220. Nick Sheldrick, who has more experience, and Kayden Brown are both heavyweights.
Then there are four sophomores and four freshman, all new to varsity.
"I really have only four freshmen, but it feels like I have eight, because the 10th-graders are all brand-new to me, too," Raymond said.
Of that group Raymond said freshmen Alex Sperry at 113 and Avery Carl at 132 and sophomores Owen Larrow at either 170 or 182 and Chris White at 160 or 170 have the most seasoning.
Any of the rest of the group could emerge, he said: freshman Keegan Stone at 120, sophomore Andre Davio at 145, freshman Aiden Ellis at 170, and sophomore Elliot Holbrook-Dunn at 195 or 220.
A major reason any or all of the Tiger wrestlers could succeed is the synergy that Raymond said comes from having a more complete roster.
"You can get a lot more done with the energy in this room we have compared to six kids," Raymond said. 'It just creates a different atmosphere having 17 kids working hard. So I'm excited to have a full room again."
GYMNASTICS
Coach Natalia Harthman's gymnastics team also didn't compete in the abbreviated 2021 season, but Harthman said it was more by choice: She and the team decided it preferred to get together twice a week and work on skills rather than travel to and host competitions during the pandemic.
Also unlike the wrestling team, Harthman has a small squad: three seniors — Alyza Alger, Kylee Ellis and Kaya Wright — plus junior Mary Johnson.
All four will compete in the all-around, which means taking to the bars, beam, vault and floor, and combining their results for a fifth result.
Some have done the all-around in the past, Harthman said, while others have specialized in one or more events. All have broadened their skill base over the past two years and are eager learners, she said, but naturally will still do better in some individual events than others.
Alger has the most all-around experience.
"Alyza's really good in the all-around," Harthman said. "She's really good. She's strong on the beam. She's strong on vault as well. She definitely has a passion for both bars and floor, though."
Ellis has steadily added to her repertoire.
"Kylee, every year has added a new strength, starting out with vaulting in 7th grade, and has slowly built up to being all-around," Harthman said. "Her strengths are probably beam and floor."
Wright is working on adding bars.
"Kaya is super strong on floor, beam and vault," Harthman said. "She's starting to learn more about bars… That will be a new adventure for her."
Johnson should pick up skills quickly, according to the coach.
"Mary is strong all-around. She's excellent on bars," Harthman said. "She's done clean floor routines every time she's done floor. Everything she does has very clean skill."
Importantly, Harthman said, the Tigers are receptive and work hard.
"We all work well together," she said. "They're willing to learn and try new things."
Fortunately, the fact that 75% of her team will graduate does not pose too much of a problem. There are 12 middle school gymnasts who train with the team, most of them 6th-graders, but also four 8th-graders.
"Hopefully we can grow our numbers," Harthman said.
DANCE
Meanwhile, Coach Caitlin Hurteau's Tiger dance team has established itself in numbers, with a full-fledged JV program as well as a full varsity roster.
The Tiger dancers finished third in the Hip Hop discipline in this past winter's virtual state championship competition. MUHS actually tied for second in Hip-Hop with Lamoille behind winner Mount Mansfield, but dropped to third in the eight-team field in a tiebreaker. The Tigers also competed in the Jazz discipline and finished fourth in a seven-team field.
Plans call for live competitions this year, with a five-meet schedule before the state meet. The Tigers are scheduled to host other teams on Feb. 5.
BOYS' BASKETBALL
The Tiger boys' basketball team has been over .500 in recent years, but ended up exactly there last winter after a first-round playoff setback.
Coach John Howe plans to take advantage of this year's team's size, athleticism and teamwork to move the needle back in the right direction.
The team's attributes and depth should allow the Tigers to get after other teams defensively, Howe said.
"We're big, there's no question about it, and we're long. So we'll do a lot of different looks with full-court defense," he said.
Adding in the Tigers' ability to rebound and willingness to share the ball, Howe said he will also emphasize a transition attack.
"I'm going to implement a couple of different fast-break offenses," he said.
Helping to orchestrate the offense will be senior guard Nikolai Luksch, with classmate Asher Rubright also helping to handle the ball.
Juniors Graham Matrick and Jack Trudeau are guard/forwards who are likely to start or see significant minutes, with juniors Fynn Whitlock, Cole Ashton and Cyrus Odell also available as swingmen.
Junior Penn Riney will start at center, with senior Cameron Castelli and junior Jeremiah Tinker spelling him and the other forwards. "I think we're going to see a lot of points and rebounds out of Penn," Howe said.
Junior Willem Berry started at forward last year, and senior leader Sam Warren will see plenty of time there, according to Howe.
Howe believes the Tigers' teamwork and athletic ability could take them a long way.
"If we play team defense with some high intensity, and we move the ball well, I think we're going to win a lot of games with speed," Howe said. "I think we're going to see a lot of high-scoring games, but it's going to have to be ball movement, and a lot of truly unselfish play."
GIRLS' BASKETBALL
Former Tiger boys' coach Chris Altemose took over the Tiger girls' team this past winter, and a group with no seniors managed a 4-4 regular season after a couple tough years, good enough to earn the program its first home playoff game since 2014.
The entire team returns for another go-round, and Altemose expects more good things. He said girls' hoop numbers are good through middle-school and youth levels, and he hopes the Tigers can build on last winter and set a positive tone.
"I think it was an exciting step forward for the program, and definitely for this group of girls," Altemose said. "I'm just hoping this year can be for the whole program, top to bottom, a real nice positive move forward."
Four starters are set in stone: senior point guard Ivy Doran, senior forward Hannah Turner, junior forward and leading scorer Ele Sellers, and junior guard Cady Pitner.
From there, a number of players could start, and many will certainly see plenty of time. With the standard 20-game season back, Altemose hopes to cultivate depth.
"I'd like to go a little deeper into my rotation than I did last year, he said.
The team's other seniors include four guards who saw action, Viviana Hammond, Zoe Noble, Fairley Olson and Sophie Larocque, and a fifth guard, Lily Russell, who sat out last year.
Two more seniors will see time in the frontcourt, Alex Bonavita and Gennie Dora.
Junior guards who return are Makayla Swan and Kelsey Altemose, though the latter missed this past winter with an injury. Junior forward Emma Brown rounds out the team.
Coach Altemose said many of the older athletes have been playing together since elementary school, and almost all of the group at least had half a season with each other a year ago.
"Even with a shortened season they got some (varsity) experience together and kind of established a foundation for what we wanted to do this year," he said.
With a standard caveat, he is optimistic.
"If we stay healthy, I would expect us to be right in the mix," Altemose said.
More News
Tiger boys' cross-country team held off runners from Burr & Burton, VUHS and Mount Abe in … (read more)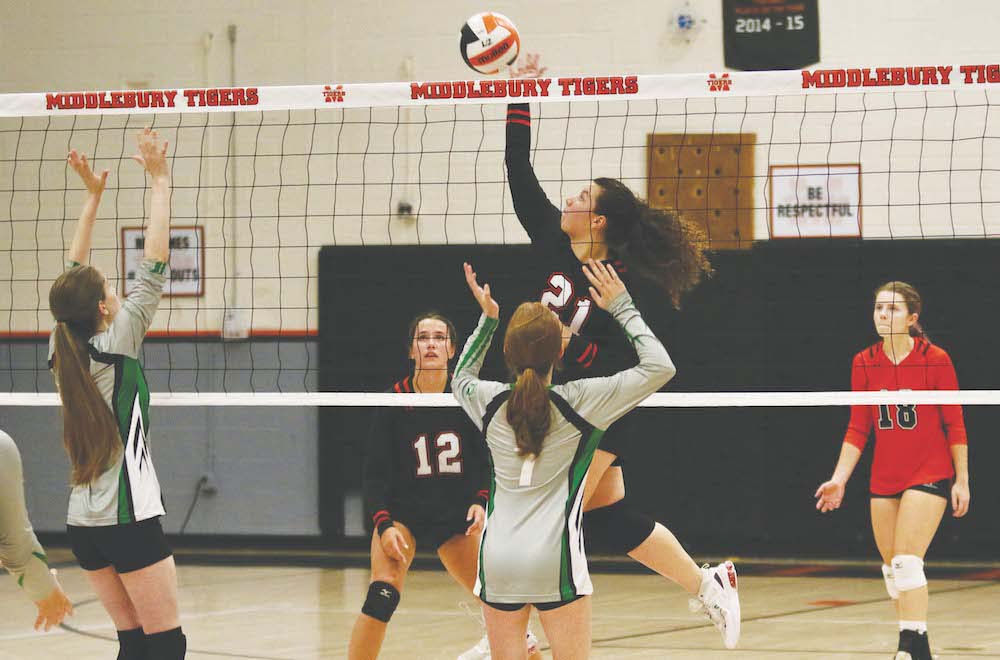 The first-year Middlebury Union High School girls' varsity volleyball team continued its r … (read more)
I gave Bill Lee a call last week, hoping he was at his home in Craftsbury and we might arr … (read more)