Tiger boys defeat Mt. Abe in double overtime
BRISTOL — Just when it began to look like the host Mount Abraham Union High School boys' soccer team had done enough to hold on for a tie on Saturday vs. visiting Middlebury, the Tigers broke through with 2:05 remaining in the second overtime period.
The game-winner came moments after Eagle senior goalie Creed Stillwell had made arguably the best of his eight saves, coming off his line to deny Tiger junior Zach Wilkerson from point-blank range. Wilkerson had cut in from the right side on a feed from junior teammate Eliot Schneider.
But the Tigers kept pressing, and sophomore Eddie Fallis served from the left. The ball bounced through to Wilkerson on the right side of the Eagle box, and this time his hard low shot from about 10 yards beat Stillwell to the near side and triggered a joyous Tiger celebration.
Wilkerson's strike ended a spirited duel between the local rivals in which the Tigers held an edge in play, but the Eagles also had their chances — MUHS junior goalie Owen Lawton (three saves) retreated and leapt high in the final minute of regulation to haul down Eagle senior right wing Sawyer Shepard's blast from outside the box, to name one.
After an unsettled start the Eagle defense led by senior center back Neil Guy also better handled the Tigers' aggressive probing for breakaways, catching the MUHS forwards offsides seven or eight times.
Both first-year coaches found positives afterward.
"It was a fair result," said MUHS Coach Chris George, whose team improved to 3-1. "It could have been more. It didn't feel like they really threatened us, which was good. That's a really important takeaway for us."
George said he had confidence the Division II Tigers — who had lost to D-I Mount Mansfield, 3-0, two days before and will host D-I Rutland on Monday — would find a way to pull it out, and his players shared that feeling.
"The other thing that was really important is that the guys believed, even going into overtime. They didn't have any doubt that they were going to be able to do this," he said. "They believe in each other."
Mount Abe Coach Rider MacCrellish praised his back line, which saw seniors Henry Cogswell and Ethan Thompson and junior Gavin Bannister work with Guy, and his midfielders, who worked to limit the MUHS chances.
"We kept our press high. If you keep that press high they have less opportunity to get that through ball through the midfield and work that ball. I feel good about that. Our back line did a great job," MacCrellish said.
As did Stillwell: As George put it, "The kid played out of his mind."
MacCrellish also said he was proud of the way his team bounced back from a tough loss to D-I Colchester earlier this week by simply working hard to improve.
"I could see them becoming a little more mentally tough, become more dialed into the way we want to play the game, and then working with each other more," he said.
"And that's really what it's all about: Can we keep our composure? Can we work with each other? Can we keep the ball on the ground and play the game the way it's supposed to be played? I think we're not so much concerned about the results as the way we're progressing, and I see us progressing."
Certainly, the Tigers tested the Eagles early. Guy recovered brilliantly to make a goal-saving block on Tiger junior forward Ronen Silberman in the first minute, and in the eighth minute only another saving tackle stopped Wilkerson from going in alone on goal.
At the other end, Lawton twice came off his line to beat Eagle junior striker Jake Lucarelli to the ball, and Shepard posed a threat on the right side and put the only Eagle shot on goal of the half.
For the most part, the Tiger center middies — senior Henry Carpenter, junior Oliver Anderson and freshman Oliver Choudhury, dictated play, while Silberman, sophomore Eddie Fallis and Wilkerson steadily challenged the Eagle defense.
"We played 80 minutes of really good soccer, really controlled the rhythm, really controlled the pace," George said.
The Eagles had more moments in the second half, in which senior Carter Monks got loose in the Tiger box and shot wide right in the fifth minute. Three minutes later, however, Fallis broke in alone on Stillwell, but the goalie deflected his shot wide left.
The Eagles soon pressed for a few minutes, but Shepard fired high from outside the box. Midway through the half Tiger defender Toby Wells-Spackman made a saving tackle on sophomore Judah Jackson to stop a breakaway bid. The ball popped to Lucarelli, but the Tigers deflected his shot wide right.
Then Guy blocked another Fallis bid that appeared ticketed for the right side in the half's 25th minute, and Lucarelli fired wide on a counterattack seconds later as the action picked up. Four minutes later Stillwell got his fingertips on a Carpenter header from a Fallis free kick, and then stoned junior Ben Seaton on another Fallis setup.
The Tigers earned three corner kicks in the final 11 minutes, and as time wound down Lawton denied Shepard, and it was onto overtime.
In the first 10-minute session Stillwell punched away a long Fallis free kick, and Lawton beat senior forward Eli Burgess to a through ball.
Then came the second 10 minutes, and Stillwell's terrific save on Wilkerson before the Tigers finally got one past the Eagle netminder.
George said he is happy with his Tigers, but will have a better sense of where they stand by the end of next week, when they will have faced Missisquoi and the Eagles again as well as Rutland.
"We're about where we want to be. We've got a really tough stretch coming up," he said. "After those three games we'll have a really good idea of what we have."
More News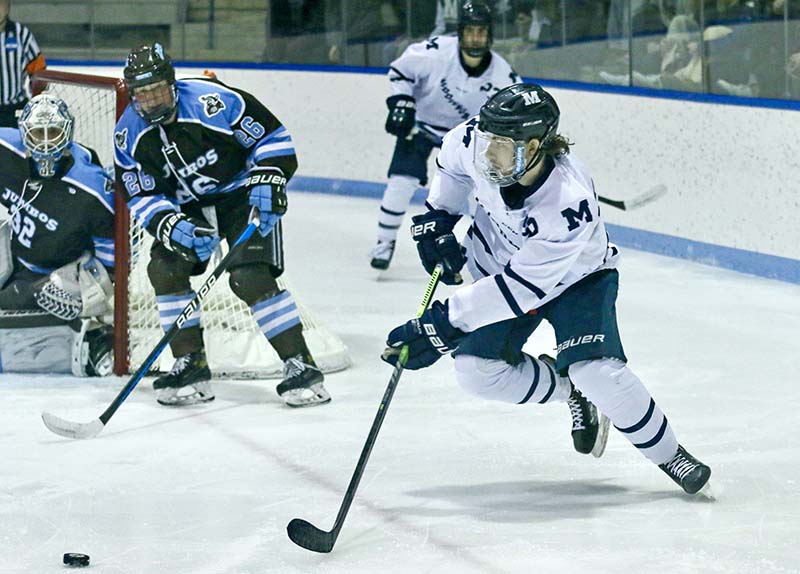 Middlebury College men's hockey surged passed Conn College before falling to Tufts this pa … (read more)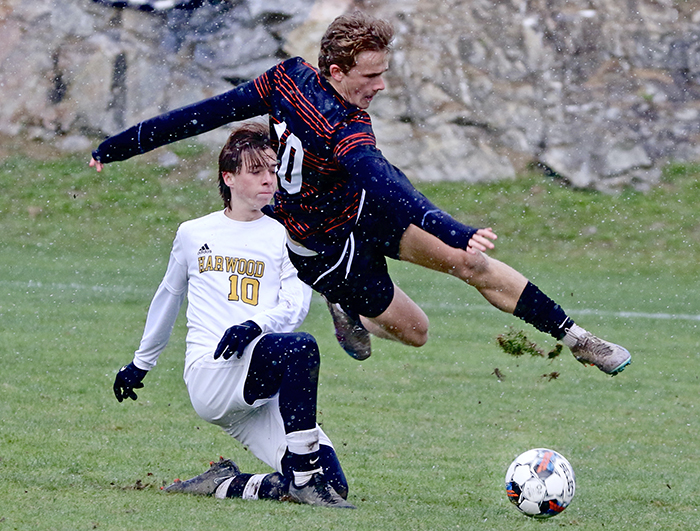 Seven local high school boys' soccer players were named to the Division II or III All-Stat … (read more)
Five area high school girls' soccer players were named either Division I or D-II All-State … (read more)