WomenSafe to see changes in leadership and its name
We work with survivors across the gender spectrum, and want to make sure they feel comfortable and safe, and that we're accessible to them — including all ages and genders.
— Christina Grier
MIDDLEBURY — WomenSafe is marking this fall with a change in leadership, the first success stories emerging from the agency's first-ever transitional housing for survivors of domestic and sexual violence, and a commitment to changing its organizational name to better reflect the diversity of its clients.
One of the biggest changes is the departure of Executive Director Kerri Duquette-Hoffman after 19 years with the Middlebury-based nonprofit.
"It's my personal belief that it's healthy for an agency to have executive directors move on, eventually, and 19 years seems like a reasonable amount of time," Duquette-Hoffman said with a hearty laugh.
"This coincided with us looking at what we could do to improve racial equity in our agency and fight the ways that racism shows up. And one of those ways is in power dynamics. Part of what we've been looking at is how to use transition and succession to also re-envision what leadership looks like."
The transition plan calls for an interim executive director to serve for a year while the WomenSafe board embarks on a national search. That temporary leader will be Christina Grier, who'll be able to hit the ground running; she's spent the past 20 years with the organization — first as its supervised visitation coordinator, and the past eight years as its services director.
After a short breather, Duquette-Hoffman will begin the next chapter of her professional life — as a field services director for the Vermont Agency of Human Services. She will specifically be tasked with ensuring the Human Services safety net works as efficiently as possible for folks in need in her coverage area of Addison and Chittenden counties. She'll work with a variety of people, from individual families needing vital services to policy makers.
Duquette-Hoffman is looking forward to the new challenge, and can look back at a sizable record of accomplishment under her watch at WomenSafe. The list includes:
•  Successful pursuit of multiple state and federal grants that have yielded more than $3 million to fund services that include advocacy, a 24-hour hotline, and supervised visitation, education and outreach for survivors of domestic violence and sexual abuse.
These grants have funded multiple new positions within WomenSafe and other organizations with the shared mission of addressing and preventing domestic and sexual abuse cases in Addison County.
•  Completion of a $1.12 million fundraising campaign that recently created two transitional apartments for clients; paid for renovations to WomenSafe's larger headquarters; seeded a reserve fund that will help the nonprofit pay for long-term maintenance of its newly enlarged campus in Middlebury; and will eventually bankroll another abuse-prevention position.
Duquette-Hoffman was pleased to report that one tenant family has already transitioned to permanent housing.
"At a time when there was slow movement (in apartment vacancies), we  were able to quickly move families in, and it made a huge difference in these families' lives," she said. "It was a huge gift that our community gave."
WomenSafe also has a pot of money to help clients secure transitional housing and support services throughout the county.
•  Completion of a strategic plan, with the assistance of Community Barn Ventures, that charts WomenSafe's goals and priorities for the next five years.
"Our intention was always for it to be a living document that wouldn't just sit on a shelf," said longtime WomenSafe board leader Amy Mason, who is exiting the panel this year due to term limits. "We have built in systems where we check in with that strategic plan at least three times a year to make sure it's guiding our practice and our goals, and we're using resources accordingly."
Duquette-Hoffman said the plan proved particularly useful during the pandemic.
"We were able to keep our eyes on the goals, even while we were living with limited resources, and threats to those resources," she said.
•  The hire of a second educator to deliver prevention education in area schools, while establishing a youth advisory council to reinforce the right way to treat other people.
"We really want to work ourselves out of business," Duquette-Hoffman said of the desire to eradicate domestic and sexual abuse forever.
GRIER STEPS IN
Meanwhile, Grier will make sure WomenSafe doesn't miss a beat while it conducts its search for a permanent leader.
She's eager to work with the board and support the organization's staff of 14 fulltime, part-time and per diem workers.
Grier will also help WomenSafe's Supervised Visitation Program (SVP) permanently transition from the Frank Mahady Courthouse — where it's been based for the past 23 years — to a new spot in Middlebury. The SVP provides a safe environment for children and parents to connect under court-ordered conditions. She explained the courthouse hasn't been able to accommodate the program during COVID-19 pandemic.
Another priority for new leadership: A name change for WomenSafe.
"First and foremost, it's about being inclusive to all survivors," Grier said. "We work with survivors across the gender spectrum, and want to make sure they feel comfortable and safe, and that we're accessible to them — including all ages and genders."
Duquette-Hoffman leaves WomenSafe with a sense of gratitude and fulfillment.
"I worked with survivors who opened their hearts and changed my life," she said. "They showed me a beauty and strength, courage and hope for the world that I hold with me every day."
Mason turns over WomenSafe's board leadership reins to Ellen Whelan-Wuest and Chelsea Colby, who will serve as co-chairs.
"I feel tremendously excited about the growth and maturity that's happened for the organization during the last number of years, and I'm not worried in the slightest (about the future), because of the incredible people who remain on staff and with the board," Mason said. "The culture of support, intentionality, vision and that sense of 'whatever it takes' — all of those strengths will come together for a solid and bright future for this organization for years to come."
Reporter John Flowers is at [email protected].
More News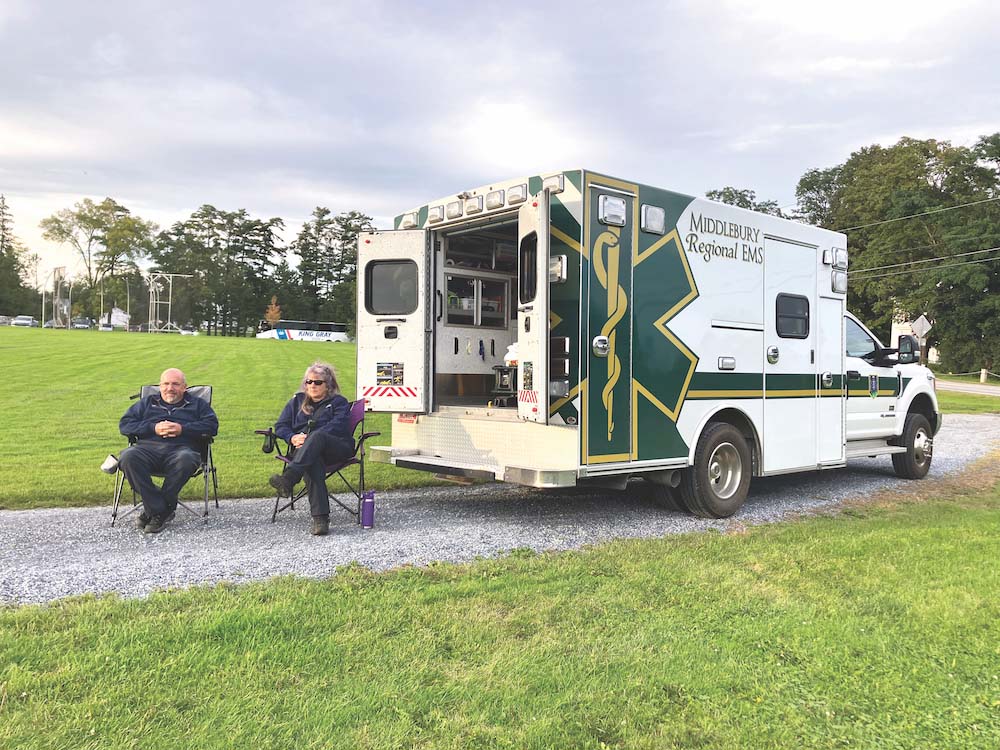 Middlebury Regional Emergency Medical Services wants to eliminate its annual Town Meeting … (read more)
Middlebury police are investigating the death of a Middlebury College junior and say the p … (read more)
Vergennes resident Margaret Clifford offers nearly a century of recollections, from losing … (read more)