Coaching changes come to MUHS soccer
MIDDLEBURY — The soccer coaching carousel spun at Middlebury Union High School this summer, and when it came to rest one coach had made a graceful exit after 13 years, another had moved from one program to the other to replace her, and a third moved from the local club coaching ranks to fill that vacancy.
Leaving was Wendy Leeds, who led the Tiger girls' varsity to several successful seasons — including a No. 2 seed in Division II — during her nine-year tenure with the varsity. Leeds also coached the JV girls' team from 2008-2011 before taking over the varsity in 2012, and also served a stint as the varsity girls' hockey coach.
MUHS Activities Director Sean Farrell had kind words for Leeds and her years of service.
"I really appreciate all that Wendy has done for the MUHS girls' soccer program and for all the athletes that she worked with," Farrell said. "Wendy is one of those coaches who did it right, keeping her focus on the individual needs of each player and balancing that with the needs of the team as a whole. She pushed her athletes to be better, work harder, and support each other. I feel the values that she taught her players were outstanding, and I thank her for her hard work."
Taking her place will be boys' varsity coach Reeves Livesay, an MUHS math teacher and Middlebury resident who has led that program since 2016.
And stepping in to take over for Livesay will be Chris George, a Cornwall resident who for the past two years has been the head of the Addison United club soccer program. George, 43, has 23 years of experience at the college, club and high school levels.
LATERAL MOVE
Livesay played soccer at Bowdoin College, from which he graduated about a dozen years before becoming the Tiger boys' coach. He had experience helping coach both boys' and girls' teams at two private schools before moving to Middlebury with wife Kate Perine Livesay, the former MUHS and Middlebury College field hockey and lacrosse standout who is now the Panther head women's lacrosse coach.
That family connection is important in understanding why Livesay would leave a boys' program that he has led to a 54-27-13 record in his six years, including 42 wins in the past four and an appearance in the D-II final in 2019.
The Livesays have three daughters, ages 12, 10 and 7, and despite their mother's autumn sport of choice, all seem to prefer soccer, Reeves Livesay said.
"They are tending to do that for the fall season, yes," he said.
Thus, when Leeds chose to step down, Livesay envisioned being able to combine coaching and family in the not-too-distant future.
"Thinking about how much time goes into coaching and looking ahead, I'd always sort of wondered if I'd be able to continue that as my daughters got older," Livesay said. "And then when Wendy decided to move on from coaching, I saw it as an opportunity to continue doing what I love to do, but in a couple of years anyway (it would) pull me in the same direction as my family instead of a different direction."
Still, it was not an easy decision, nor was it easy to tell his players about his choice.
"It was certainly difficult to let everybody know that I was moving on. Because it was such a great group to work with. But I'm certainly excited about this fall and this opportunity," Livesay said.
Some things helped make the choice less difficult, he said.
"It certainly makes that decision easier when you know someone is coming in with that background and experience Chris has," Livesay said.
And through his job teaching math he already knows and respects many of his athletes.
"It's really nice that I've worked with a lot of them in the classroom. I know them pretty well through that venue, and they're really just an awesome bunch," Livesay said. "And in particular I think they're really a lot of strong leaders in that senior class."
Now he is looking forward to working with them outdoors.
"My goal every season for every team is always the same," Livesay said. "I want us to work together to be sure we're playing the best we can at the end of the season. And for that to happen a lot of things need to go well. A lot of people need to work together. That certainly doesn't change as I start working with a girls' program."
GEORGE TAKES OVER
George, 43, is a native of White Haven, a small town in northeastern Pennsylvania. A Counseling Service of Addison County employee, he played soccer in clubs, high school and at Green Mountain College, and then a number of years in the Vermont Amateur Soccer League.
George said he has coached, starting at age 20, more than 1,500 games, including short stints at Kings College in Pennsylvania and more recently SUNY-Adirondack, several years assisting at Rice Memorial High School, and many years leading club programs, including Far Post, Queen City, and most recently Addison United for the past two years.
 George first heard that Leeds was going to step down and was interested because he knew it was "a great group of kids."
"I was commuting an hour one way (to SUNY-Adirondack), and I thought if I could be right around the corner from where I lived and contributing to the community in a positive way, the local community, that would be ideal," he said.
George reached out to Farrell and learned of Livesay's interest in the girls' job. He told Farrell and Livesay he would be happy to take on the boys' or the girls' program.
"Either would have been awesome," he said.
As it worked out, George inherited a program that under Livesay has been on an upswing.
"Reeves did such a good job with the boys for the last few years. You really get to step into something where there's this really positive culture already there," he said.
In discussing his goals, George talked about creating a positive environment and a program-wide sense of trust as his major goals — noting that he believes trust in one another is also critical to success on the field.
"From a philosophy perspective, in one word it's trust. I trust players to do their best every day. And they have to trust each other to be able to execute. We all have to have trust. They have to trust that I'm putting them in the best position to be successful. They trust each other that they're doing their best to execute," he said. "When there is trust, I know it sounds cheesy, but I think that's the 12th or 13th man. That's the magic thing."
On the field George prefers a similar style and alignment to that the Livesay deployed, essentially with four backs, three midfielders and three forwards, but with fluid responsibilities.
"It's kind of like making tweaks," George said of the minor differences in approach.
At the same time, he said the system will not be a straitjacket for the Tiger players.
"I like to think of myself as a pragmatist. I do have a certain formation I like to use, and I do have a very kind of specific style I like to play. But at the same time my job is to put players in the best positions for them to be successful. So I can say it's a 4-3-3, but every time I put it out there with a different group of people it's going to look different and act a little different because of their inherent different qualities as players and as people," George said. "It really is about the qualities of the guys."
Andy Kirkaldy may be reached at [email protected].
More News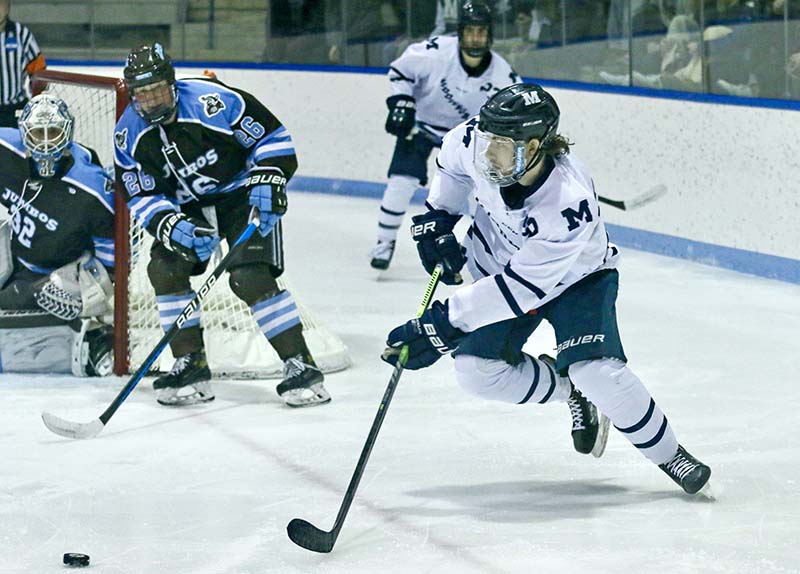 Middlebury College men's hockey surged passed Conn College before falling to Tufts this pa … (read more)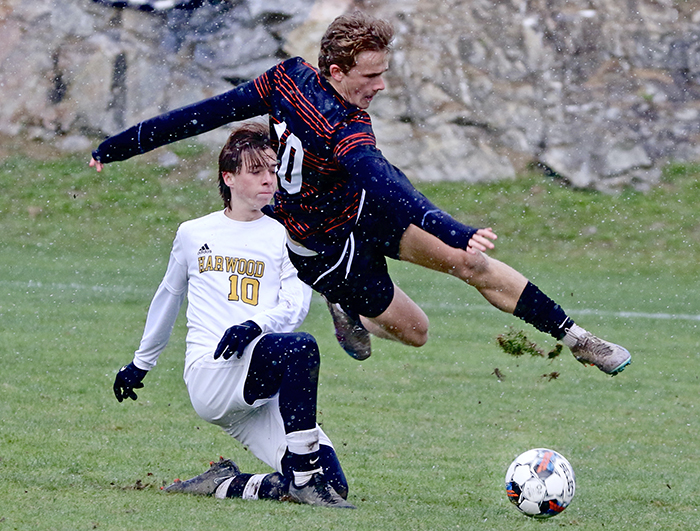 Seven local high school boys' soccer players were named to the Division II or III All-Stat … (read more)
Five area high school girls' soccer players were named either Division I or D-II All-State … (read more)