Goodrich digester goes live
Think about it — we've got a Vermont farm, a Vermont utility, a Vermont college, and national energy innovators all coming together to build a model for our region. And it can be replicated in other parts of the state and country, as well. This is truly transformative work that Vermonters can be proud of.
– Gov. Phil Scott
SALISBURY — The state's top two elected officials on Wednesday helped Salisbury's Goodrich Farm launch the Northeast's largest farm-powered anaerobic digester, a facility that will convert cow manure, food and beverage waste into renewable natural gas.
Along with Gov. Phil Scott and Lt. Gov. Molly Gray, others participating in Wednesday's launch included Vermont Agency of Agriculture Secretary Anson Tebbetts, Vermont Gas Systems (VGS) officials and David Provost, executive vice president of finance and administration for Middlebury College. The college will buy most of the natural gas produced at the farm in its quest to derive all its energy from renewable sources by 2028.
Provost said the project represents a unique partnership between a multitude of players that has paid off after a lot of time and hard work.
"The digester is critical to Middlebury reaching its goal of using all renewable energy and continuing to diversify its fuel sources," Provost said. "The completion of the facility also marks the fulfillment of a vision for the project that began 12 years ago."
Wellesley, Mass.-based Vanguard Renewables broke ground on the massive anaerobic digester during the summer of 2019. The device will take the Goodrich Farm's cow manure, combine it with food waste supplied by area businesses and industries, and then cook it in two, 925,000-gallon anaerobic digester tanks.
Workers will extract and clean the methane gas from the manure/food waste once it has cooked for around 30 days. The gas will then be funneled into a pipeline (some of it Vermont Gas infrastructure) that will culminate at the Middlebury College campus.
A portion of the methane gas will also be available to Vermont Gas customers at a premium price.
Along with the two enormous digesters, the project includes a 250,000-gallon pre-treatment center at which the waste is initially deposited to homogenize.
On-site equipment will remove phosphorous from the fertilizer, which will then be stored in two large tanks and eventually spread on the Goodrich Farm fields, thereby reducing dependence on synthetic fertilizer. Located on more than 2,400 acres, the Goodrich Family Farm has 900 milking cows and is a member of the Agri-Mark Cabot Creamery Cooperative. The farm is the recipient of the 2021 Outstanding Dairy Farm Sustainability Award.
"This is an incredibly exciting initiative, and I want to thank the Goodrich Family, VGS, and Middlebury College for their hard work," Scott said. "Think about it — we've got a Vermont farm, a Vermont utility, a Vermont college, and national energy innovators all coming together to build a model for our region. And it can be replicated in other parts of the state and country, as well. This is truly transformative work that Vermonters can be proud of."
Gray also praised the project, and voiced her hope that it could be replicated as part of a comprehensive green energy strategy for the state.
"This includes continuing our efforts to weatherize homes, make solar and community solar available to Vermonters and supporting incentives for Vermonters to purchase electric vehicles," she said.
"It's incumbent upon all of us to make sure all Vermonters, particularly those who work our lands, can participate in reducing carbon emissions," Gray added, including a reference to moving from gas-powered to electric trucks, including Ford's F-150 Lightning. "But it doesn't stop with electric trucks. Participation includes projects like this anaerobic digester. This project allows the Goodrich Farm to be part of the solution while making sure nothing goes to waste."
John Hanselman, founder and chief executive officer at Vanguard Renewables, noted the magnitude of the accomplishment.
"I couldn't be more proud than I am today to see this, the largest anaerobic digester in the Northeast, producing renewable natural gas and protecting the environment," he said.
Neale Lunderville, president and CEO of VGS, anticipates others will emulate what the Goodrich Farm has done.
"The Goodrich Farm digester is the first star in a constellation of projects that will provide homegrown energy to Vermonters," he said. "This farm, which began in 1956 with 10 cows, not only turns food scraps and manure from its now 900-head herd into renewable energy; it removes harmful methane from the atmosphere and phosphorus from the digester that might otherwise drain into our watersheds and impact Lake Champlain. This is a great model, and we're excited to continue working with our local farms to help Vermont meet its energy goals."
Middlebury College President Laurie Patton, in submitted remarks, called the project and partnership "an excellent opportunity to use energy that is produced right here in Addison County.
"It also offers our students and faculty new possibilities for research and projects, and benefits the entire community," she said. "We ask our community partners to be co-educators with us as we strive to meet our mission. Goodrich Farm and Vanguard Renewables have been exactly those kinds of partners. We are excited to be working together on this unique project."
And, in an era that's seeing a rapid decline in dairy farms, the anaerobic digester technology will allow the Goodrich family to build a stronger operation.
"Hosting the farm-powered anaerobic digester means so much to our family," said Danielle Goodrich Gingras. "It is part of our ongoing mission to do our best to care for our farm family, our animals, and the beautiful environment around us. And, to be good citizens in our community."
Tebbetts said the agricultural community will be watching.
"With this anaerobic digester project and the farm's herd health and sustainable agriculture initiatives, the Goodrich Farm is setting an example for dairies in Vermont and across the entire country," he said.
Reporter John Flowers is at [email protected].
More News
Blasting ledge could begin on Monday in Vergennes as work on the $25 million Vergennes Gra … (read more)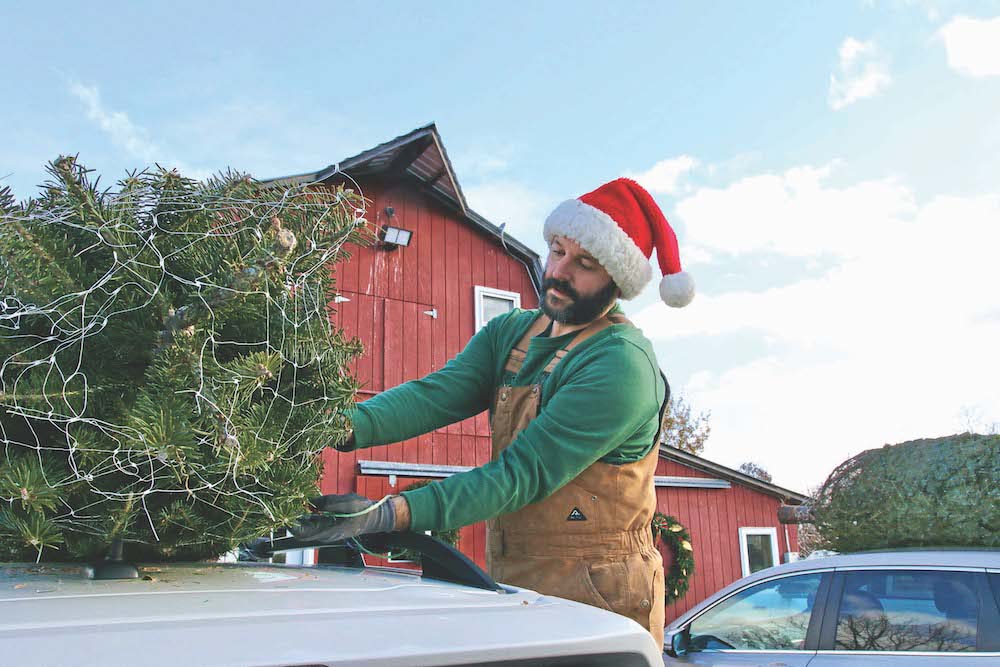 With the holiday season underway, county Christmas tree farms have begun welcoming visitor … (read more)
As the Middlebury Snowbowl prepares for opening day this Saturday, Dec. 9, loyal skiers an … (read more)