Commodore girls' lax avenges only setback
VERGENNES — On Saturday the defending Division II high school girls' lacrosse champion Vergennes-Mount Abraham team served notice it was not ready to surrender the crown just yet.
First-place Hartford was at VUHS to take on the Commodores, and the unbeaten Hurricanes were the only team to defeat them since 2018 — Hartford won at home, 8-6, on May 5.
But the Commodores won Saturday's rematch, 11-9, bolting to a 5-0 lead in the first 16:06 and then withstanding a Hurricane rally.
Hartford left town still in first place with a 12-1 record, while the Commodores improved to 11-1. The top seed remains up for grabs, although the Hurricanes will earn if they win out.
Both teams still have games left with third-place Green Mountain Valley (6-1), and the Gumbies have lost only while shorthanded to a good D-I St. Albans team. The Commodores will visit the Gumbies on Wednesday.
Regardless of the seeding, the Commodores and coach Marikate Kelley said they feel good moving forward after their improvement from the first matchup with Hartford. In that game, Kelley and senior attacker Sydney Weber both acknowledged the Commodores struggled to move the ball through the midfield against the aggressive Hurricanes.
This time, Weber said, the team's work on sharing the ball more quickly and moving off the ball more purposefully paid off.
"We really worked more on passing in the midfield. They were really tough in transitions. We were really weak on those in the first game," Weber said. "And we've gotten a lot better, and I think that really helped us."
Specifically, Kelley said, the Commodores made use of passes to the middle of the field and didn't allow themselves to get pinned on the edges.
"We really worked on not jamming it up the sideline and looking for the pass," Kelley said.
Weber also said the fast start was critical. It was aided by her goal in the first minute and senior attacker Marley Keith's in the fifth, set up by sophomore middie Cassandra Guillemette, and by two big early saves by senior goalie Ashley Tierney.
"It was very important. We've had a lot of slow starts, and this was our first fast start in a while. It really showed us what we can do, and we're really excited to keep going," Weber said.
Pressure from Commodore defenders — including Savannah Scrodin, Molly Laurent and Elena Bronson — also made the Hartford attackers rush shots, many of which went wide in the early going. Frustrated, Hartford called a timeout in the ninth minute.
It didn't help. At 17:06 junior Commodore attacker Ryley Olsen circled the net and finished high, and a little later junior middie Txuxa Doherty-Konczal scored two goals 56 seconds apart, one on a free position and the second at 8:54 after winning a groundball at midfield and racing in to make it 5-0.
Hartford then began to fight back. Jasmine Jenkins won the draw and bolted in to score 13 seconds after Doherty-Konczal's second strike, and goals by Reilly Slusser and Addison Cadwell cut the lead to 5-3 at 3:20.
Bronson, stepping into a midfield role to spell the middies, answered a minute later to make it 6-3 at the break, whipping home a sidearm shot on a feed from junior attacker Halle Huizenga.
The teams traded goals for most of the second half. Three times the Commodores stretched the lead to four, on goals by Weber (7-3), senior Sophie Davis from Guillemette in transition (9-5), and Weber again, on a nice feed from Olsen on a free position (10-6).
After that goal Jenkins scored again and Chloe Jensen found the net to make it 10-8. But Tierney made three of her nine saves before Weber netted a key insurance goal at 9:01 on another free position feed, this one from junior Remi Shepard.
At 11-8 the Commodores were able to withstand a late Elliot Rupp goal, her second. Zoe Pfeiffer also scored twice for Hartford, and goalie Bailey Cameron made 11 saves.
Bronson (four) and Guillemette (three) led the Commodores in groundball wins. Kelley noted their contributions, as well as the goals from the key scorers and Tierney's saves.
"Some younger players really stepped up," she said. "We had the combination of those kids who we rely on to score goals doing that, and we had other kids getting some groundballs, helping with the transition, riding people out."
Now the Commodores can jockey for home field in the postseason and aim for a deep run.
"I think this was good competition to see what we can do in the playoffs, and how hard we can work, and how much determination we can give in a game," Weber said. "I would say we feel pretty good. We're very happy. We're very confident."
More News
Tiger boys' cross-country team held off runners from Burr & Burton, VUHS and Mount Abe in … (read more)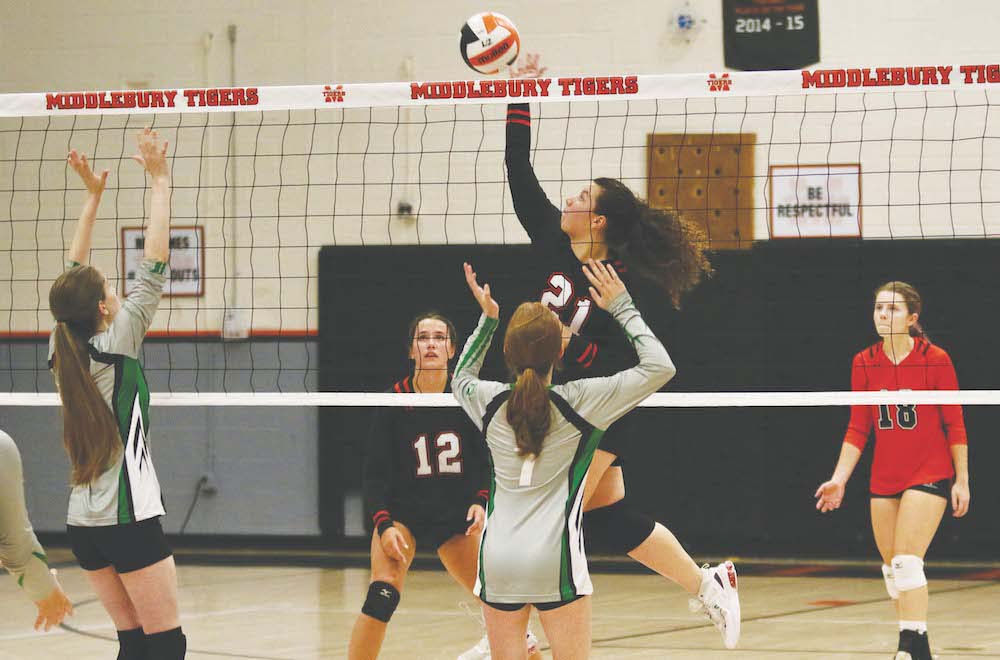 The first-year Middlebury Union High School girls' varsity volleyball team continued its r … (read more)
I gave Bill Lee a call last week, hoping he was at his home in Craftsbury and we might arr … (read more)