College climate goals also focus on education
Part 2 of a two-part series. Read Part 1 here.
MIDDLEBURY — As Middlebury College works toward achieving its Energy2028 goals two years into an ambitious sustainability plan, the institution has tapped its students for expertise and energy. At the same time the administration has made environmental goals a big part of the college's mission.
The college thinks of Energy2028's educational pillar as a two-way process, Middlebury College President Laurie Patton said.
"We provide curricula and research and internships and applied learning opportunities and our Sustainability Lab," she said.
"We also listen and try to understand what students feel is needed, in order to help them become their best selves, and for us to become a better institution in that space.
"We've begun to shape our educational mission to meet Energy 2028's goal of integrating how we respond to these crises in ways that have positive, long-lasting, just and equitable impacts."
Energy2028 rests on five "pillars": transitioning to 100% renewable energy sources, cutting energy consumption by 25%, divesting the college's endowment of fossil fuel investments, integrating Energy2028 within the college's educational mission, and  developing a framework to provide equity and justice principles to guide how the college goes about achieving its goals.
Jack Byrne, Dean of Environmental Affairs and Sustainability, touted the college's Sustainability Solutions Lab at a recent Earth Day event. The lab, along with faculty from the Psychology and Economics departments, have designed a student-led outreach campaign for first-year students to learn about sustainability lifestyle choices.
He said he believes in the power of encouraging students to use the campus as a practice run, as a test place.
"The Sustainability Solutions Lab is focused on 'How do you effect change on campus?' 'How do you learn how an institution works and understand how to navigate what is sometimes a seemingly simple dynamic that's actually pretty complex?' I think that is probably a valuable experience to be able to have … to change the institution," he said during a recent Earth Day event.
And it's a kind of learning that can be applied outside of Middlebury, he said.
Phil Aroneanu, who graduated from Middlebury in 2007, is a prime example of that.
Inspired in part by a course taught by Professor Jon Isham, Aroneanu and fellow students wanted to start a social movement around climate change, he explained during an April 19 Earth Week discussion.
"And what better place to start than at Middlebury?" Aroneanu said. "So in 2006 … we launched a campaign for carbon neutrality right here at the college … Over the course of the next year or so we learned a lot a about what it takes to run a college, its facilities. We learned about the board, we learned about administration politics, and most importantly we learned the value of joyful, principled and informed collective action, even when it might make some folks uncomfortable."
Aroneanu went on to cofound 350.org, one of the largest climate justice movements in the world.
EDUCATION
Middlebury College will provide educational programs and research opportunities that will help influence the pursuit and evolution of its climate goals.
With students like Aroneanu, along with seniors Leif Taranta and Divya Gudur and junior Sanjana Roy, who also spoke at Earth Week events, the college has historically been a fertile ground for such work.
Where Energy2028 is concerned, the college has already fostered a number of successful projects:
•  In January students in a course called Carbonomics and Renewable Energy worked on three projects that resulted in recommendations for how Middlebury could improve the carbon storage capacity of its agricultural lands, make its endowment and carbon reporting more transparent, and how the college could move forward on Energy2028's reduction goals and internal carbon tax plans.
•  Students in another J-term course produced a model of most of the buildings in the town of Middlebury and developed a way to compare various energy solutions for each one. The Middlebury Energy Committee is using the model to make recommendations to the town.
•  A new grant-funded initiative called the Climate Action Capacity Project will provide students with resources and opportunities to develop the skills to address the climate crisis from their own perspective and majors.
•  Next spring the college will launch the Middlebury Climate Semester, which will give undergrads the chance to spend a semester at the Middlebury Institute at Monterey, studying and tackling various aspects of the climate crisis.
In an environmental justice course co-taught this spring by Isham and Assistant Director for Community-Based Learning Diane Munroe, students are working on three projects with community partners, Isham explained:
•  Bringing modular and efficient housing to migrant dairy workers in Addison County.
•  Helping state leaders build out a climate corps of workers who can meet the coming demand for upgrading Vermont's energy infrastructure.
•  Making electric vehicles available for all Vermonters.
THE FUTURE
College officials have approved a proposal from the Environmental Council that will establish a $40/ton "internal carbon tax" to be applied to college-related emissions and energy usage, and are hoping to implement a pilot program next year.
Middlebury is also looking for ways to extend Energy2028 beyond its campus borders into the wider community, Provost said. He offered three examples:
• Including in its 5-megawatt solar farm on South Street an onsite storage solution that could support backup energy at Porter Medical Center or downtown Middlebury.
• Extending access to renewable natural gas from the Goodrich Farm project, which will produce more gas than the college can use. That access "should be rolling out very soon," Provost said.
• Making tracts of land that are no longer "strategic to the college" available as a resource to the community to help increase locally sourced renewable energy.
"Those are some of the discussions we've been having with (Middlebury Town Manager) Kathleen Ramsay and (Middlebury selectboard chair) Brian Carpenter, about how the college can be a better partner to the community in getting the town to achieve a cleaner footprint," Provost said.
Patton has three Energy2028 goals moving forward, she said.
 "First, to cultivate interdependence in all that we do, as a way of instantiating what we already know about our relationship to the earth. Second, never lose sight of the longest- and hardest-term issues (even) as we keep making progress … Finally … to ask, even now, what's beyond Energy 2028, if we meet those goals? Could we become … a microgrid for Addison County? Could … college campuses… become places that produce energy and create partnerships with their communities to produce energy?  I think we could do this by focusing on what Middlebury has always done so brilliantly, which is not leadership just to 'be a leader,' but rather leadership for the sake of others and for the sake of the earth."
Reach Christopher Ross at [email protected].
More News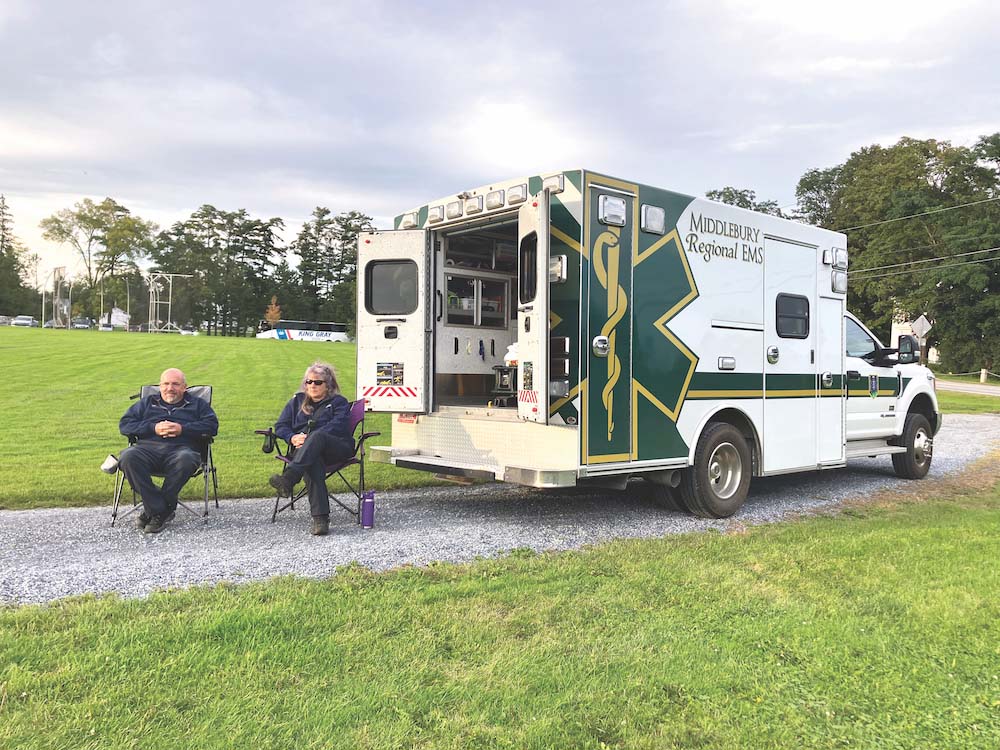 Middlebury Regional Emergency Medical Services wants to eliminate its annual Town Meeting … (read more)
Middlebury police are investigating the death of a Middlebury College junior and say the p … (read more)
Vergennes resident Margaret Clifford offers nearly a century of recollections, from losing … (read more)