Where are all the workers?
It's gotten ugly. There is an absolute dearth of job applicants (particularly cooks), and, as a result, many of our competitors … are unabashedly hiring other restaurants' employees. This is unheard of.
— anonymous local business owner
MIDDLEBURY — Only 14 months ago, Shafer's Market & Deli at 54 College St. in Middlebury was a no-fail stop pretty much any time of the morning or evening if you needed a sandwich, gallon of milk, soda, pizza and other indulgences.
Shafer's still has the tasty products and household staples, but you have to time your visits more carefully these days. The business has had to temporarily abandon its customary 7 a.m. to 11 p.m. days for a tighter schedule that ends at 7 p.m., at the latest.
Why? Try as they might, storeowners Adam Shafer and Jennifer Shafer-Stocker can't find enough workers to staff the counter and kitchen. And it's a common lament throughout the Addison County economy and beyond, as enterprises in virtually all sectors — food service, hospitality, trades, manufacturing, retail and more — can't find enough employees at a time when they're ready to return to pre-pandemic operations.
Economic development officials said many area businesses were scrambling for employees even before the COVID-19 pandemic hit in March of 2020. Now the employee pool is even shallower, as some folks have been slow to return to the time clock for an assortment of reasons.
They might be concerned about catching the coronavirus in a work setting. They might have children at home due to pandemic factors, and want to take care of them themselves. It might be because they've had little incentive to return to work because they've been receiving generous state and federal unemployment benefits for the past 13 months.
It could be all of the above.
"It's kind of unfortunate (that employers) have to compete with our own unemployment system," said Fred Kenney, executive director of the Addison County Economic Development Corp. (ACEDC).
"It doesn't help."
State benefits will come with more strings come May 9, the date on which the work-search requirement will be reinstated for those enrolled in the Pandemic Unemployment Assistance program. Claimants will be required to conduct three qualified job contacts for each week they claim unemployment insurance.
But employers are still concerned about filling vacancies, and some believe it could be a long-term problem. Many area businesses have upped their benefits packages and hourly wages. Kitchen help can get $22-$25 per hour these days, according to abundant want ads in newspapers and on social media.
Shafer's is among those that have bumped its pay scale. The starting wage there has grown to $20 per hour, depending on experience. But that financial incentive hasn't triggered a stampede of applicants — at least not many serious ones, according to Shafer-Stocker, who was stood up for interviews four times last week alone.
"I have become very blunt in my conversations leading up to the interview," she explained. "If you're not going to show up for the interview, and you're not going to work nights and weekends, then don't waste my time."
Shafer-Stocker recently hired a woman with previous retail experience and gave her a schedule that dovetailed with her other work and personal commitments.
"But four minutes before her first shift, she sent a text message saying the schedule wasn't going to work for her," Shafer-Stocker recalled.
The Shafers need to add at least five workers right now to a staff that's down to three adults and a handful of part-time teens. Staffing is so tight right now there's little margin for when employees call in sick. Shafer-Stocker explained she had to take another full-time job to help pay the family's bills during the pandemic, so she's working huge hours right now.
It's a far cry from 2017, when Shafer's had to turn away eager jobseekers.
"I'm fearful that this is going to be long-term, and I'm worried we won't be able to sustain it," Shafer-Stocker said. "I'm losing probably $2,000 to $2,500 per day not being open the hours that I usually am."
RESTAURANTS' WOES
Holmes Jacobs, co-owner of Notte lounge and Two Brothers Tavern around the corner from Shafer's, said the shallow employee pool is foremost in his concerns.
"What we're all finding is the labor pool in our industry — which has been small for a long time — is significantly smaller than it's ever been," said Jacobs. He believes some have simply left the industry.
Notte and Two Brothers early last year employed 50 people, a number that's shrunk to 22 since the restaurants are currently open 25-30 hours a week, instead of the usual 120.
"To get back the two restaurants up to where they were, 120 hours between them, that requires an extra 30 people that we don't have — and I don't think we'll ever have," Jacobs said.
Restaurants, he noted, were among the hardest hit by COVID because they are congregate settings in which people feared they ran a particular risk of catching the virus.
Then there's the financial compensation.
"It's not typically a high-paying industry," Jacobs said.
Still, he has upped wages and benefits in an effort to draw applicants, with marginal results. Notte and Two Brothers are now offering $18-$22 per hour for kitchen staff.
And upping compensation for entry-level jobs often spurs an obligation to give increases to existing staff, Jacobs noted. Restaurants have few options to absorb the extra financial hit, other than to pass it on to consumers through higher meal prices.
While Jacobs believes things will get better, he said he doesn't "know if that's going to make people return to the industry."
Danielle Boyce, is owner and general manager of American Flatbread, Middlebury. She told the Independent this is the tightest the labor market has been during her 15 years helming the popular restaurant in the Marble Works complex.
While American Flatbread isn't currently seeing a staffing crisis, Boyce said limited personnel "is making it very difficult to plan for the future, or even consider taking the opportunity the governor is giving us to start seating people, and having more than one household per table, because we don't have the manpower to accommodate the demand."
Boyce is seeking to fill 10 to 15 positions in virtually all areas, ranging from kitchen help to bartender.
When Flatbread hires people these days, it cross-trains them to give the staff more versatility to cover positions when they're shorthanded.
It should also be noted that Flatbread has been affected by workforce shortages in other sectors of the economy — most notably construction.
"I've been trying to do some pretty major renovations here since November, and I haven't gained traction with anyone to do the work until recently," she said.
American Flatbread upped its wages back when it reopened in May of 2020, following a COVID pause.
"We looked at it as a blank slate and thought about the things we should have been doing before COVID," said Boyce.
Matthew Robinson and Serena Kim own Jessica's Restaurant and the Swift House Inn. They've been diligently advertising for help, including servers, front desk help, a dishwasher and kitchen staff, in particular.
"We're still looking for a sous chef," Robinson said, noting the property has limited staff housing that could serve as an added lure for the right candidates.
Like American Flatbread, the Swift House Inn is looking to build a more versatile staff to fill in gaps when employee numbers are shy in certain areas. For example, wait staff might be asked to transition to housekeeping for several hours on a given day. This helps ownership, and allows workers to pick up additional hours.
"Cross-training is what will work best for us," Robinson said.
He reported food service and lodging aren't the only industries with employee gaps.
"We are having a harder time with tradesmen," he said, noting the inn has had a tough time securing painters and landscapers.
Asked about wages, Robinson said, "We'll pay what's required to get the right person.
"All I can do here is offer fair wages and hopefully somewhere that is an enjoyable and gratifying place to work."
MANY INDUSTRES HURT
Addison County officials who help steer the local economy are worried the current labor crisis will leave some area businesses glued to the starting blocks of a nationwide race to prosperity following COVID stagnation.
The ACEDC's Kenney is working with eight Addison County companies that are looking to expand, but can't recruit workers to put those plans into motion.
The development corp.'s website has a jobs page that includes a variety of postings from such local companies as Agri-Mark/Cabot, Wooden Hammer, Agricola Farm, Lake Champlain Maritime Museum, Bee's Wrap, WhistlePig Whiskey and Vermont Coffee Co.
"It's really bad in the restaurant, hospitality, construction and other trades — even trash haulers, plumbers and electricians," Kenney said of the worker shortage. "We have a lot of tradesmen aging out, and they're looking for people to take over, and having to close because they can't find anyone to get into the trade."
Rob Carter, executive director of the Addison County Chamber of Commerce, agreed the workforce recruitment challenges come at a particularly bad time.
"During this pandemic, certain businesses have been able to expand, particularly in manufacturing," he explained. "They're developing new products … and so now they want to really kick it into gear — and they can't find enough workers to do it."
He's been receiving steady inquiries from chamber members asking how and where they can post job vacancies. Companies across the border in New York — like International Paper — are increasingly reaching out to Vermont workers.
"We had an employee shortage before the pandemic, so as businesses are coming back, they're facing the same issues they had before," Carter said. "At the state level, they were saying we needed about 10,000 new workers a year — before the pandemic."
Other observers are seeing employee shortages around the state.
The Better Middlebury Partnership (BMP) is investing $150,000 in a "Kick Start" program aimed at filling several empty downtown storefronts. The good news is, the BMP has received 41 letters of interest from entrepreneurs seeking a coveted Kick Start grant of $20,000-$25,000 to launch a business.
The big question is, will there be enough workers to staff those ventures?
"I feel that Middlebury is particularly well-positioned to make a strong economic comeback from this pandemic," said BMP Executive Director Karen Duguay. "And as we look to start welcoming visitors and getting more tourist traffic and locals getting out more, I'm really concerned what the (labor) impact is going to be on the restaurants. I have heard that the cost of food is likely going to rise. I've heard hours might be cut, and there could be longer waits.
Duguay asked for and received feedback from several local business owners affected by the labor shortage. She shared comments on condition the authors were granted anonymity:
•  "We are losing more money not being able to staff our regular business hours so we are doing some shorter days. I think the government should look at rewarding the people who are working and the businesses that are open and have open positions."
•  "It's gotten ugly. There is an absolute dearth of applicants (particularly cooks), and, as a result, many of our competitors have started advertising positions starting at $20-$25/hour. They are saying that they're prepared to go up to $30/hour and are unabashedly hiring other restaurants' employees. This is unheard of."
•  "It's become survival of the fittest. And, of course, menu prices are going to skyrocket, which will make Middlebury an expensive town to dine out in. I feel like I'm witnessing a death spiral happening in real time. The average rate in this town for cooks had been maybe $17 per hour. We just gave our entire kitchen staff a $3-per-hour raise to try to prevent them from applying to our competitors. If we could have paid our team that much to-date, we would have. We have no idea how we will survive, but losing our entire kitchen team is unsustainable, too."
• "A lot of people seem to have simply left the industry. I don't anticipate a huge rush of applicants on Sept. 6 (when the federal benefits run out). There's no affordable housing in this area, which makes it hard for hourly workers to live around here. And, to boot, no high school or college kids seem to want jobs anymore. This isn't specific to 2021 … all of these trends have been building for years."
Reporter John Flowers is at [email protected].
More News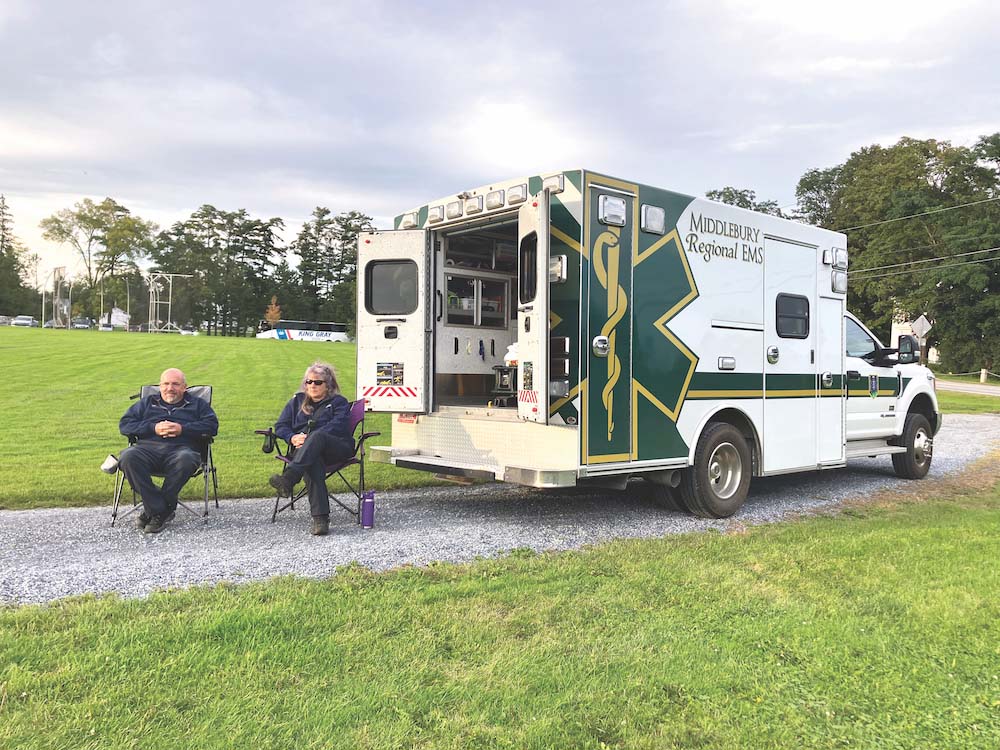 Middlebury Regional Emergency Medical Services wants to eliminate its annual Town Meeting … (read more)
Middlebury police are investigating the death of a Middlebury College junior and say the p … (read more)
Vergennes resident Margaret Clifford offers nearly a century of recollections, from losing … (read more)