Monday wrap: Playoffs this week for basketball, girls' hockey teams
ADDISON COUNTY — Local high school girls' and boys' basketball teams and the Middlebury girls' hockey squad all wrapped up their regular seasons with games last week and will begin postseason action this week.
See separate stories on the first-round playoff game played Saturday by the Tiger boys' hockey team, and the final regular-season clash between the Mount Abraham and Vergennes boys' basketball teams.
GIRLS' BASKETBALL
The VUHS girls made a pre-playoff statement by rolling to a 53-27 victory on Thursday over a Tiger team that has been playing well. The Commodores led wire-to-wire and got double-figure scoring from Felicia Poirier (18 points), Kate Gosliga (14) and Ema Gernander (10).
Tiger Hannah Turner led the Tigers with 13 points, and VUHS Coach Billy Waller called her "easily one of the most improved players in our league."
Waller added one of the keys to his team's win was the defense of Hannah Kelly, Sydney Jewell, Gernander and Lauren Curtis on two other high-scoring Tigers, Elle Sellers and Cady Pitner, who the Commodores limited to four points apiece.
The Commodores improved to 8-1 and nailed down the No. 3 seed in Division III. They will host No. 14 Randolph (1-6) on Wednesday at 7 p.m.
The Tigers saw a three-game winning streak snapped and finished the regular season at 4-4, the program's best record since 2018.
MUHS was seeded No. 7 in D-II and will open the playoffs by hosting No. 10 Burr & Burton (3-5) on Tuesday at 6:30 p.m.
This past Wednesday host U-32 dropped the Mount Abraham girls, 40-31, despite a game-high 13 points from Mount Abe sophomore Maia Jensen.
The Eagles wrapped up their regular season on Saturday with a 46-34 loss at Lyndon in which they could not hold an early 10-0 lead. Jensen led the Eagles with 11 points.
The Eagles finished at 1-7 and earned the No. 12 seed in D-II, and they will have a first-round rematch with No. 5 Lyndon (4-3) on Tuesday at 6 p.m.
On Thursday the Otter Valley girls edged visiting Springfield, 31-25. Key contributors in OV's victory were Mallory Lufkin (11 points with a trio of threes), Alice Keith (11 points, 11 rebounds), and Julia Lee (five points, 13 rebounds).  
The Otters finished at 3-5 by winning two of their final three games and earned the No. 8 seed in D-III. They will host No. 9 Bellows Falls (3-4) on Tuesday at 6 p.m.
BOYS' BASKETBALL
On Wednesday, March 10, the Commodores defeated visiting Enosburg in overtime, 59-51. The Hornets forced the extra session with a buzzer-beating three, but VUHS dominated OT as Tyler Bergmans scored nine of his game-high 19 points. Abram Francis (13) and Ian Henderson (10) also reached double figures for VUHS.
Including Saturday's game at Mount Abe, the Commodores finished 3-4 and earned the No. 8 seed in D-III. They will host No. 9 Randolph (4-4) on Tuesday at 6 p.m.
Also this past Wednesday, the Eagles lost a heartbreaker, 47-45, at Missisquoi. Eagle Henry Cogswell tied the game with 10 seconds left, but T-Bird Patrick Walker banked home the game-winner from the lane in traffic in the final seconds. Cogswell (10 points), Quincy Cook (nine) and Koby LaRose (eight) led the Eagles in scoring.
Including Saturday's game, the Eagles finished 3-6 and earned the No. 13 seed in D-II and will visit No. 4 Milton (5-1) in the first round on Wednesday at 6 p.m.
Wednesday was also unkind to MUHS, which absorbed a 65-32 loss from visiting Milton. Yellowjacket Kyle Brown and Tiger Karic Riche each scored 15. Penn Riney hauled in 14 boards for MUHS.
The Tigers bounced back on Saturday to defeat Mill River, 66-32. Three Tigers scored in double figures, Riche (15), Riney (14) and Owen Connelly (11).
The Tigers finished 5-4 and received the No. 9 seed in D-II. They will visit No. 8 U-32 (5-3) in the first round on Tuesday at 6 p.m.
On Friday the OV boys coasted past visiting Springfield, 45-26, after taking charge with a 12-0 first quarter run. Parker Todd sparked the Otters with 16 points and seven rebounds, Dylan Gaboriault scored seven, and Lane Eddy chipped in six points and six boards.
The Otters closed with two straight wins to finish 2-6. They earned the No. 14 seed in D-II and will visit No. 3 Mount St. Joseph (5-1) on Wednesday at 6 p.m.
GIRLS' HOCKEY
On Wednesday, March 10, the Tiger girls' hockey team dropped its season finale to visiting South Burlington, 4-3. The Wolves, who wrapped up their regular season at 4-4, got two goals from Sabrina Brunet and 21 saves from Taylor Tobrocke.
The Tigers trailed, 4-1, entering the third period before seeing a rally fall short. Ella Tucker scored twice and set up McKenna Raymond's goal, and goalies Lydia Deppman and Abby Hodsden teamed up for 26 stops.  
The Tigers finished at 3-4 and were awarded the No. 6 seed for the Division II playoffs. They will open by visiting No. 3 Harwood (4-4) at 5:30 p.m. on Tuesday. The date and site of a semifinal will be announced afterward.
More News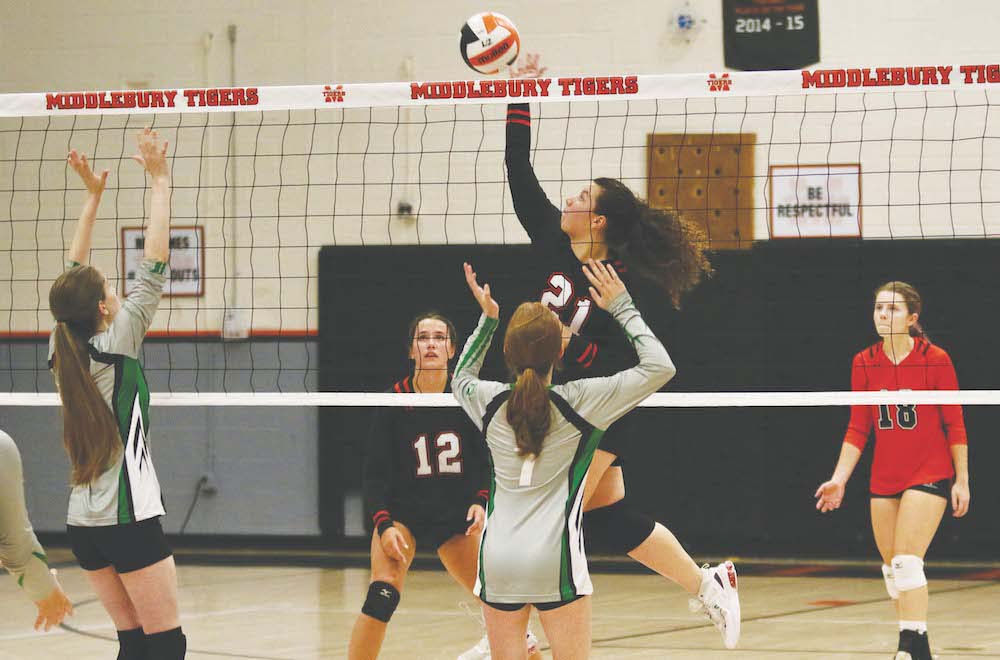 The first-year Middlebury Union High School girls' varsity volleyball team continued its r … (read more)
Soggy conditions didn't slow down Middlebury runners noticeably at a cross-country meet ho … (read more)
I gave Bill Lee a call last week, hoping he was at his home in Craftsbury and we might arr … (read more)