ANWSD board to vote on budget & consider what to do with $1.6M surplus
VERGENNES — The Addison Northwest School District board on Monday, Jan. 11, looked at a $21.6 million final 2021-2022 budget draft that comes in at about $238,400 less than the spending level ANWSD residents approved for the district this past March.
ANWSD Director of Finance of Operations Elizabeth Jennings also confirmed for board members at that meeting the Vergennes-area district has an audited surplus from the 2019-2020 fiscal year of roughly $1.585 million.
This Wednesday, Jan. 20, beginning at 6 p.m., the ANWSD board will make final decisions on both the budget for the 2021-2022 (FY22) school year and how to handle that fund balance. Voters must approve any use of that money — along with a proposed budget — by Australian balloting on March 2, Town Meeting Day.
The board appeared likely to adopt a budget much like district administrators proposed, and also to use $266,000 of the district's surplus to maintain the same district-wide homestead tax rate as it has this year, $1.772 per $100 of assessed property value.
However, due to decreases in the Common Level of Appraisal rates (CLAs) in four of the five ANWSD communities, homestead tax rates are projected to increase in every municipality except Panton.
State officials use CLAs to compare towns' appraised values to true market values in order to ensure school tax collections are fair among all Vermont towns. If properties are assessed above market value, a higher CLA will reduce school tax rates. If properties are assessed below market value, a lower CLA will increase school tax rates. 
Panton's CLA increased this year, while those in Addison, Ferrisburgh, Vergennes and Waltham dropped. Towns can appeal their CLAs to the state.
According to estimates Jennings provided, the owner of a $300,000 Panton home whose owners paid on its full assessed value would see their taxes drop by $234.
For a $300,000 home in other communities, Ferrisburgh's taxes would rise by $134, Addison's by $231, Vergennes' by $337, and Waltham's by $388.
Those who pay property taxes based on their incomes would see more modest increases. Between 60% and 70% of Vermont homeowners in most towns pay property taxes based on their incomes.
Jennings cautioned the board that some budget numbers and estimates could still move before their Jan. 20 meeting.
"It's all based on the current information we have," she said. 
ENROLLMENT ISSUES
Even with the lower spending ANWSD taxes would rise if the board does not apply $266,000 of the surplus to offset higher taxes. This is due to the district's declining enrollment, which because of the state's education funding formula would mean less per-pupil revenue to the district from the Vermont Education Fund.
That lost revenue would have to be backfilled by higher taxes — unless the district made drastic cuts in programs and personnel that are preserved in the current budget. Administrators and the board maintain those programs are necessary for students' education and welfare.
But the problem will become more acute next year, officials said. Several have referred to the situation in the past and did so again on Jan. 11 as like "dropping off a cliff."
The district had been expecting a $1 million loss in revenue for FY22 due to declining enrollment and the sunset of a one-year provision in which school districts were held harmless for loss of students due to the COVID-19 pandemic. With that provision — and a number of students — gone, ANWSD faced the loss of around 44 pupils.
Now, Jennings said, adoption of a "Weighting Study" performed at the request of the Legislature into the funding law could cost ANWSD another 51 students. The combination could result in a $2.1 million revenue hole in FY2023 when the board begins its budget discussions late this coming fall.
But House Education Committee member Peter Conlon, D-Cornwall, said later in the week it is unlikely any bill passed would allow the full financial impact of changes due to the Weighting Study to strike districts immediately.
"Even the biggest supporters of the weighting study understand you can't hit the districts most negatively affected all at once," Conlon said in an email to the Independent.
Still, Jennings added on Jan. 11 any additional shortfall for FY23 would be on top of increases in salaries, benefits, and maintenance and operating expenses.
"Just a reminder: All costs for everything go up every year," Jennings said.
Officials have said while no district reconfiguration is on the table for the 2021-2022, they would explore all options for the following year, including possible merging with the Mount Abraham or another district, or closing VUHS and tuitioning out ANWSD high school students.
SURPLUS DECISION
That pending shortfall also colored the discussion of how to handle the surplus. Board chairperson John Stroup agreed that board members had reached consensus on the roughly $266,000 needed to keep the district homestead rate level, and on pitching to voters a new "Education Stabilization Fund."
Such a fund, similar to ones used in the Mount Abe and Addison Central school districts, could be used to backfill future budget shortfalls or take care of unexpected expenses that crop up during a school year.
Jennings has also repeatedly told the board that ANWSD administrators could propose leaner budgets if they knew they had a stabilization fund to serve as insurance.
ANWSD auditors and the board's finance committee have recommended putting at least $650,000 into a stabilization fund. Stroup said he believes the board is leaning toward earmarking that amount or more for the fund, again subject to voter approval.
Board member Mark Koenig suggested that at the Jan. 11 meeting.
"If we're going to lose possibly 95 students … I'd think we'd want to put as much into stabilization as possible," Koenig said.
The board also has committed to recommending putting about $265,000 into an existing district-wide capital improvement fund, Stroup confirmed on Tuesday.
That leaves about $400,000 about which the board did not reach agreement. Complicating the decision is the board's facilities committee finally obtained an estimate for fixing a persistent and widespread mold problem at Ferrisburgh Central School and related issues — $410,000.
Stroup said on Tuesday he believes the board might be leaning toward a bond to deal with that problem, and not apply the surplus. But nothing was decided, and members just learned of the estimate at the Jan. 11 meeting.
Nonetheless, Stroup said at the conclusion of that Jan. 11 meeting the board would be prepared to handle a full agenda on Jan. 20.
"We'll be ready to make the number of decisions we need to make on the 20th," he said. 
More News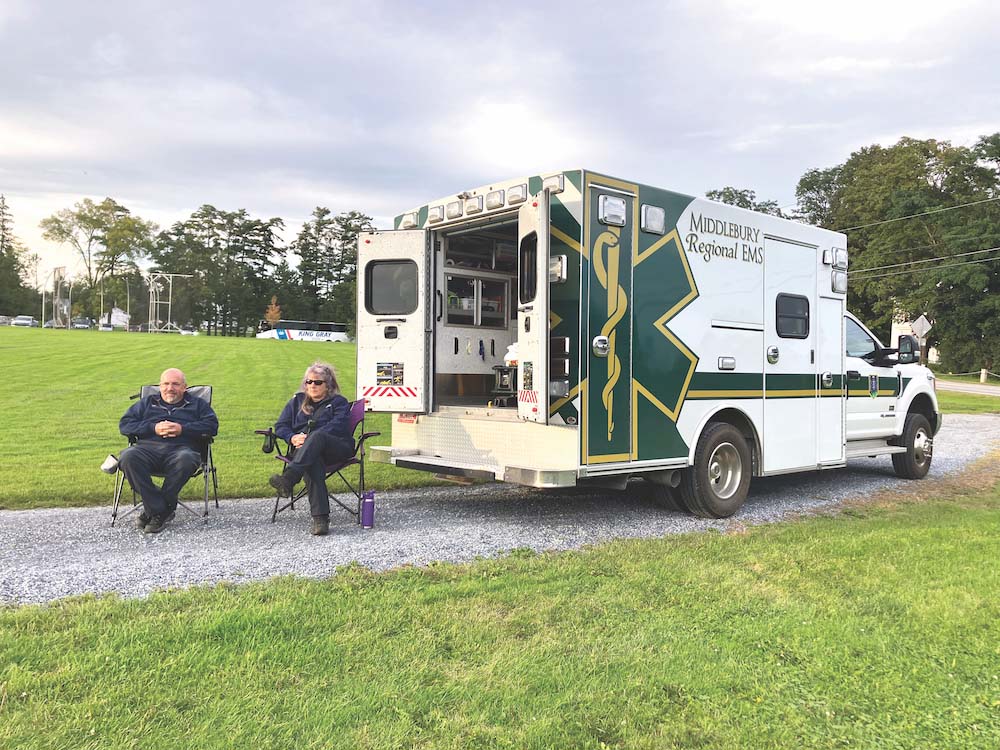 Middlebury Regional Emergency Medical Services wants to eliminate its annual Town Meeting … (read more)
Middlebury police are investigating the death of a Middlebury College junior and say the p … (read more)
In the course of her almost 101 years on Earth, Vergennes resident Margaret Clifford, bett … (read more)