Karl Lindholm: Fortitude, creativity and excellence: "We Are the Ship"
Editor's note: Third in a series on the centennial of baseball's Negro leagues.
Perhaps you have seen the cover of the New Yorker magazine from June 22. It has been widely circulated. This cover is a stunning portrait of George Floyd, from his head to his waist. Floyd's expression is sober, impassive, expressionless; he looks right out at the viewer — you, me, as if to say, "and what are you going to do about it?"
The painting is nearly monochromatic — dark tones, black and gray and brown against a pure white background. Powerful symbolic images of America's violent racial past are depicted on Floyd's torso, taking up two-thirds of the page. The title is "Say Their Names" and the faces of those who were killed by whites in racist violence are represented  — Ahmaud Arbery, Trayvon Martin, Freddie Gray, and others, including Medgar Evers and Martin Luther King Jr.
The artist of this stunning portrait is Kadir Nelson.
Kadir Nelson has written and illustrated the book that every baseball fan must have, especially those who have a sense of the game as a lens into American history and culture: That book is "We Are the Ship: the Story of Negro League Baseball." 
Kadir Nelson's illustrations, including memorable portraits of Nelson Mandela and Aretha Franklin, are often seen on New Yorker covers. He is the recipient of many prestigious awards for his work, which is displayed in galleries and museums nationwide and abroad, including the Baseball Hall of Fame in Cooperstown, the Smithsonian National Portrait Gallery, and the National Museum of African American History and Culture.
Within weeks after his graduation from Pratt Institute in 1996, Nelson was earning a living doing freelance illustrations for Sports Illustrated and working as a "visual development artist" for the movie "Amistad" (1997). He is only 47 years old and his output and accomplishments are extraordinary. His work consistently treats themes of African American history and social justice.
It took nearly eight years for Nelson to complete "We Are the Ship," published in 2008. The illustrations will take your breath away, and the text, also by Nelson, offers a lively and compelling narrative of the history of Black baseball during segregation. It is categorized as a Young Adult book but appeals to all ages. The illustrations are stunning and the history is sound:
"The reason it took that long," he explained, "is that I did a ton of research for each painting. I had to make sure the uniforms were accurate — the colors of the uniforms, the ages of the players represented, color of the ballparks, which ballparks they played in. Every last detail had to be accurate."
Nelson was compelled by the story of "people who faced discrimination during one of the worst examples of segregation in America. They took the love of playing baseball . . . and changed history," he told an interviewer in 2011. He said he wanted to present the history "in an epic manner. It's a great story of perseverance, determination, passion, and pride." 
In the vivid portraits of Negro League figures, the perspective is often from the ground up so these iconic figures — Smokey Joe Williams, Rube Foster, John Henry "Pop" Lloyd, Wilber "Bullet" Rogan, Raleigh "Biz" Mackey, Satchel Paige, and many others — are seen as mythic, larger than life — "muscular," with a "steely dignity," as one reviewer put it: "Their faces suggest the seriousness with which they took their sport and the circumstances under which they were made to play it." 
The image of Josh Gibson on the cover of the book demonstrates the heroic nature of these portraits (I so wish copyright considerations didn't preclude the inclusion of more illustrations in this space).
In accepting the Coretta Scott King Author Award in 2009 (he has won two more since then), Kadir Nelson described how the book came about. He wanted to paint "a series of large paintings . . . . I painted one, then two, then six, then almost a dozen scenes from the Negro Leagues."
He was asked if he might want to do a book with these paintings and began to think about whom he might get to write it. His editor suggested he do it himself. "I was both flattered and petrified," he said. "I was a painter not an author, . . . I got a solid B in my Advanced English class in high school, and, believe me, I worked hard for that B."
Nelson chose to write in the vernacular, employing a first-person narrator, an ex-Negro Leaguer telling the story, a griot of sorts. Using the first person plural, he adapted the "we" from "We are the Ship," the phrase that Rube Foster chose to declare the independence of his league, the Negro National League, from the rest of baseball, including the white major leagues: "We are the ship," Foster declared. "All else is the sea."
The narrator's opening lines are: "Seems like we've been playing baseball for a mighty long time. At least as long as we've been free. Baseball's the best game ever was. It's a beautifully designed game that requires a quick wit, a strong body, and a cool heart."
And, after telling the Negro Leagues story, he concludes with a meditation on the great players who followed Jackie Robinson — Hank Aaron (who wrote the foreword), Willie Mays, Ken Griffey Jr., and others. "These guys stand on our shoulders," the narrator asserts. "We cleared the way for them and changed the course of history. And knowing that satisfies the soul. How can you be bitter about something like that?" 
In an author's note at the book's end, Kadir Nelson discusses what he learned about "fortitude, creativity, and excellence amid antagonism" in doing the book. "I've learned about the strength and resilience of the human spirit, and how I can apply these principles to my life."
He notes the people he met creating the book and its aftermath: "I had the opportunity to watch a baseball game and eat a bag of peanuts with the late great Buck O'Neil," to whom the book is dedicated ("For Buck O'Neil, an inspiration").
Get this book. Circulate it to your friends and family. Better yet, buy it for them as a gift. It's not expensive (16 bucks). It's beautiful. You'll be glad you did. 
—————
Karl Lindholm, Ph.D., is the Emeritus Dean of Advising/Assistant Professor of American Studies at Middlebury College. He taught two baseball classes in the American Studies Program at Middlebury: "Baseball, Literature, and American Culture" and "Segregation in American: Baseball and Race." Email him at [email protected].
More News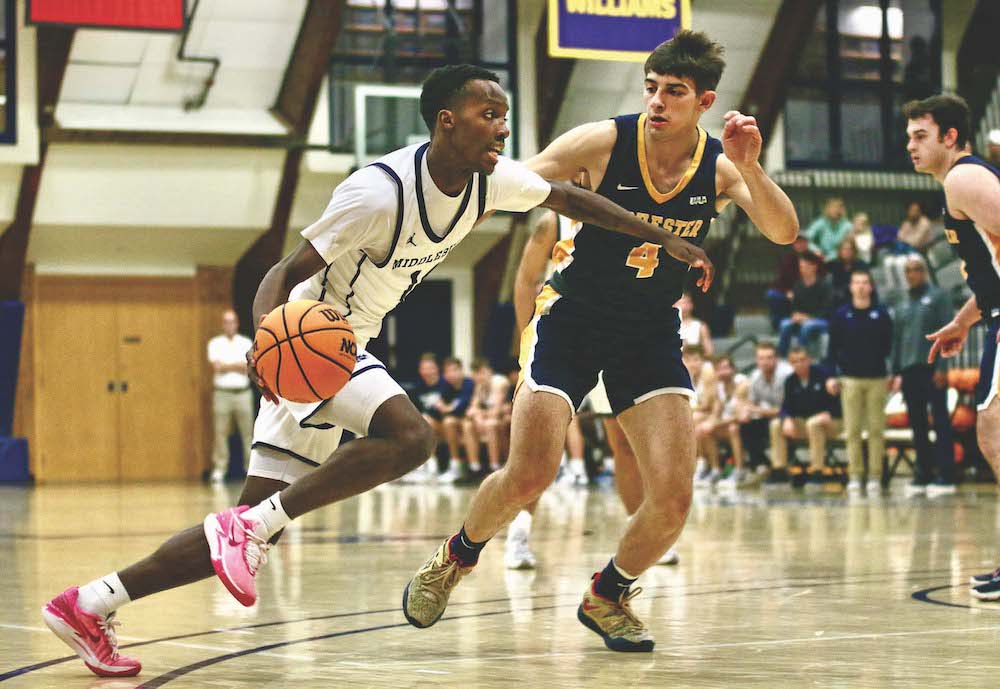 The Middlebury College men's basketball team dropped a pair of home games to teams in the … (read more)
The Middlebury College women's basketball team split a pair of games this past weekend at … (read more)
The Middlebury College women's hockey team lost one game and settled for a tie in another … (read more)