Midd, Vergennes prepare for passenger rail
We do believe the students alone will increase our (Ethan Allen Express) ridership. We're hoping others will take this train to New York City … because people don't have to bring their car. In the city, you don't need a car.
— Dan Delabruere, VTrans
MIDDLEBURY — The chief of Vermont's rail and aviation division said passenger train service to Burlington — with stops in Vergennes and Middlebury — is likely to commence in 2021, barring any unforeseen delays in construction of the downtown Middlebury rail tunnel.
That's the word from Dan Delabruere of the Vermont Agency of Transportation (VTrans). During a recent phone interview with the Independent, Delabruere discussed current planning for the expansion of the Ethan Allen Express from its current terminus in Rutland, all the way to the Queen City.
The Ethan Allen currently runs from New York City to Albany, N.Y., to Rutland.
Extension of the Amtrak-run route to Burlington has been in the planning stages for more than a decade, according to Delabruere. He noted more than $100 million in track upgrades are being made to the rail line between Rutland and Burlington to make way for the passenger train, which will hit speeds of up to 59 miles per hour.
Meanwhile, Vergennes and Middlebury are proceeding with rail platform projects to accommodate future passengers of the expanded Amtrak service.
Construction is currently under way on the Vergennes-area passenger rail platform, which will be located off train tracks near the Ferrisburgh park-and-ride off Route 22A near Route 7. An old train depot has been moved from the rail yard to the park-and-ride location, where it will serve as a train station, according to Delabruere.
In Middlebury, the local planning commission last fall unanimously backed a 300-foot-long-by-12-foot-wide passenger rail platform to be built in between Middle Seymour and Maple Streets north of downtown. The plan calls for the platform to be placed on the opposite side of the tracks from the former Middlebury train station, fronting Maple Street. The site — which has already been cleared of surrounding trees and vegetation — includes access to 17 parking spaces.
Cost of the Middlebury platform has been placed at $665,000, of which VTrans will pay $250,000 and the town will pay the rest.
"It shouldn't take long to get the design done," Delabruere said of the Middlebury platform. "We anticipate we'll be in construction next summer for that project."
VTrans is also in design phase for upgrades to the Burlington rail platform at Union Station.
"Although there is a platform in Burlington, it doesn't meet ADA compliance, so we still have that project to construct," Delabruere said.
There are a lot of details to sort out before the new service can start, with one of the largest being successful completion of a $72 million project to replace Middlebury's two downtown rail bridges with a concrete tunnel. Workers are currently putting in support infrastructure within the rail line for the tunnel, which will be installed during a 10-week period next summer. That work will close Merchants Row and Main Street to through traffic, and will result in a temporary diversion of freight train traffic.
"We're shooting for (passenger rail to Burlington in) 2021; that's our goal," Delabruere said. "But it could vary depending on if the (tunnel) project runs into challenges."
He explained Amtrak crews must get training along the rail line before the train can take on passengers.
"You have to have a certain amount of time to train on that railroad before (Amtrak) can actually put passengers on the train," Delabruere said. "We can't do the training until the project is done."
SMALLER PROJECTS
In the meantime, VTrans is trying to ensure other, smaller construction work along the rail line is done. And Delabruere was pleased to report progress on that front.
"We're wrapping up a few crossing projects this construction season and have a few more next construction season, but other than that, the new track is all in," he said.
That new track is continuously welded, in contrast to the old-school track that has a joint every 39 feet that created the "clickety-clack" sound seasoned train riders recall.
"It's a much more stable rail infrastructure," Delabruere said. "You can definitely have increased speeds with that."
While passenger trains along the route will have a 59 mph limit, freight trains are to be held to a maximum of 40 mph, according to Delabruere, with even slower speeds through urban areas and curves.
"The other beneficiary here is obviously the freight line that runs through there," Delabruere said. "It's not just passenger, it's improved the rail line for freight, which all Vermonters benefit from."
State officials are banking on faster trains and relatively few stops as a way to maximize passengers for the expanded Ethan Allen Express.
Scheduled Vermont stops along the new route will be confined to Burlington, Vergennes, Middlebury, Rutland and Castleton, according to Delabruere. He and other VTrans officials believe primary users will be folks headed for New York City, and who want to get there quickly.
"The more stops you make, the more people won't ride it," he said, "because then the train takes too long to get somewhere.
The Ethan Allen Express originates in Penn Station in New York City. The state-supported portion of the route begins at the Albany/Rensselaer station and includes stops at Schenectady, Saratoga Springs, and Fort Edward, N.Y., and Castleton before the final Rutland stop.
Officials are putting a lot of faith in the expanded Ethan Allen service. Delabruere acknowledged the state doesn't yet have a contract with Amtrak and has yet to establish a fare structure for the new stops. And there have been no recent surveys indicating potential ridership, he added.
The Vermont State Rail Plan, released in January of 2015, estimated Middlebury could see between 7,000 and 14,100 passengers annually using the Ethan Allen service by 2035.
"We do believe the (Ethan Allen) ridership will definitely increase," Delabruere said. "We know we're going to have more riders because if you just look at the places we're going: We're going to the state's largest city. The people there are going to want to ride the train. It's a college town. (Many students) don't have cars. Middlebury is another college town… We do believe the students alone will increase our ridership. We're hoping others will take this train to New York City, where people might go for a weekend or week's vacation. Because people don't have to bring their car. In the city, you don't need a car."
TRAIN WON'T BREAK EVEN
The cost of the train will be borne by New York and Vermont, and the estimate of what each state pays per month will be based on ridership, according to Delabruere.
It's already clear the expanded Ethan Allen service  — like the Vermonter service that runs from St. Albans to Essex Junction to Brattleboro and southward — won't be a break-even proposition, he said.
"Much like what we're doing now with the current services — both the Vermonter and the Ethan Allen — we will be paying Amtrak to run the service," he said. "The train won't break even."
That's a fact of life when it comes to mass transit, according to Delabruere.
"I don't know if any mode of transportation pays for itself," he said. "That's kind of the business we're in; we support transportation — highways, aviation and rail. I'm not sure any mode pays for itself."
Vermont's financial liability will decrease as more riders use the service.
"How it works is, the train obviously costs a certain amount of money to run," Delabruere said. "The more passengers we get on the train from Vermont, the less we pay… If nobody rides the train, we're paying for all the expenses. If the train is full, obviously our costs go way down. We never know how much it's going to be per passenger. We pay the actual cost of what it costs to run that train on a daily basis."
Amtrak, according to Delabruere, is currently estimating operating costs for the new leg of the Ethan Allen, and those costs will be reflected in a contract Vermont will sign with the carrier.
Officials haven't yet decided where the Ethan Allen will overnight, but Delabruere suspects it will be in the Burlington area.
He said the project won't require any upgrades to the Essex Junction rail connection.
A driving force behind the design of Middlebury's rail tunnel was a federal mandate that trains be afforded at least 21 feet of vertical clearance for double-stack rail cars that could eventually travel along the tracks. This clearance standard led to a far more elaborate and expensive project than some Middlebury officials and downtown property owners wanted to see.
Other communities along the lengthened Ethan Allen line aren't currently facing the same vertical clearance conundrum, according to Delabruere.
"A regular train car will fit through all the bridges that are there," he said. "If we went to something called 'full double-stack,' there are some bridges that do not meet it along that line, but we don't have (double-stack cars) along that rail line right now. Some day we might need it, but we don't need it now."
Reporter John Flowers is at [email protected].
More News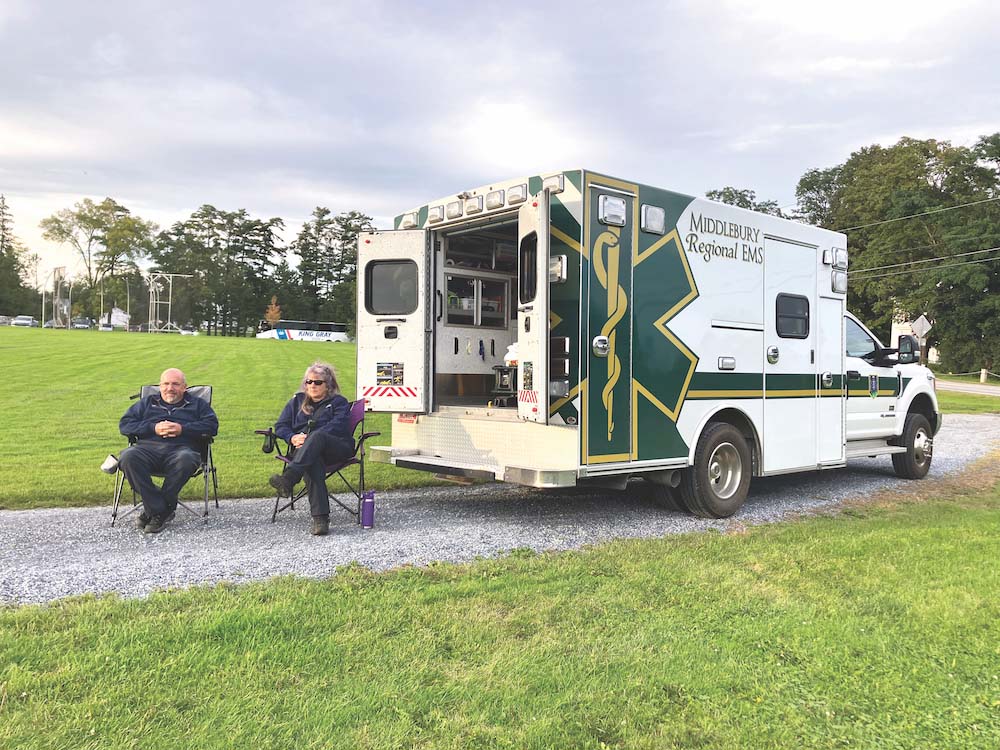 Middlebury Regional Emergency Medical Services wants to eliminate its annual Town Meeting … (read more)
Middlebury police are investigating the death of a Middlebury College junior and say the p … (read more)
Vergennes resident Margaret Clifford offers nearly a century of recollections, from losing … (read more)