Andy Kirkaldy: Breaking up with all-star teams
The Addison Independent All-Star Teams have had a good run over the past two decades.
Well, at least I think they've been fun and informative. And a few readers have said they agreed, although others have certainly complained about omissions, not only of players, but also of entire sports.
But the time has come for the Sports Section to move in a different direction. It's not the All-Star Teams, it's me.
Well, OK, it's them.
To be fair, there have been plenty of good points about the teams.
They have always told more about the all-star players than the league all-star teams we also publish — those are just lists. In our all-star teams, coaches get to say something about their athletes, and so do I — What do the athletes do well? What are their particular sets of skills? The intangibles they bring to their teams?
The Independent teams have also been more accurate. League all-star teams do not always reward the best players: Sophomores and juniors often wait in the wings while seniors take their curtain calls.
And sometimes league rules get in the way. The Metro league's all-star softball team, for example, insists on going position by position. Even if the second-best shortstop is better than the best second baseman or right fielder, the second baseman or outfielder is on the first team even if the shortstop is a better player.
Other times coaches from other teams also just remember the kid who has a good day against them. Or sometimes coaches just miss league meetings — I've had local coaches tell me they nominate players from other teams when other coaches don't show up.
It's also enjoyable talking to the coaches after the season. Often they convince me I'm missing somebody; at times it has worked the other way. Regardless, they know their players better than I do, and I listen. Together, we come up with all-star teams that — even if not perfect — better reflect players' abilities than league teams.  
So what are the downsides? Why stop publishing them?
First, there is no question the Independent and league and all-state teams do overlap. Is it worth the time and effort to recognize players who most likely are getting or will eventually get plenty of attention anyway? Is there something else we could do after a season that could spread out the recognition, be a little different and maybe even a little more interesting?
And make no mistake, there is time and effort involved. To do one of our all-star teams properly involves long conversations with several coaches, transcribing of recordings (sometimes it's a series of emails, which can be easier but isn't optimal), collecting statistics on up to 15 candidates, winnowing it down to about 10 finalists, and then writing 1,600 or 1,700 words, including sets of comments and quotes for each selection.
Ultimately, each team is maybe an eight- or 10-hour project for one story. That might not sound like a lot, but for example take the issue that included our 2019 girls' basketball all-star team. That article that was one of 19 stories or items I wrote or processed for the March 21 issue (I know because I save on my desktop computer what I hand in by date and issue). And that was one of two papers that week. We can get a lot done in 10 hours here.
Then there is a fairness issue. We have always done girls' and boys' soccer and basketball, softball and baseball. Because of the time involved more teams are not feasible; the articles would bleed into the next season.
In any case, football is just not possible. I do my own game stats for football, which means I have to follow the ball. I can't watch line play. I know the big guys are playing well when the running backs are five yards downfield before they are touched, but could I tell you exactly who threw the blocks? Or can I fairly compare the Middlebury, Otter Valley and Mount Abraham/Vergennes offensive linemen? No to both.
And as I write for each Independent all-star team, "Selections were made based on observation, statistics and consultation with the coaches." Other sports allow for more observation of all the individual players.
And, of course, if it takes eight or 10 hours to make an 11-member team, that would mean 16-20 hours for a 22-man football all-star team. I'm supposed to work 20 hours a week on sports. The math sadly doesn't work. But the bottom line is despite all that logic there's no getting around it: Football is still shortchanged, and I'm not sure that's fair.
Ditto for boys' and girls' lacrosse. For years there was no real point in a boys' lacrosse all-star team — I could have just picked the MUHS starters, with one or two exceptions. But the Eagle and Otter programs are getting better, and at what point are we not being fair by omitting boys' lax from the list?
And now that VUHS-Mount Abe girls' lax has become established as a top Division II program, there's plenty of talent overlap with the Tiger and Commodore girls' rosters, and we have the same issue.
So what could replace the all-star teams in the between-season lulls in the action? More features is always one good answer, and I'm also planning on collecting the highlights from the games I attend for a plays of the year round-up (that should broaden the base of athletes getting postseason notice), and maybe also featuring a look back at the games of the year in each sport.
Stay tuned.
More News
Tiger boys' cross-country team held off runners from Burr & Burton, VUHS and Mount Abe in … (read more)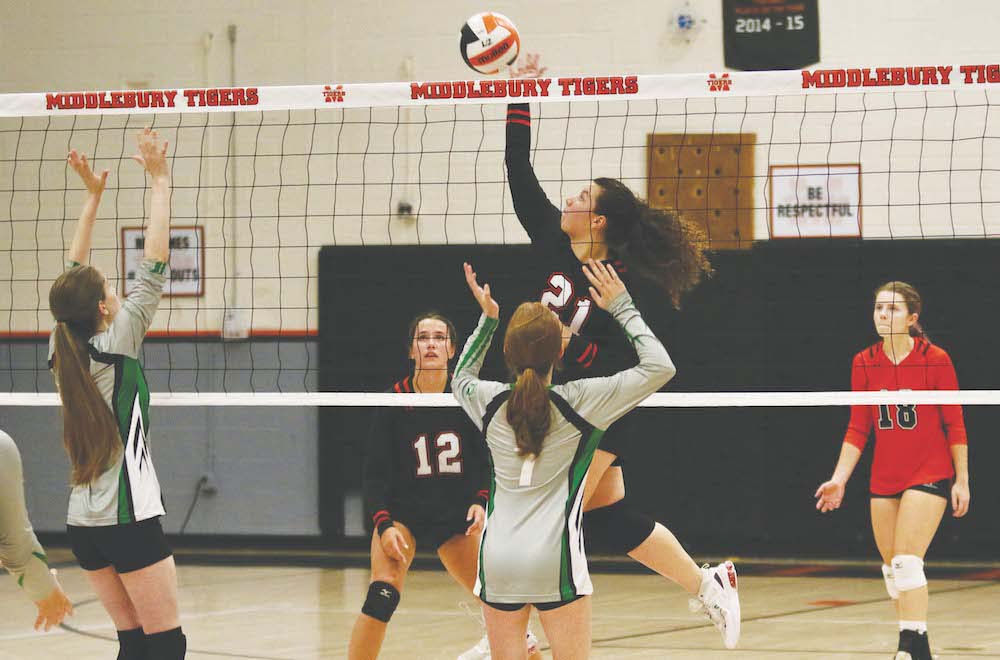 The first-year Middlebury Union High School girls' varsity volleyball team continued its r … (read more)
I gave Bill Lee a call last week, hoping he was at his home in Craftsbury and we might arr … (read more)