MUHS volleyball eyeing high seed
MIDDLEBURY  — The Middlebury Union High School volleyball team won three matches in the past week to improve to 12-1 and nail down a top-four seed for next week's playoffs.
The Tigers' final regular season match comes at Enosburg on Thursday and will probably determine whether the Tigers earn a No. 2, 3 or 4 seed. The Hornets, as of Tuesday winner of eight straight matches and owner of a 10-2 record, were in fourth place unofficially in the VPA points standings. Meanwhile the Tigers were second behind undefeated Essex, and Champlain Valley (10-2) stood in third.
Playoff pairings will be posted on Monday, and the Tigers will be hosting at least one match next week.
The Tigers' first match in the past week came on Oct. 12, when MUHS defeated host Colchester, 3-0 (25-16, 25-15 and 25-17). The Lakers were 9-4 and in fifth place in the standings this week heading into their final match.
The Lakers took a 10-1 lead in the first set before the Tigers kicked into gear behind a strong serving run from Ronan Young. MUHS then controlled the rest of the match.
The Tigers recorded a program-best 27 kills in the match, led by Sienna Rubright (eight), Aven Frankovic (seven) and Maggie Klingensmith (five). The team also combined for 23 assists: Young led in that department with 11, and Sara Kent contributed nine.
On Monday the Tigers defeated Montpelier, 3-0 (25-15, 25-8, 25-12), in a match postponed from an earlier date. Rubright led the Tigers with 10 aces and five kills, and the Tigers also received major contributions from Kent (eight aces, five assists), Young (seven aces, four assists) and Georgie Kiel (five kills).
In their senior night match on Tuesday, Middlebury defeated Missisquoi, 3-0 (25-9, 25-16, 25-14). The Tigers honored their two seniors: Captain Sienna Rubright and Addison Copeland.
More News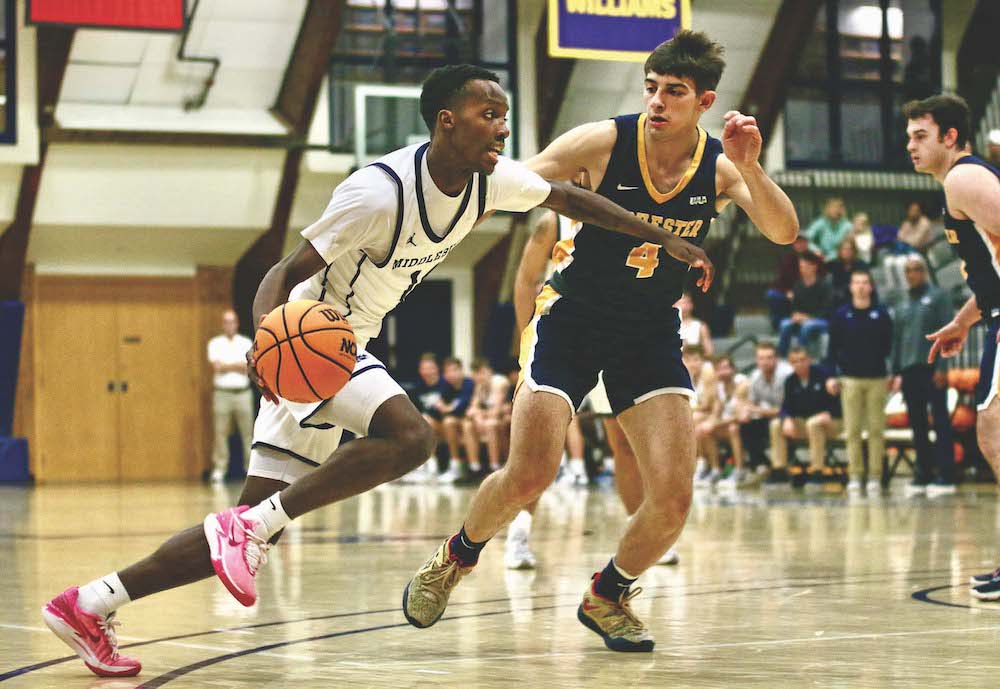 The Middlebury College men's basketball team dropped a pair of home games to teams in the … (read more)
The Middlebury College women's basketball team split a pair of games this past weekend at … (read more)
The Middlebury College women's hockey team lost one game and settled for a tie in another … (read more)