Burlington mayor to step down after 12 years, eyes statewide office
Burlington Mayor Miro Weinberger is considering a run for statewide office.
Weinberger told VTDigger that Vermont faces "major challenges," including a drug crisis and a "deep, acute housing shortage" — issues that have particularly plagued Burlington during his tenure as mayor. During his nearly 12 years helming the city, he has frequently criticized state government for standing in the way of local progress.
Now, the Burlington Democrat has an eye on Montpelier.
Asked Friday whether he was planning to run for governor in 2024, Weinberger said, "I'm absolutely exploring and going to be exploring for some time, you know, what is the best way for me to impact those issues?" The answer, he said, could be "some kind of statewide role."
Weinberger made clear that after close to a dozen years in an executive role, he'd be less inclined to run for Congress. "I definitely see myself as more of an executive than a legislator," he said, adding that he "understands how impactful executive leadership can be."
A person who has spoken with Weinberger about his plans in recent weeks told VTDigger that the mayor is seriously exploring a run for governor but has not made a final decision. Separately, a political operative told VTDigger that Weinberger's confidantes had begun consulting with Vermont Democratic Party leadership to discuss a potential 2024 gubernatorial bid.
Weinberger said Friday that with six months remaining in his mayoral term, it would be "some time" before he made a final decision.
If he ran, Weinberger could face off against incumbent Gov. Phil Scott, a Republican who was first elected in 2016.
Scott's spokesperson, Jason Maulucci, told VTDigger on Friday that "the governor hasn't made any decisions personally whether he is planning to seek a fifth term or not." Asked when Scott might decide, Maulucci pointed to past election cycles, when Scott has historically announced his reelection bids in the spring of an election year.
Asked about Weinberger's potential gubernatorial candidacy, Maulucci said Scott "always welcomes different ideas coming to the table, always supports people putting their name forward, if that's what they want to do."
"But, you know, for him, it's too early to comment on 2024, given that he hasn't decided what he himself is going to do yet," Maulucci concluded.
If Scott were to run for a fifth term, he would make a formidable opponent to any Democratic nominee. Scott consistently polls as the nation's most popular governor and has easily defeated general election opponents by double-digit margins since his first reelection campaign in 2018. Last election cycle, Scott prevailed over Democratic nominee Brenda Siegel with 71% of the vote, compared to Siegel's 24%.
"For any Democrat running, you're going to have to make the case for why the governor should be fired from his job," said political operative Natalie Silver, who managed the 2022 congressional campaign of U.S. Rep. Becca Balint, D-Vt.
Before facing off against a general election opponent, though, Weinberger would first have to win the Democratic primary election next August, and "that's not nothing," Silver said. While Burlington's electorate is deep blue, Weinberger in his time as the city's top-ranking Democrat has faced frequent criticism from his left.
As a first-time candidate for statewide office, Weinberger could also face "a pretty steep learning curve," particularly when it comes to raising money, Silver said. "So I think for the mayor, or anybody running, you're going to have to be thinking about how you're going to raise that capital, because the governor will certainly have access to a lot of money."
Though he is not yet a statewide candidate, Weinberger has traveled far from Burlington in recent weeks. On Sept. 6, he attended an event organized by the gun control lobbying group GunSense Vermont in Brattleboro, where he made the rounds and shook hands, according to the organization's executive director, state Rep. Conor Casey, D-Montpelier.
"He made the trek down," Casey said. "We were very grateful that he came all the way from Burlington to attend the event in Brattleboro."
Casey told VTDigger that, prior to the event, Weinberger's spokesperson, Samantha Sheehan, asked if there was a slot available for Weinberger to speak.
"I just told Sam, 'Look, I don't have any spots. You know, we're not doing the politician thing,'" Casey recounted.
Weinberger said on Friday that his appearance in Brattleboro was not related to his political aspirations.
"I went to that event because I believe in GunSense," he said. "I will always be grateful for what GunSense did following (the Sandy Hook Elementary School shooting in 2012) when it was really just me and a couple other mayors and a handful of legislators that were willing to push back against the notion that, in Vermont, we couldn't even talk about common-sense gun violence reform."
Since announcing on Sept. 28 that he would not seek a fifth term as Burlington mayor, the rumor mill has steadily churned, and Vermont political observers have quietly speculated about Weinberger's future plans. On Friday, he pointed out to VTDigger that he is only 53 years old.
"I've heard my announcement being referred to as retirement," Weinberger said. "I don't see it as retiring in any way."
More News
Blasting ledge could begin on Monday in Vergennes as work on the $25 million Vergennes Gra … (read more)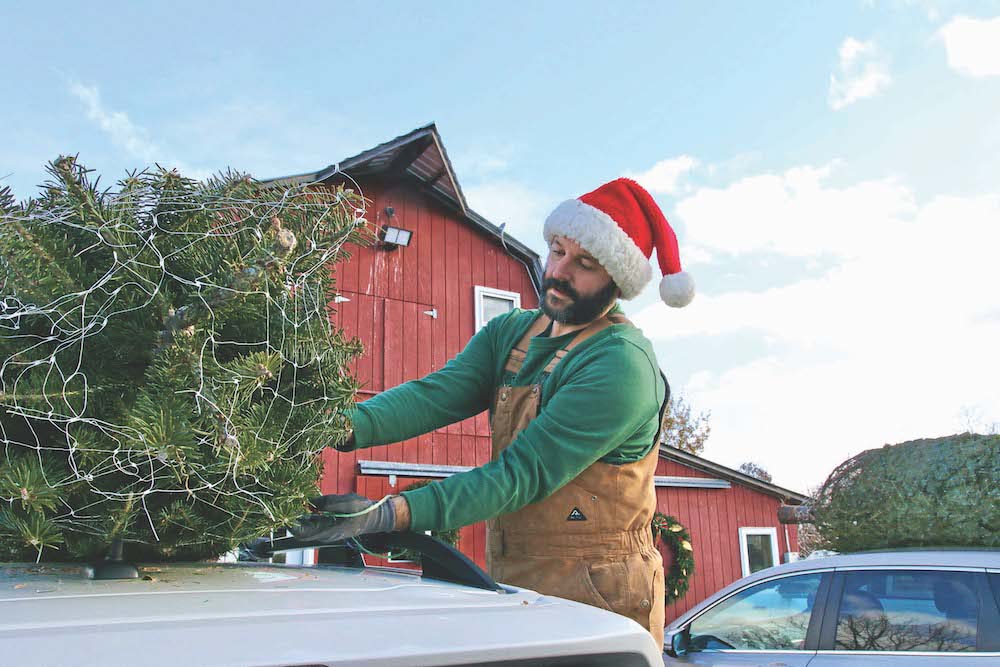 With the holiday season underway, county Christmas tree farms have begun welcoming visitor … (read more)
As the Middlebury Snowbowl prepares for opening day this Saturday, Dec. 9, loyal skiers an … (read more)