New coaches, new and reborn sports arrive at MUHS
MIDDLEBURY — Three new coaches, one who will co-lead a defending state championship program, join the Middlebury Union High School athletic department this fall — as does a new sport for the second straight autumn season, as girls' volleyball becomes a full-fledged varsity sport after working up from club and JV status. 
Meanwhile golf looks to make a comeback, girls' soccer expects to make a step forward, and boys' soccer intends to reload. 
FOOTBALL
Longtime football assistant Jed Malcolm, a member of the 1995 Tiger title team, became just the fifth football head coach of the squad in 68 years when he was hired to replace Dennis Smith. 
It will surprise no one that the Tigers, who came within a pass that sailed just off target on the season's final play of winning the Division-I title this past November, will again rely on their running game and tough defense behind a strong returning group. 
"It's the classic if it's not broke don't fix it," Malcolm told the Independent in August. "We were one play away last year. I'd be a fool to try to tweak too much when we were that close. And we lost a couple good players, but we bring back a ton of experience."
Still, program fans might see a couple wrinkles. Two quarterbacks, each with their own strengths, shared time in the opener, as Malcolm said they might, and he wants to keep opposing defenses on their toes. 
"We're still going to run the ball and run the option," he said. "But we have to back some people off. We've been watching over the past three or four years the defenses get more and more into the box. And there's a point where if there's zero threat throwing the ball over the top they're going to keep doing that. So we have to threaten it at a minimum."
FIELD HOCKEY
As in football, a former Tiger standout took over the reins of the field hockey team this year: 2016 graduate MaKayla Foster Broughton, who went on to play four years at St. Michael's.
Her program includes 17 varsity players, with three seniors and three juniors and no JV team. The Tigers have not won many games — two in 2022 — in the D-I heavy Metro Conference recently. But since 2017, MUHS has competed in the D-II postseason and won four first-round playoff games in five years, including in 2022.
While looking for leadership from the experienced players, Broughton said she will be focusing on the basics.
"It's a fresh start. We've been emphasizing that," Broughton said. "A big goal has been really honing in on our fundamentals."
Broughton said the Tigers showed unity in the preseason despite early morning practices and more double sessions than typical for the program. All that made her optimistic for the season. 
"There hasn't been a practice where I haven't really enjoyed it," Broughton said. "Even the girls have said, 'We really like coming to practice.'"
BASS FISHING
The defending state champion Tiger bass fishing team, which in the 2022 championship competition edged runner-up Mount Abraham by a few ounces, has a new co-coach, Chris Gorman, who joins the returning John Fitzgerald. But Activities Director Sean Farrell said the team shouldn't miss a beat.
"Those state-champion anglers are all back," Farrell said. 
Several freshmen signed on, doubling the roster to eight, with the rules allowing four anglers per event (two per boat driven by a team coach/captain).
The program is arranging more inter-team scrimmages to go with the two tournaments on its schedule, both at a Grand Isle fishing access, the second of which in October will be the state championship. 
As Farrell was speaking he said the team was already strategizing with its phone apps for a scrimmage on Lake St. Catherine.
"It's a very technical sport," Farrell said. "You don't just go out and drop a line and catch fish. There's a lot of thought process that goes into it."
GIRLS' SOCCER
Fifteen juniors and seniors, joined by five younger players, should help Coach Reeves Livesay's Tiger girls' soccer team take at least a modest step forward from 2022's four-win season. 
Farrell said the Tigers were mostly competitive in 2022 — they lost to eventual D-II champion Rice by only 2-0 in their first-round playoff game. He said they'd seek more consistency this season, but he sees no reason they shouldn't be more competitive within the Lake Division and D-II. 
"I think we have some good leaders on the team that will do a great job at pulling this together," Farrell said. 
Interest remains strong in girls' soccer at MUHS, with about three dozen players between the varsity and JV teams. 
CROSS COUNTRY
In 2022, MUHS girls' and boys' cross country teams finished second and third, respectively, in D-II. 
Three Tiger girls placed in D-II's top 10 — Beth McIntosh in fifth, Mary Harrington in sixth and Ava Schneider in ninth — and they all return. But the other runners who competed for MUHS at the state meet last year have moved on, and Coach Chris Anderson will have to see who steps up to fill the remaining four varsity slots. 
Anderson's work is more clearcut on the boys' side: Six of the seven boys who ran for MUHS at the 2022 state meet return, including four who finished in the top 20: Baker Nelson, Baxter Harrington, Kaden Hammond and Matias Citarella. 
Farrell said it'd be no surprise to see middle school runners emerge on both sides to challenge for varsity starting spots.
"They've done a great job down there," he said. "It's helped us tremendously."   
VOLLEYBALL
The school's newest sport, girls' volleyball, has generated lots of enthusiasm: About 40 athletes have signed up to play varsity or JV volleyball at MUHS, and the MUHS gym has been configured to allow the team to play its matches there, as opposed to at MUMS, its previous home when volleyball was a club and JV sport. Matches will be played at 6 p.m., a time that Farrell hopes will boost attendance for home dates.
Farrell is particularly pleased because the addition of volleyball has expanded the number of students participating in athletics rather than spread the same student-athletes among more sports.
"I think it's great for the volleyball program, and we obviously want to provide opportunities for all kids to get involved in athletics and activities," he said.
Coach Bethany Morrissey's team debuted at the varsity level this month by winning its first match, just adding to the excitement. 
"I've got really enthusiastic coaches that are doing a great job motivating their athletes," Farrell said.  
GOLF
Golf is a historically successful sport at MUHS that could be making a comeback after dying out for lack of interest a number of years ago.
As well as a full complement of 11 boys, with numbers dispersed among grade and experience levels, three ninth-grade girls also signed up for Coach Joseph Credelle's program, Farrell noted. The girls can compete as individuals, while five boys can compete at any given match.
Farrell is happy to see the sport revived because it's a great opportunity to take advantage of the Ralph Myhre course on the other side of town, and it's a chance for students to learn a lifelong activity.  
"It's about getting them out there, getting them involved, getting them learning the sport," he said. 
Farrell said golf was on the downside at MUHS for a while before Credelle, an MUHS teacher, began working to reestablish the program. 
"We had golf, and we had a pretty strong team," Farrell said. "And then they all graduated, and there was no one coming up behind them, and we went quite a while without one. It's great that it's back, and it back with this kind of strength."
BOYS' SOCCER
Coach Chris George's boys' soccer team has been among the best in D-II the last couple years, but come up just short. A stunning overtime goal ended the Tigers' season in a home semifinal in 2022. 
Two years of graduation losses have left MUHS thinner this fall, and the team's success could depend on how quickly newcomers step into full-time roles at the varsity level and mesh with a core of a half-dozen veterans. 
"It's going to be a different year," Farrell said. "There was a lot of great young talent last year that I'm hopeful will develop as we rebuild this year."
One thing that gives him confidence the team will mesh is the great leadership among the returning players
"They'll be strong. I'm leaning on that senior leadership, that they'll bring it together," Farrell said. "I'm hoping we're that dark horse that no one's looking at."
More News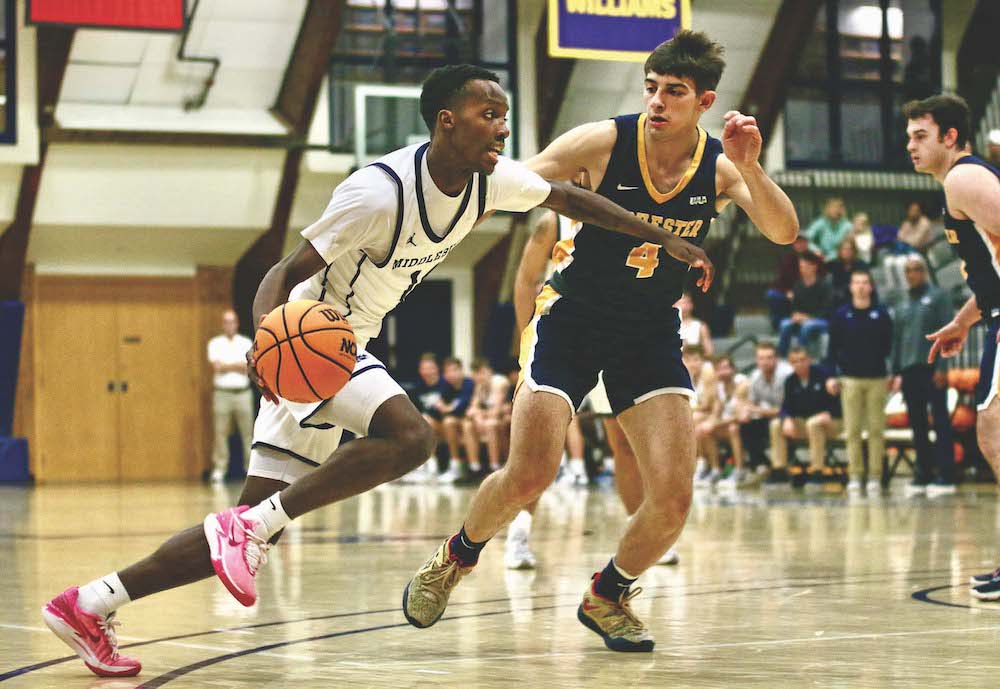 The Middlebury College men's basketball team dropped a pair of home games to teams in the … (read more)
The Middlebury College women's basketball team split a pair of games this past weekend at … (read more)
The Middlebury College women's hockey team lost one game and settled for a tie in another … (read more)