Mike Hendrickson: Restaurateur turned paramedic
MIDDLEBURY — For the past decade, Mike Hendrickson has worked as a paramedic at Middlebury Regional Emergency Medical Services, coming from Colchester Rescue, where he started as a volunteer EMT in 2010.
But before that Hendrickson had spent most of his professional career in the restaurant and bar industry. 
He was the owner of a handful of restaurants and bars in Burlington, but one day in 2009 he realized he wanted to challenge himself in new ways. 
"I think it was 2009," Hendrickson, 50, recalled. "I was like, 'Man, I need some new challenges.' And I had years ago put 'Become an EMT' on my bucket list, and so in 2010 I applied to a bunch of squads and got hired as a volunteer."
After spending six months taking EMT classes, he was able to work as a volunteer EMT in Colchester for a few years. He became invested in the work he was doing with the rescue squad, working many volunteer hours, especially in the winter. He started to consider the possibility of becoming an EMS as a paid gig. 
That's when Hendrickson found his way to Middlebury Regional EMS, known as MREMS, where he got hired as a paid EMT in 2013. After leaving the restaurant industry in 2015 he made the decision to go to paramedic school. Becoming a paramedic broadened the scope of medical administrations and interventions he could perform.
What Hendrickson appreciates the most about his new field of work is how rooted in the community it is. He finds great value in being able to serve and know the community in a deeper way. He reflected on what inspired his desire to get into emergency medical services.
"In 1997 there was an ice storm in the state of Vermont and almost every single town was without power and electricity, some places for weeks at a time," he said. "I was in Burlington at the time and the power was out, everything was closed, you couldn't go anywhere. … One day I walked down to the police station and I said, 'Hey, can I help anywhere, 'cause there's nothing to do and there's a big mess out there.' So whoever the officer was at the police department said, 'Well unless you have EMS, fire or police training right now, or some special skill for cleanup, we really can't use you. And I didn't have any experience in anything along those lines. So I kind of just hung out at home and I just sort of thought to myself it would be cool to join EMS someday and become an EMT."
Especially as someone who didn't have any prior background in this kind of work, who "just sort of jumped into the industry," as he described it, Hendrickson  really enjoyed getting to see how all of the public service agencies — fire departments, police departments, EMS, hospitals, etc. — work together and help the community. 
For Hendrickson, the highlights of the EMS job are getting to serve the community and building friendships and camaraderie with the people he works with.
Working in EMS has given him something that is interesting and sometimes difficult — just what he was looking for all those years ago. 
"It's very challenging, and the challenges always change, so if you're the kind of person that enjoys the camaraderie and the challenge and the fast pace of this kind of work then you're well suited for the industry," he said. 
"Every single day is unique."
More News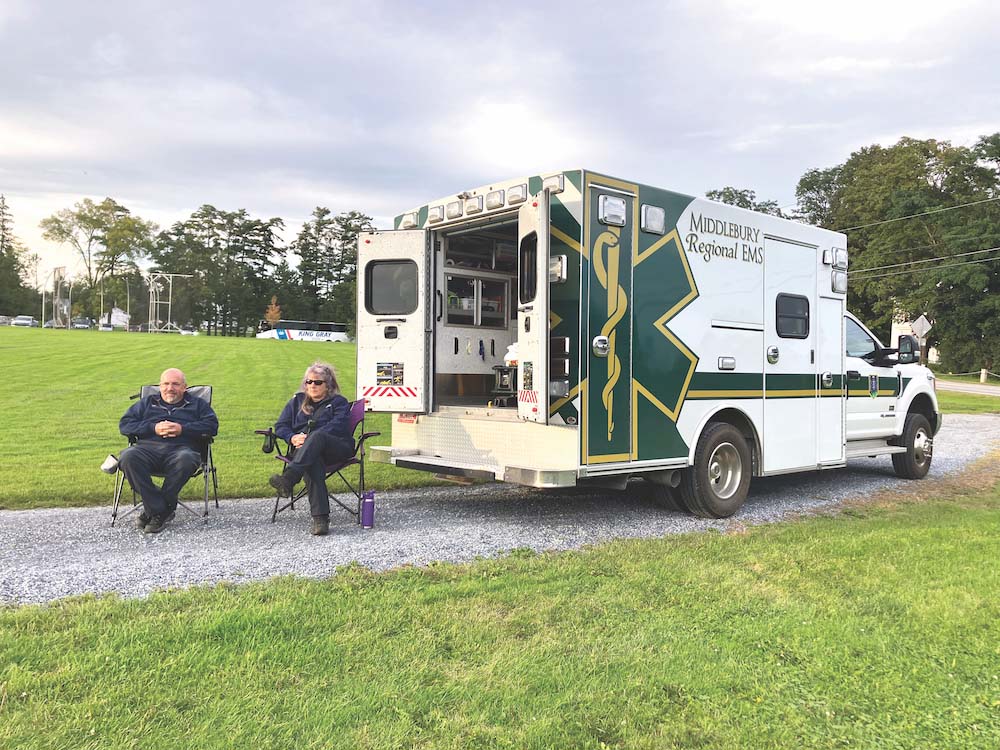 Middlebury Regional Emergency Medical Services wants to eliminate its annual Town Meeting … (read more)
Middlebury police are investigating the death of a Middlebury College junior and say the p … (read more)
In the course of her almost 101 years on Earth, Vergennes resident Margaret Clifford, bett … (read more)