Being a volunteer first responder is in their blood
STARKSBORO / CORNWALL — In Sprague Huntington's family of four, there's a 75% chance you'll come across an Emergency Medical Technician. Huntington herself is a member of the Starksboro and Bristol rescue squads. And she has worked cases alongside her sons, Graham, 21, and Leo, 19, who are also both EMT's. 
Graham is a member of the Starksboro, Bristol and Lincoln first response squads, and Leo is on the Bristol Rescue Squad. 
"We got everyone except my husband," Sprague quipped. 
But even without their fourth family member, Thomas, it's been a joy for the other three Huntingtons. 
"I honestly love it," Graham said. "You can imagine working with a family member might be difficult sometimes. But for us (my mom and I) … We work very well together. I think I'm very lucky."  
"I forget that Graham's my son, in a good way, when we're on scene," Sprague said. "He's a colleague, and he's a peer. And, in fact, he's a far better provider than I am. And so I love working with him. 
"Sometimes, he'll call me mom. And it'll kind of surprise me, it'll surprise the patient. And it'll surprise me because we are working so intensely," she added. 
Leo, who spoke to the Independent during the first few days of his freshman year at Cornell University in Ithaca, N.Y., was only recently certified and began with Bristol this past spring. 
Because of his short tenure, Sprague hasn't had the opportunity to work with Leo as much as with her older son, but is looking forward to the future. 
"I'm hoping when he comes back from college we'll get to run together more," she said.
Like his mother and brother, Leo has enjoyed working with family. 
"It's cool because they can give me tips … I like hearing them give advice afterwards," Leo said.
He made a special note of Graham in this regard: 
"I think my brother especially has been really helpful in training me." 
"I pretty much got involved because of my family," Leo added.
Graham, a junior at Brown University in Rhode Island, described working with his younger brother as "awesome." 
Graham and Leo make for a third generation of family members on their mother's side that have pursued emergency medical services in Vermont. 
"My parents were both EMTs in the '70s, and '80s. So I grew up with it. And then I just have always wanted to do it," Sprague said. 
She started out in the early 2000s. 
"I had my license 20 years ago, but my kids were little and that didn't work out very well," Sprague said. "Now I have a lot more flexibility in my work schedule."  
She decided to become re-involved around the same time Graham was getting certified in 2020. 
"Just after I finished my (EMT) class, I think she started doing hers," Graham said. 
He said EMT work has "always been something that she talks about."
For both, EMT training coincided with COVID, one of the factors that inspired Sprague to pursue certification. 
"There was a distinct need," she said. "I knew I was going to be capable of doing it. And I thought it was important."
Sprague said Graham's path to earning his certifications started at a young age:
"He (Graham) was 1 when I got my license initially. And so I talked about stuff. He saw me help evacuate someone in the woods in New Hampshire. And he saw these things. I think he's always been thinking about it. He just needed time."
Once he got a sense for the work, one certification led to another. 
"For a while I wanted to do a wilderness first responder course. And so I'd been planning on doing that for a while," Graham said. 
"October 2020, I joined Lincoln fire because I liked the whole backcountry rescue side of things. About a month after that I did my wilderness first responder. I was like, wow, I really liked this. And then I stayed for a couple extra weeks and got my EMT," he explained.  
"So then I guess I kept working on Lincoln. I joined Bristol rescue, started volunteering there, then I eventually ended up joining Starksboro as well."
CORNWALL FAMILY
Like Sprague and her sons, the Frankovic family of three is also entrenched in the Vermont volunteer first responder scene. 
In fact, the family is 100% Cornwall first responders. Aven Frankovic and her father, Tommy, both serve on the fire department. Her mom, Megan, is an EMT with Cornwall First Response. 
"I'm ecstatic because it's a family thing. I love family. And she's our only kid. So I love it," Megan said. 
She became inspired to join the Cornwall EMTs three years ago for two reasons: Her husband's time on the fire side, and her family's history in medicine. 
"I've got two sisters who are nurses," Megan Frankovic said. "My grandfather was an ambulance driver … He was also on Orwell First Response 45, 50 years ago. One of my uncles on my mom's side was a fire chief or a fire firefighter in Lexington, Ky. His wife was the fire chief. I have a cousin who's a paramedic down in Kentucky. 
"It sort of runs in the family. I figured I can't be the only girl without any medical training, then I can't live up to my name," Megan added.
Just like her mother, Aven was also inspired by her family to join.
"My dad has been on the department for 10 years now. He's a firefighter and my mom's medical. And I kind of got inspired by that, to be able to help out my community that way," the younger Frankovic said.
Her age restricts her from some duties. 
"I couldn't go into an actual burning building for legal purposes." 
"But if I go to one (fire), I can get things from trucks and bring them to people," she noted.
Plus, she trains with the squad.  
And one day Aven may be training as an EMT too. Although currently pursuing fire, she has EMT aspirations in this position as well. 
"I'm thinking about doing medical when I turn 18," Aven said. 
"It's just like another way to help people. It's another way to be more with my mom. And also, even if I don't go on to use any of the stuff I learned, just knowing it could help later."
Her daughter's sentiments made Megan feel "warm and fuzzy," she said.  
"We have a great relationship," she noted. 
Aven might even go further in her first response career: She could achieve a first responder hat trick.
"I would like to pursue a career in … forensic psychology," she said. 
"I grew up watching a lot of true crime, and reading a lot of mystery books, and like, thriller books." 
More News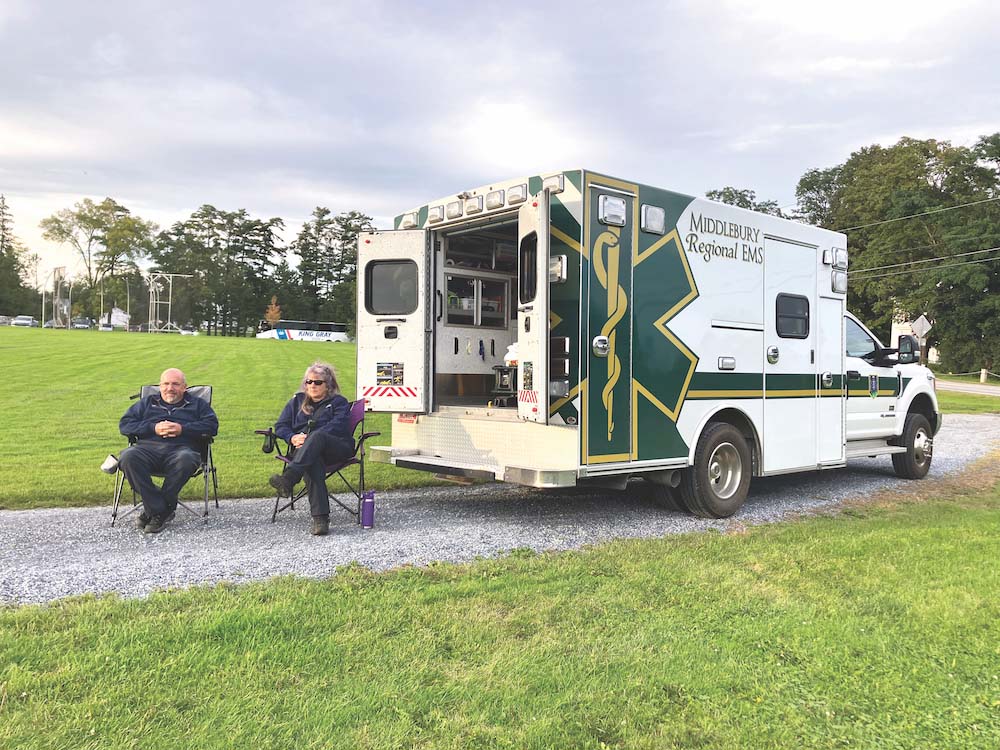 Middlebury Regional Emergency Medical Services wants to eliminate its annual Town Meeting … (read more)
Middlebury police are investigating the death of a Middlebury College junior and say the p … (read more)
In the course of her almost 101 years on Earth, Vergennes resident Margaret Clifford, bett … (read more)