New law makes sheriffs accountable
"Overall, I think having a little more accountability never hurt anyone; it's just getting everyone on board with that when there hasn't been accountability for a while with sheriff's departments."
— Addison County Sheriff Mike Elmore
MIDDLEBURY — Vermont's sheriffs and their deputies have long been deployed to look after the public.
Now a new state law that recently took effect will ensure Vermonters will now have more oversight over their county sheriffs.
Bill S.17 — now known as Act 30 —mandates increased transparency and more financial accountability for the state's 14 sheriff's departments — including Addison County's.
The push for reforms comes after several high-profile cases of confirmed or suspected wrongdoing in a handful of sheriff's departments — including a high-profile case here in Addison County.
In June of 2022 former Addison County Sheriff Peter Newton was charged with two counts of sexual assault, one count of domestic violence and one count of unlawful restraint. Those charges stemmed from a reported domestic disturbance at his Middlebury home during the early morning hours of Feb. 26, 2022. Newton, who pleaded not guilty to the charges, was barred from personally providing law enforcement services, but continued to sign contracts as sheriff through the balance of his elected term. He did this in spite of being asked to resign by the county's legislative delegation and Gov. Phil Scott. His trial is still pending.
In a three-way race, Mike Elmore was elected the county's new sheriff this past November; Newton did not seek re-election.
In Franklin County, state police are investigating the new sheriff, John Grismore, after auditors expressed concern about the department's finances while he was its chief deputy. In Caledonia County, auditors found that Sheriff Dean Shatney, before leaving office in February, gave himself and his entire staff bonuses totaling $400,000.
And in Bennington County Sheriff Chad Schmidt acknowledges spending much of his time in Tennessee since the COVID-19 pandemic reached Vermont in 2020 while collecting fulltime pay as sheriff, and he also faces allegations of a conflict of interest over having department vehicles washed at a business owned by a county assistant judge.
"There have been a number of examples of problematic behavior from sheriffs around the state," said state Sen. Ruth Hardy, D-Middlebury, who was a lead sponsor of S.17.
She said the Newton case was a "big catalyst for me" to pursue the bill.
"What he is alleged to have done, and what the evidence points to him having done, is criminal, horrible behavior — particularly for a law enforcement officer. Allegedly using his office in order to take advantage of, and what it seems like assault a woman, is beyond the pale," she said.
"We looked at both the behavior of sheriffs themselves and also the financial mismanagement of sheriff's departments," Hardy said. "We looked at the instances around the state of misbehavior and tried to address all of them."
NEW MANDATES
Act 30 calls for:
• Conflict-of-interest requirements for sheriffs and their deputies. Hardy cited the hiring of relatives as an example of a potential conflict.
• Sheriff's departments to provide law enforcement and security services to county and state courthouses under a single, statewide contract.
• Sheriffs to maintain a record of their work schedules.
• The Vermont Sheriffs' Association and the Vermont Department of State's Attorneys and Sheriffs to return next year with a proposed uniform policy on bonuses, as well as fuller discussion on compensation. Sheriffs and deputies within each department are paid salaries, plus bonuses.
• Sheriffs to produce annual financial disclosures for their departments. Sheriffs also must deliver a detailed financial report on department operations within 15 days of leaving office.
"We beefed up some of the auditing requirement, particularly when the sheriff's (position) is changing hands, because that's when we're seeing some of the most egregious stuff," Hardy said. "The outgoing sheriff pays a bunch of bonuses, sells cars … and then the incoming sheriff is left with kind of a financial mess. That's what we saw in Orange County. We're trying to address that transition period with more strict financial oversight requirements."
Hardy said that prior to passage of S.17, sheriff's departments could be funded in a way that "sort of encourages policing for profit," Hardy said. "It encouraged sheriffs to go out and get a bunch of (service) contracts … Then they use the 5% provision to provide themselves bonuses or buy things for the department. It created this sort of incentive of poor financial oversight — a 'slush fund mentality,' for lack of a better term."
The so-called 5% provision allowed sheriffs to take a 5% cut off contracts to use at their discretion.
Windham County Sheriff Mark Anderson is president of the VSA. The Independent reached out to him, and Elmore, to get their takes on S.17.
When asked about changes to the 5% provision, Anderson said, "We remain vigilant that ill-conceived or undeveloped policy can drastically hamper a department's ability to even operate. We have yet to see the full effects of S17. Vermont sheriffs are open to discussion about fair, appropriate compensation, but it cannot be at the detriment of the communities we serve or our employees."
Elmore said he has invested and will continue to invest sheriff's department contract revenue back into his force.
"All the money we bring in, I believe, needs to go right to equipment for the officers, cruisers, training — stuff to help the department function," he said. "I didn't feel like me taking 5% of what we were making, just to benefit me, would help the department run well."
In the meantime, S.17 "does continue to allow bonuses, but they're capped," Hardy said.
Elmore said he has no problem with the mandates.
"Overall, I think having a little more accountability never hurt anyone; it's just getting everyone on board with that when there hasn't been accountability for a while with sheriff's departments," he said.
INAPPROPRIATE FEES
The law also mandates sheriff's departments to assist individuals with a relief from abuse order to retrieve personal belongings if asked and if within the sheriff's county to do so without charging a fee for the service.
"Sheriff's departments were charging victims of domestic violence a fee for when a sheriff was required to help them move out of a residence," Hardy said. "We eventually said, 'This is not OK; you can't charge for this. The Vermont State Police and municipal police departments don't charge for this, and you can't either.'"
Elmore said his deputies receive relatively few requests to monitor moves related to relief from abuse (RFA) orders.
"I get the idea behind it," he said. "The state doesn't want to put the burden on the people going through the RFA process, but who's responsible for taking care of the (financial) piece of it? The worry is, is the state going to continue to find things for us to do without necessarily having funding for it. It's a step the VSA wants to make sure doesn't lead to other things that are unfunded."
The new law also calls on various law enforcement and judiciary stakeholder groups to report to the Legislature this fall with recommendations on potential changes to sheriff's department funding, operating procedures, training protocols and range of duties.
Anderson hailed provisions of the new law that he said address issues that have occurred "through the transition of some prior sheriffs." He specifically said the law should result in:
• "Improved transparency and process regarding a department's financial assets and disbursements."
• Better tuned audits for transitions.
• The repeal of archaic laws.
• A shift in resources to help support departments with policy development.
• More clarity on the "variety of complex issues that recognize decades worth of decisions and deferrals of decisions that have brought us to this point."
MORE TO BE DONE
Anderson said the VSA supported the version of S.17 that passed out of House Government Operations & Military Affairs. He said the association later opposed an 11th-hour legislative amendment that it viewed as "harmful to a sheriffs' ability to hire and retain employees. While we opposed the amendment, there was no time left in the session to resolve the temporary provision."
Anderson said he's disappointed that the VSA had to spend a lot of time bringing the Legislature up to speed on what sheriff's departments do, which left less time to work on the essence of S.17. But he believes the VSA accomplished at least part of its mission.
"What was underlined during various committee hearings is sheriffs' services, regardless of which county, are highly sought after by local, regional, and state entities but often with limited or no resources committed. We look forward to continuing our work in future sessions," he said.
Overall, Anderson said he believes "S17 has taken steps toward restoring public confidence, and quite frankly we need to focus on the safety of the public we serve as we see increases in shootings and violent crimes. Talking with members of the public, there is serious concern throughout Vermont about an individual's safety."
Elmore said while he believes S.17 could use more work, he appreciates "the idea behind it, because there are definitely some things that needed to change with the oversight of sheriff's department, given some of things that have gone on in departments around the state."
Hardy cautioned that Act 30 isn't a catch-all. The new law still doesn't address the issue of firing a Vermont sheriff. The only way to remove a sheriff from office is a complex impeachment process through the state Legislature. Hardy promised legislation calling for a Constitutional amendment that would make it easier to dismiss a sheriff, state's attorney, assistant judge and probate judge.
A Constitutional amendment must start in the state Senate, where it must pass that chamber by a two-thirds majority, then it must clear the House. The 2025 state Legislature (both House and Senate) would then have to endorse the amendment, whereupon it would be put to Vermont voters in November 2026.
"It's a long haul," Hardy said. "S.17 was just a first step."
Reporter John Flowers is at [email protected].
More News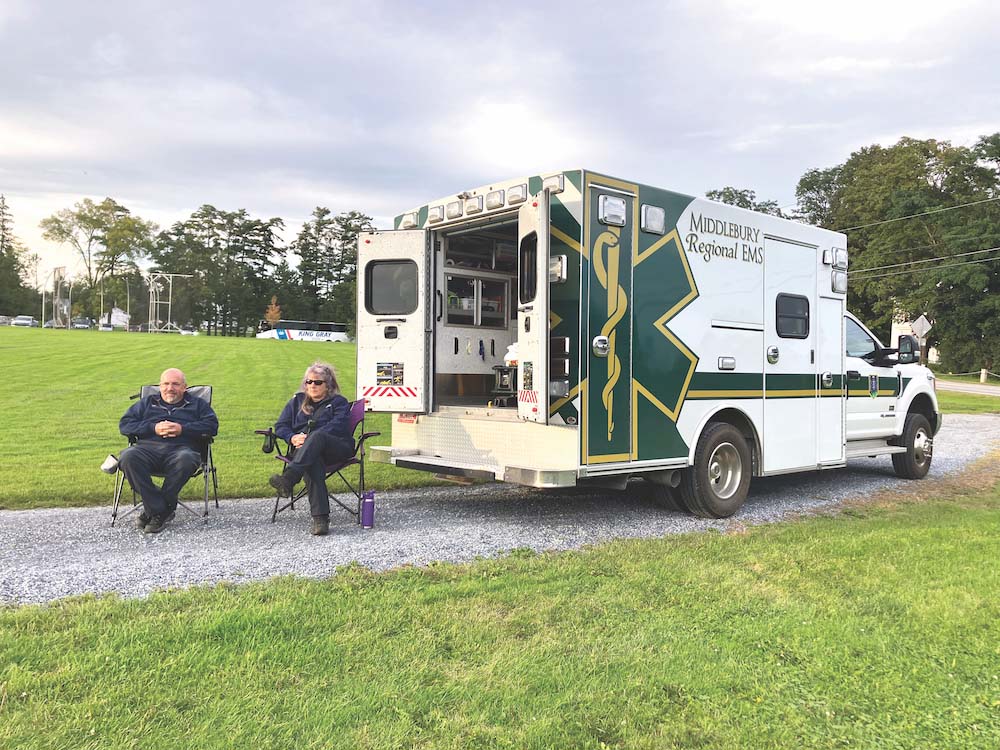 Middlebury Regional Emergency Medical Services wants to eliminate its annual Town Meeting … (read more)
Middlebury police are investigating the death of a Middlebury College junior and say the p … (read more)
In the course of her almost 101 years on Earth, Vergennes resident Margaret Clifford, bett … (read more)