Middlebury's Stonecrop Meadow housing plan starts taking shape
"We definitely have more (home) buyers than (homes for sale) inventory."
— real estate broker Amey Ryan
MIDDLEBURY — Developers of a proposed 200-unit, mixed-income housing project off Middlebury's Seminary Street Extension said they'll file their preliminary plans with the town's Development Review Board before the end of this month as part of a timetable that could lead to a spring 2024 groundbreaking.
Summit Properties is proposing the project on 35 acres of Middlebury College-owned land. The new neighborhood just outside the village would include a combination of rental and for-sale homes, running the gamut from affordable to market rate. Summit officials have been applying for subsidies through various state and federal agencies to maximize the number of affordable and "missing middle" (aka, workforce housing) units within what's being called the Stonecrop Meadows development.
Summit COO Zeke Davisson recently shared some news regarding subsidies. He said the company has received a $1.25 million Community Development Block Grant, $1 million of which will be earmarked for installing Stonecrop Meadows infrastructure. The remaining $250,000 will be invested in phase two of the project: A building that will house rental housing for families.
"We were hoping to present our preliminary zoning plan by the end of August," Davisson said. "But we're having some conversations with the town and are waiting on a few consultants just to finalize some of the planning. But we're almost there, and it will happen in the next few weeks."
Phase two of Stonecrop is still more than a year away. Davisson and his Summit colleagues are most preoccupied with phase one, which will involve 45 for-sale duplexes and townhomes.
Davisson said he's pleased with the way Stonecrop — a major planned unit development — is coming together.
"The two biggest funding pieces have come into place and have been catalytic for the program as a whole," he said. "The financing and permitting timelines don't always align, so we're sort of at the mercy of the slowest. But everything that we've done with the town so far has been great. It's felt very collaborative."
Along with the Community Development Block Grant, the other "catalytic" funding piece for Stonecrop was a $6,075,405 grant through the Vermont Housing Finance Agency. That will help subsidize the costs for around 35 of the missing-middle housing units that'll be part of phase one of Stonecrop. Those who qualify for the subsidized units would be looking at $291,000 for a two-bedroom home and $336,000 for a 3-bedroom home, according to information provided by Summit back in March.
Back in March Summit filed its sketch plan for Stonecrop Meadows. The preliminary plan will essentially lock in the layout of the proposed development, according to Davisson. The plan will also detail the infrastructure (roads, sidewalks, etc.), while inviting conversations about phasing of the new housing and whether the town can take over some or all of the Stonecrop roads — provided they are built to Middlebury DPW standards.
The final Stonecrop plan submission will include architectural details, a lighting plan and other project nuances that will need to satisfy town officials before Stonecrop Meadows can get a green light, Davisson noted.
So when might customers be able to get in line for a phase one home, assuming the project is green-lighted?
"We'll likely begin pre-sales of the for-sale units during the first half of 2024," Davisson said, "with the affordable rentals following that in 2025."
Demand for affordable housing in Addison County has been acute since before the COVID-19 pandemic. There are currently 491 affordable housing units in the county, with no vacancies. On average, around 40 affordable apartments become available each year through the Addison County Community Trust. The Trust each year receives 350-400 applications for that housing.
HOUSING IN DEMAND
But there's also a tremendous thirst for market-rate homes in the county and indeed statewide, according to longtime local real estate broker Amey Ryan. Ryan, who acquired Middlebury's IPJ Real Estate in 2014, and has been closely following trends in the housing market.
Only a few months ago, Addison County counted around 22 residential properties on the market, "which was abysmally low," Ryan said.
There are now what Ryan referred to as "46 actively listed properties that are listed in the residential category." But there's a caveat; not everything listed in the residential category is a house for sale, she said.
For example, the residential real estate listings can sometimes include seasonal cottages, which aren't part of the year-round housing stock many buyers are looking for.
"We definitely have more buyers than inventory," she said. "We have folks who have come to Vermont to look for a house, they've maybe made some offers, gotten beat out or lost out, and have maybe changed their mind and gone back to a plan of renovating the house they live in…  And, of course, then they might be stuck waiting for a contractor."
Ryan is speaking with two people right now who'd like to put their respective homes on the market — contingent on their ability to relocate to smaller digs in Middlebury, ideally a condo or small house.
"And that sort of thing doesn't seem to exist right now," she said of available smaller abodes.
Still, there are small signs the real estate market is starting to soften.
"Buyers don't seem to be quite as frenzied as they were before," Ryan said. "They've now seen this market for a couple of years and watched things happen. So, if someone overprices their house, the buyers are less inclined to acquiesce to that pricing strategy."
Still, there will always be some properties that will draw interest, Ryan said.
"There are those properties that are in 'slam-dunk' neighborhoods or areas of town, proximity to amenities," she said. "When those properties come onto the market and are priced appropriately, there are multiple offers and they usually sell for something over the asking price."
John Flowers is at [email protected].
More News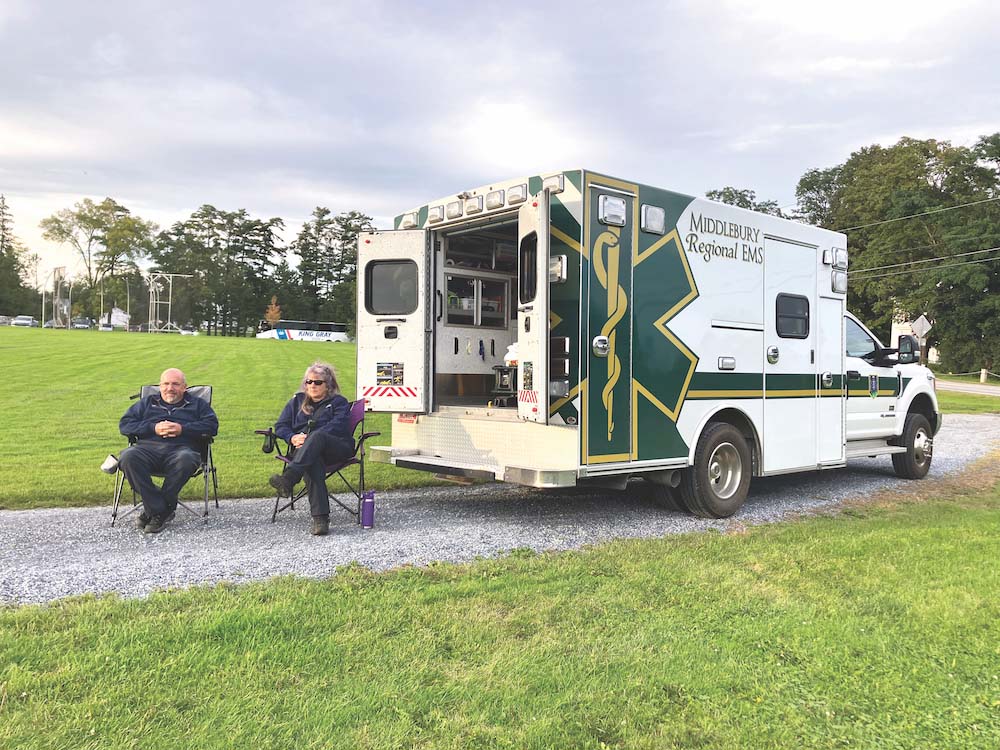 Middlebury Regional Emergency Medical Services wants to eliminate its annual Town Meeting … (read more)
Middlebury police are investigating the death of a Middlebury College junior and say the p … (read more)
In the course of her almost 101 years on Earth, Vergennes resident Margaret Clifford, bett … (read more)