BJ's Farm Supply in Panton is much more than a hardware store
PANTON — BJ's Farm Supply in Panton is far more than what its name implies, according to owners Mikayla, 26, and Robert, 44, DeGraaf. 
"Someone has said before, there's not very many places that you can get your pet food, your fishing rod, your bait, your grain, your steak and beer, and walk out the door," Mikayla said. 
Not only do they offer a diverse smattering of this-and-that, the business is also committed to selling local goods. 
"Anything we can get, as far as local goes, we try to get," said Robert. 
"A lot of local meat, lamb, rabbit, chicken, pork and beef is all within five miles of here," his wife added. 
And they get their quail eggs from even closer than that; They have a coop for their avian employees right out their back door.   
The store didn't always offer such a wide array of goods and services it's evolved quite a bit since 1988, when Robert's parents opened the business. 
"We used to be a True Value (brand) hardware store," he explained. The store then transitioned to more of a "general store" as the number of local farms diminished and the remaining farms began to opt for supplies to be delivered to their doors, even as those necessary supplies began to change. 
Mikayla said the store's present-day offerings often prompt customers to say BJ's is so much more than farm supply, and while the store's name might be confusing to some (and they've considered changing it), their wide selection sets them apart, while keeping a strong, local identity.
Robert said their namesake, which has been around since the store's inception, is a piece of town history the couple wants to preserve. 
"We like the history of the farm supply (and what it means to the community), so at this point we're gonna keep it 'Farm Supply,'" said Mikayla. 
Robert and Mikayla officially became store owners at the start of 2022. Robert, however, had taken on the bulk of the responsibility of running the business in 2018, and the couple stepped up to run it through the pandemic — a time when area residents preferred to stay as local as possible when shopping. 
"Locals didn't want to go anywhere," said Robert, "so they rediscovered the store," added Mikayla. 
Mikayla said taking on the store full time and dealing with the pandemic was a hectic time for the couple, but added it only became more-so when their family grew from two to four. 
Just inside the front door, there's a bassinet for their two sons, a two-year-old and a six-month-old, who they bring to the store every day.
Mikayla says she's getting to live her dream by having them around.
"That was definitely my dream, growing up was to always be a mom and to always have my kids with me," she said. "Whatever I was doing, I wanted my kids to be able to be with me."
Her customers have enjoyed their presence too. On the day we spoke, she said a customer had come in earlier just to sip some coffee and visit with the baby.   
These interactions are the couple's favorite aspect of running the business. 
"It's just getting to know everyone. Honestly, I think my favorite part is the fact that they become like family," Mikayla said. "There are all these aunts and uncles that come and hang out and chit chat. And I love that, I get to work next to my husband and have our kiddos with us."
"And there's the opposite side of that," Robert said, "where we have a seasonal group of people — Basin Harbor, Button Bay, all of that little network — some of whom we'll never see again. But (the regulars) still come back every year and grab their necessities. So we have our core locals that keep us open from December to March, and then we have our new people come in every summer."
All-in-all, the couple said, the customer base is a relatively tight local community with an interesting and fun mix of seasonal visitors throughout the summer — a clientele the store tries its best to cater to with its eclectic mix of goods.
More News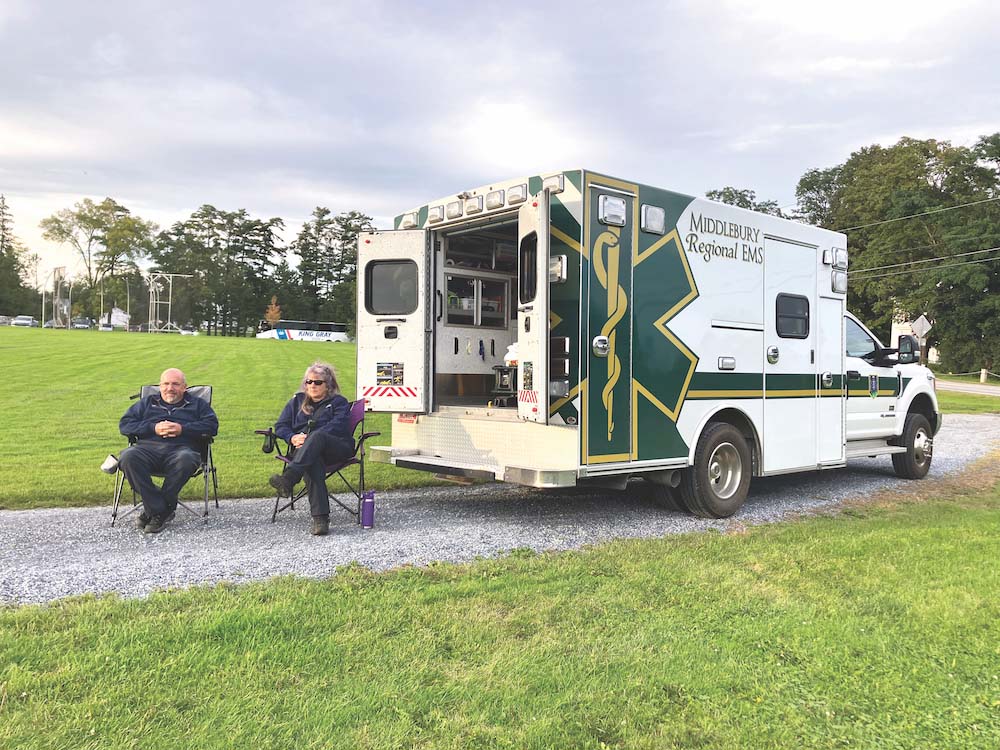 Middlebury Regional Emergency Medical Services wants to eliminate its annual Town Meeting … (read more)
Middlebury police are investigating the death of a Middlebury College junior and say the p … (read more)
Vergennes resident Margaret Clifford offers nearly a century of recollections, from losing … (read more)