Middlebury police chief prepares to retire
MIDDLEBURY — Middlebury Police Chief Tom Hanley has confirmed he'll retire from the force later this year after 32 transformational years of service to the department and the community.
"I've always said I wouldn't celebrate my 71st birthday here," a smiling Hanley said during a recent interview at the Middlebury PD headquarters, one of many public safety upgrades that have come during his watch.
It was in June of 1991 that Hanley, now 70, was picked to lead a department that was lacking in morale, professionalism and the necessary tools to efficiently carry out its law enforcement chores. Middlebury had abruptly parted ways with its previous chief, the late Al Watson, in October of 1990. Then-Captain Kerry Kirkpatrick was serving as interim chief.
Hanley was one of 105 applicants for the Middlebury police chief job, which then paid around $35,000 annually. He emerged as one of two finalists — the other being Debbie Mongeon, who at the time was director of the Governor's Highway Safety Program.
Then-Middlebury Town Manager Betty Wheeler and the town selectboard chose Hanley, citing his hands-on experience in law enforcement. At the time he was a detective sergeant with the Wallingford, Conn., Police Department, which he'd joined in 1974.
So when he finally turns in his badge, Hanley will have worked almost a half century in law enforcement. But it never would have happened if he'd taken his father's career advice.
"He said, 'There's a job waiting for you on the railroad,'" Hanley recalled with a chuckle, noting his dad was a lifelong railroad employee. "At the time, the New Haven Railroad was going bankrupt, was in turmoil and was being sold to Pennsylvania Central. People were getting laid off. I said, 'That's not the career for me.'"
FAMILY FOOTSTEPS
He instead decided to walk in the footsteps of his grandfather, uncle and two cousins, all of whom chose to become police officers. Their portraits hang on Hanley's office wall, giving him extra inspiration to carry out his duties on behalf of a Middlebury community that he says has always made him feel welcome.
Hanley was sworn in as a Wallingford PD patrol cop back on July 1, 1974. After three years, he was assigned to the detective bureau, working a lot of serious cases, including murders, sexual assaults and robberies. He received special training in forensics, in such areas as fingerprinting and crime scene reconstruction.
There was no lack of work for Hanley. Wallingford (population around 45,000) is surrounded by the major population centers of New Haven, Waterbury and Hartford, and thus sees its share of major crime, he said.
While he continued to find his Wallingford post fulfilling, Hanley by 1990 had left himself open to accepting a new career challenge. It came in the form of a message from his in-laws, based in Leicester, Vt. 
"They're looking for a chief in Middlebury," the note from his mother-in-law stated.
Hanley had become somewhat familiar with Middlebury during family visits to Leicester. He did some research, which confirmed the community's good reputation.
"I saw some similarities between Middlebury and the way Wallingford used to be," he said. "It was very small townish. Everybody knew everybody, it seemed. Most of the town was still very rural with a lot of dairy farms — which are gone now."
Wallingford lost its small-town identity around 45 years ago when it became a manufacturing hub and grew very quickly, according to Hanley.
He yearned for a return to a tighter community, so he threw his hat into the ring for the Middlebury chief's job.
Wheeler initially offered him the position in early 1991, but Hanley couldn't accept. He explained he had to finish work on a couple of big Wallingford cases.
That's OK; destiny was on Hanley's side. Wheeler called Hanley a few months later saying the post was still open and asking if he was still interested.
He was, as he'd cleared his case backlog. Hanley interviewed with a Middlebury police chief hiring committee that included, among others, former selectpersons Gail Smith, Dean George, Bud Smith, George Foster and Richard Pomainville.
AN EARLY, FIRM VISION
Hanley laid out his plan for a major Middlebury PD makeover.
"I said, 'This is what I'm going to do, and please understand that this might cause some angst, because things are going to change,'" he recalled. "I also said, 'If you're not willing to get on board with what I'm proposing here … then please, let's not make a mistake. I have a good job, I like what I do, we can part on good terms now rather than a year down the road.'"
Local officials were on board, paving the way for Hanley's 32-year run as the PD's top administrator. His contributions have included:
• Established, in 2001, a bias-free policing policy with respect to Addison County's migrant worker population. This meant that Middlebury officers wouldn't consider race, ethnicity, or other personal criteria when taking action against an individual.  It's a policy that several other PDs in the state have since adopted.
• Helped create the PD's first-ever policies & procedures manual to create a new culture within the department.
"There were some morale issues," said Hanley, who was reluctant to dredge up the specifics. "It was difficult. Not having had a chief for 10 months, by the time I got here they really needed some direction. We had to know where this department was going and what we stood for. There were no foundational documents that created a culture within the department."
Hanley was candid with his police force after he landed the chief's job, defining a clear mission and how to get there:
"I told them, 'This is where we're going with the department.'"
• Installed a "community policing" system, through which officers are assigned specific neighborhoods that draw their special attention. This has helped officers build improved lines of communication between the police and residents.
• Boosted hiring standards.
"We weren't going to take people off the street, and we had to give (new officers) a reason to come here and stay here," Hanley said. "We needed to be able to tell (recruits), 'This is what we believe in as a department, and this is what our culture is."
• Spearheaded efforts to build a new Middlebury PD headquarters. The PD had for many years been located in the basement of the former Middlebury municipal building at the intersection of College and South Main streets. The space had poor ventilation, little natural lighting and cramped conditions, and it forced officers to escort sometimes-combative suspects into the upstairs town offices to get to restrooms.
Residents narrowly rejected an initial pitch for a renovated-and-expanded town office/PD building, but around 19 years ago agreed to a plan for the new police HQ off Lucius Shaw Lane.
The building has been a boon to officers and the general public, according to Hanley.
"One of the goals of this building was to ensure the privacy and dignity of people who come into it," he said. "We've accomplished that."
• Overseen the PD's transition to better technology and equipment.
When Hanley arrived, the officers used typewriters to hammer out their incident reports. There was one computer — an IBM model 286 "that had literally fallen off the back of a truck," he said with a chuckle. "IBM didn't want it back, so they set it up for us with a marginally usable records system."
Of course, now the officers have access to reliable dispatching, laptops and a sophisticated computer system that allows the PD to nimbly connect with state police and other departments throughout the country, if necessary.
Hanley also instituted (with selectboard approval) a police vehicle replacement schedule that will ensure officers remain on the road at a price local taxpayers can afford.
It should also be noted Middlebury PD has access to a mobile command unit and has its own K-9 team — two things the department didn't have pre-1991.
NOTABLE CASES, INCIDENTS
Middlebury's caseload has been steady, though murders, robberies and other serious crimes have thankfully been few and far between. A few cases stand out during Hanley's tenure, including a double-murder/suicide at the Pine Meadows housing development around 30 years ago, derailment of a freight train in downtown Middlebury in 2007, the 2008 disappearance of Middlebury College student Nick Garza (whose body was ultimately recovered from beneath the Otter Creek falls), and the tragic death (due to exposure) of Middlebury Union High School student Rebecca Ball this past spring.
"We weren't going to stop looking until that (Rebecca Ball) case was resolved," said Hanley, whose officers are still working to find former Middlebury College freshman Lynne Schulze, who disappeared back in 1971.
There were also cases in which officers found themselves confronted with armed individuals dealing with mental health crises. Most recently, on June 30, Hanley was among a large contingent of police who responded to a report of a distraught man firing a rifle in his Seymour Street apartment. The man, Paul Allard, was subsequently taken into custody after an hours-long standoff.
Given his breadth of experience, Hanley has been known to ease tense situations with a little humor. The Allard case was an example. He and longtime Officer Kevin Emilio were among the first at the scene. As Emilio was donning his protective gear and getting ready to head to Allard's home, Hanley said he asked his officer, "How does it feel to know your backup is 70 years old and headed into retirement?"
During the COVID-19 pandemic, Hanley would sometimes sprinkle his weekly emergency management bulletins with humorous asides or pop culture references to lighten the mood. In one of those bulletins, he linked to a Frank Sinatra interview by way of telling his readers "The best is yet to come."
Middlebury has shared its police chief's expertise from time to time, including on a statewide E-911 board (under then-Gov. Howard Dean), and on the state's Law Enforcement Advisory Board.
WHAT'S NEXT?
So how will Middlebury go about filling the chief's vacancy?
Middlebury has no obligation to advertise the job. The appointment is at the discretion of Town Manager Kathleen Ramsay, whom Hanley informed of his retirement plans back in March.
He hopes his successor is in place by mid-to-late September. Hanley would then mentor the new chief before stepping aside by Oct. 1, though he plans to make himself available for a few additional months as an advisor, if needed.
"I've been preparing for this for over a year and getting things in place and preparing our sergeants for this eventuality," the chief said.
He made no secret about the fact that he'd like to see his replacement come from within the department. His current leadership team includes Sgts. Vegar Boe and Jason Covey, both of whom have been with the force for more than 20 years.
"Both have been loyal to the department and loyal to the town, both have settled here and are raising families, and both have an interest in this (chief's) position," he said.
Boe and Covey shared some their thoughts about the chief as he readies to step down.
Boe said he first met Hanley in 1999, when applying for a part-time patrolman's position. Based on the chief's encouragement and feedback, Boe quickly decided to make it a fulltime commitment. 
"Through my 24-year career here, I found Chief Hanley to be supportive, and more of a mentor to his officers than just a chief," he said. "He has allowed officers to pursue interests that not only benefited the department but also allowed officers to grow personally and professionally."
He also praised Hanley for being hands-on and "way ahead of trends" in policing.
"During our recent storms, the chief would be out at 2 a.m. checking rivers and flood status," he said. "His departure from this department will certainly be felt in this community, and as much as change brings a sense of excitement, we all certainly will miss his presence here."
Covey credited Hanley for transforming Middlebury PD into "the modern full-service agency it is today. He has demonstrated unwavering loyalty to his staff and the town and has been the impetus for much positive change."
Like Boe, Covey noted Hanley's dedication to keeping his department on the cutting edge of law enforcement practices.
"He has created a progressive agency with a mature culture of service that normalizes the expectation of a higher-level of community commitment, even when a task may not fall within the realm of a more 'traditional' law enforcement function," he said.
"The chief has worked tirelessly for so many years, and the town and the department have been fortunate to have him at the helm," Covey concluded.
What will Hanley do with his extra time? In short, it will involve more family time, along with music, fishing and watching his grandchildren play sports.
Middlebury will remain his home — though minus the random 2:30 a.m. calls about emergencies requiring his attention.
"I'm going to miss the interaction with the guys here, watching them blossom and turn into professional police officers," Hanley said. "Some of them remind me of me when I was their age."
Middlebury residents during the coming weeks will undoubtedly be thanking Hanley for his service, and the chief will be reciprocating.
"The people in this town have been wonderful and so incredibly supportive — not only of me, but the entire department," Hanley said. "I hope they understand what a great town they live in and what a great community this is. I feel privileged that I was able to serve them for 32 years."
The Independent during the coming months will have more on the Middlebury PD leadership transition, along with reactions from town officials regarding Hanley's service.
More News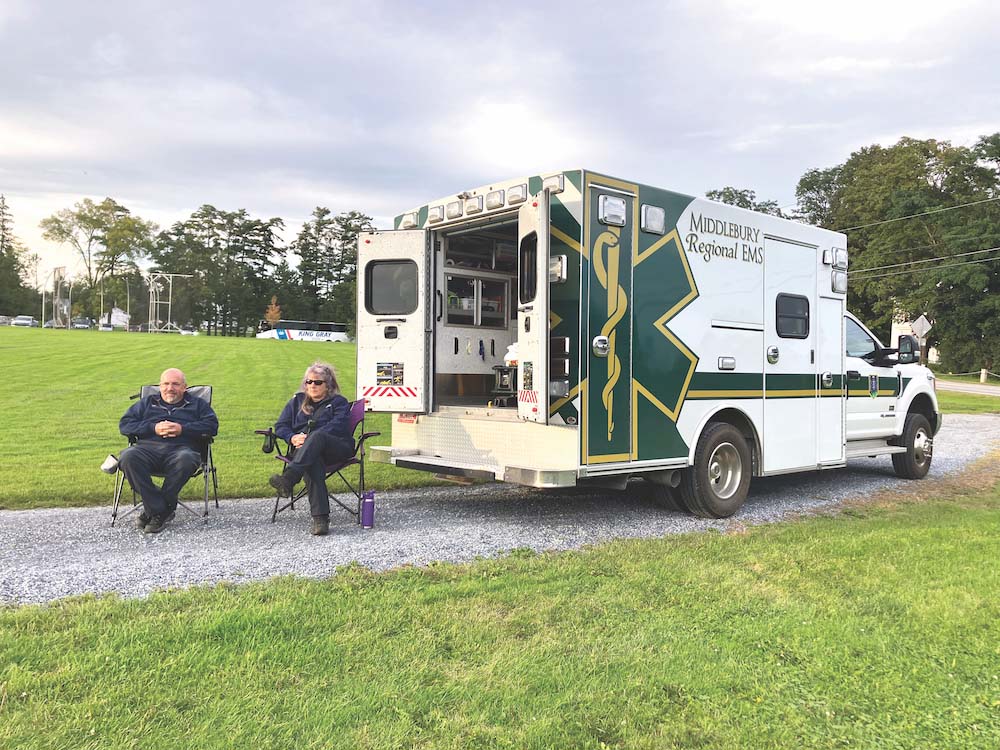 Middlebury Regional Emergency Medical Services wants to eliminate its annual Town Meeting … (read more)
Middlebury police are investigating the death of a Middlebury College junior and say the p … (read more)
In the course of her almost 101 years on Earth, Vergennes resident Margaret Clifford, bett … (read more)