Justice Elijah leaves her mark
MIDDLEBURY — Justice Elijah, a 26-year-old graduate of Columbus State University in Georgia and Americorps volunteer who has been living in Middlebury the past two years, is by all accounts a capable and charismatic person. During her time here she has touched many people and has put in the work to make Vermont at least a little better than it was when she arrived. 
"She is an incredibly optimistic, caring and thoughtful person," Middlebury attorney Emily Joselson said of Elijah.
As Elijah wraps up her two year stint in Addison County, Joselson and fellow Middlebury resident John Barstow, are trying to give Elijah something she has never had —  a financial cushion. They have started a GoFundMe fundraising account to collect a nest egg that will help Elijah fly off and continue her good works out in the broader world.
"We have an opportunity right here in Middlebury, right now, to participate in a form of reparations, by helping create a financial cushion for a remarkable young woman who grew up without any cushion whatsoever," Joselson and Barstow wrote on the GoFundMe page.
Sitting across from Elijah at a booth in Haymaker Buns & Co. her warmth and innate sense of optimism and care immediately shined through. Every once in a while during our conversation, she would stop to say hello to someone in the restaurant. It was apparent that Elijah is a friendly face around Middlebury and her presence in the town has made an impression on its residents. 
Originally from Georgia, Elijah moved to Middlebury in August 2021, placed by Americorps with the Middlebury Teen Center, where she spent her first year of service. She spent her second year, which ends this August, with the nonprofit working with Middlebury College's Center for Community Engagement. 
Elijah dedicates her life to the service of others and she said she aims to leave any space she enters better than she found it. She hopes to one day open her own school for at-risk youth.
Her road to Middlebury started in January 2021, during her final year of college. She was working as an assistant property manager, helping to manage three separate properties, but the work dried up and there was nothing to do.
"I'm a believer. I believe in God," Elijah said. "So, I'm sitting here like, God, I want something with more purpose, I want something that is going to fulfill me and be able to give back to other people's lives."
Her faith led her to her work with Americorps, a volunteer organization that invites young people to do service work around the country. When Vermont was the first place to respond to her Americorps application, Elijah felt like the Green Mountain State was calling her, that she was needed to be here somehow. So, she took the leap of faith and signed on for the gig at Addison Central Teens — the teen center. 
She arrived in Vermont alone, without knowing anyone other than teen center director Lindsey Fuentes-George. She quickly became acquainted with other locals, like Barstow and Joselson, who Elijah refers to as her Vermont grandmother. Joselson has served as a mentor of sorts for her these last two years
Her time in Vermont has not been easy, especially as she has been living paycheck to paycheck. She's also found that as a black woman her race  has been at the forefront of her identity and people's perceptions of her in Vermont in ways it never was back home in Georgia. She talks about the realities of microaggressions and even outright racist interactions she has experienced during the last two years. 
Since her arrival in Vermont, Elijah has faced racial discrimination when doing basic things like looking for housing or getting her car fixed, she said. 
Despite these challenges, Elijah has managed to make an impact on the community in Middlebury. At the teen center, she built bonds with the youth who frequent the space. She also helped to establish a BIPOC affinity space at Middlebury Union High School, along with teachers Natasha Causton and Michelle Steele, who applied for a grant to help get the space started. 
Elijah last December started her own business, Spreading Justice LLC, through which she offers her services in the line of social justice work and facilitation. 
"It started off as a hashtag on social media," Elijah explained. "Most of my friends would come to me for advice and stuff. And so I started putting the stuff I would say to them on Facebook with #spreadingjustice, and it just took off."
In her business, Elijah facilitates workshops on organizational capacity building and social and racial justice with the Peace and Justice Center in Burlington. She also does these workshops at different high schools around the state. 
Now that her service with Americorps is coming to an end, and by virtue of that, her time in Middlebury as well, Elijah is looking ahead and contemplating what's next for her.
She doesn't know exactly where she is heading next but she has one priority.
"I'll be 27 next month, and I wanna go be around 27-year-olds. I want to be able to finally just live, not just going from paycheck to paycheck," she said.
Like other young people in Vermont, she knows that a place with more people would offer more options:
"I want to go somewhere now that feeds myself. I'm looking into very different metropolitan areas that have a young community with a lot of nightlife. I'm not a clubber but I want to be able to go to a kickback lounge and get some hot wings on a Friday night. And be able to do things that a single young person will do."
Elijah created an affinity space for BIPOC students during her time here. But once she's gone, she worries that there is no one left to run the space nor are there enough funds to keep it going. 
As she's leaving, she still holds the youth in the Addison Central School District in her heart. She implores the school district to "truly make a space for BIPOC students at the middle school and the high school level to be able to have a safe space."
"Many of them have told me the only reason they do show up is because of the affinity space," she said.
Elijah has spent her last two years in service of the community in Middlebury. And now that she is preparing to leave, Joselson and Barstow are hoping that the community will be able to give back to her. They hope to provide her with a financial cushion as she moves on to the next phase of her life. Their goal is to raise $20,000 that will enable Elijah to pay off her debts and have some money left over to keep her going. Currently they have raised over $11,000. 
To support Justice Elijah you can donate to her GoFundme at tinyurl.com/ElijahFund.
More News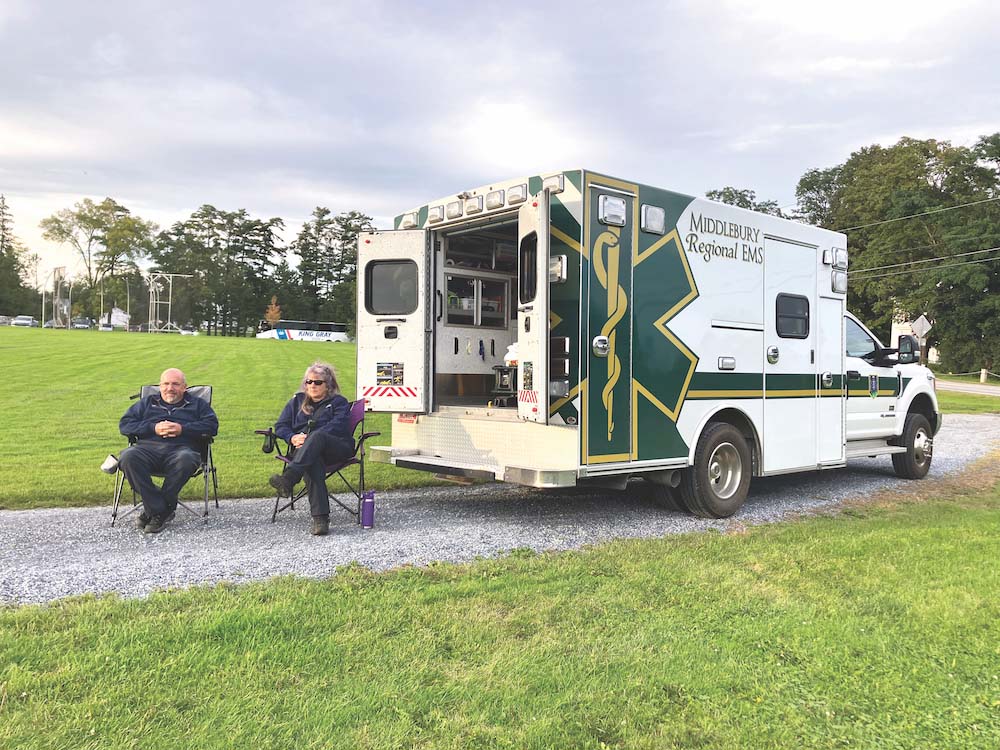 Middlebury Regional Emergency Medical Services wants to eliminate its annual Town Meeting … (read more)
Middlebury police are investigating the death of a Middlebury College junior and say the p … (read more)
In the course of her almost 101 years on Earth, Vergennes resident Margaret Clifford, bett … (read more)